Damian Lillard Trade Grades: Every Team Won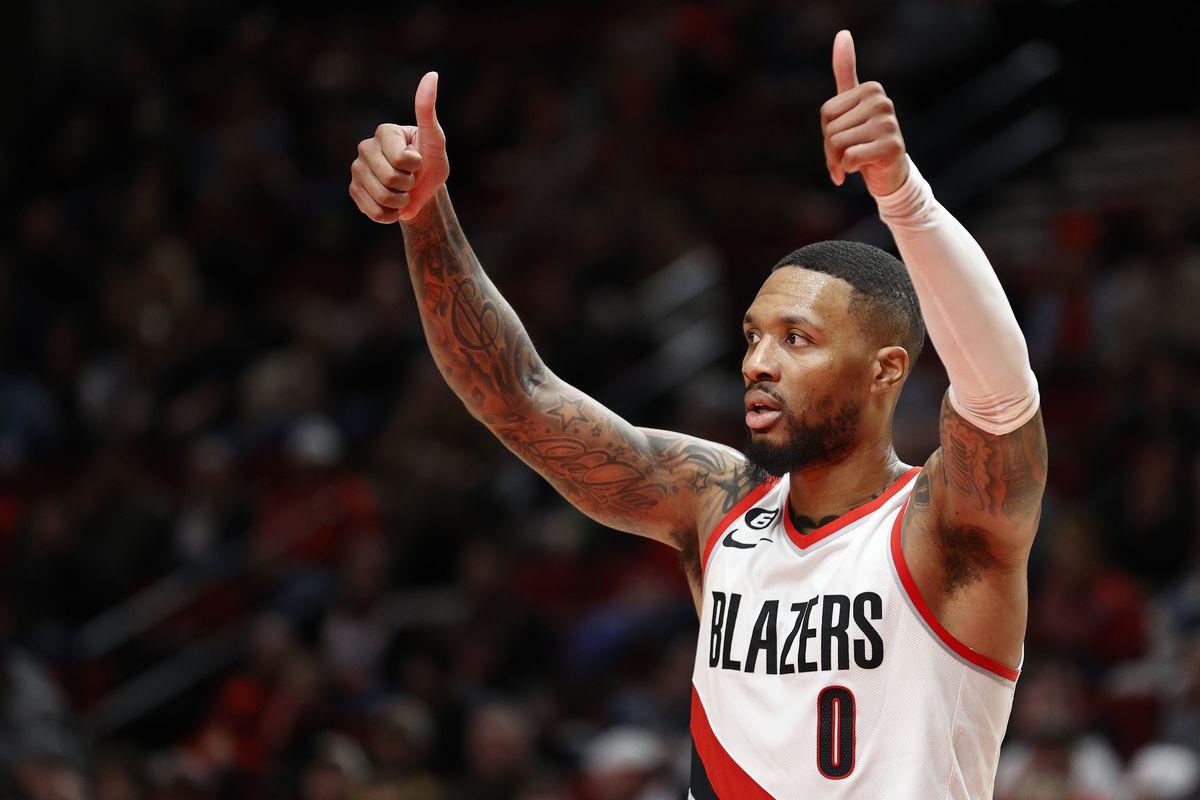 Damian Lillard Trade Grades: Every Team Won
Damian Lillard Trade Grades: Every Team Won
What felt like all summer was the Miami Heat going all-in and acquiring the 33-year-old Damian Lillard; almost three months after Lillard's trade request, it felt as though he would be traded to his originally desired team.
Well, as we all know by now, Miami did not get him and it was instead the Milwaukee Bucks. While fans around the NBA were shocked by Lillard not being able to go to the Heat, and some felt as though Lillard got messed over by Joe Cronin and Portland, there was an update given about the situation.
Reports later came out that it was between the Milwaukee Bucks and the Brooklyn Nets if Miami was a no-go.
In spite of that, this trade was so much better for Damian Lillard. I'll be explaining why below, plus going over the Phoenix Suns and the Portland Trail Blazers for their exact grades.
Deandre Ayton, Jusuf Nurkic, Jrue Holiday, and other assets were included in this massive three-team trade. This trade will definitely be seen as controversial, a mix of emotions, and lead many through a good debate (for any team).
Phoenix Suns
What they received: Jusuf Nurkic, Nassir Little, Keon Johnson, Grayson Allen
What they gave up: Deandre Ayton, Toumani Camara
The Valley has been divided on whether Phoenix should have pulled the trigger to trade away Deandre Ayton, which is a very valid opinion to have. Ayton is only 25 years old, he is in a new system (under Frank Vogel), and is arguably more talented than Jusuf Nurkic. Do you really give up that much upside for scheme fit and likeability?
Whereas you have that side, there is another side to this equation involving the center. Ayton's primary objective in games is to become an effective shooter and get his points in the paint, but he wouldn't be able to do that anymore due to the addition of more prominent shooters like Bradley Beal.
Factoring in Ayton's lack of physicality offensively and defensively, plus his inability to play consistently, led the Suns away from him and thus began shopping him. Despite being a center, he always lost the passion of being the gritty-gutty player and getting those much-needed rebounds. To say the least, he's not Clint Capela or Domantas Sabonis. Sabonis is more talented than Ayton, but not Capela. However, Capela follows his role better and is a better fit for Altanta's scheme.
Fit over talent… in this case
Mat Ishbia's and James Jones' team is a bit unique due to them having so much depth that they don't need all five positions scoring. The reason why that statement is so key is that Ayton's role got flipped upside-down and would keep his offensive game in a "box".
Vogel's scheme runs through a big man who is more defensive-minded, and balanced but has the ability to play defense consistently and effectively. This doesn't fit Ayton as he can't survive on only 3-5 touches a game, in the end, that doesn't fundamentally work for either side.
Where Jusuf Nurkic steps in is all the other aspects of basketball that aren't related to scoring a ball through a white net.
The Phoenix Suns don't need a primarily shooting center, their main focus was to find a center that can be gritty-gutty and a little more experienced in that department. Almost like having a veteran who can take control of the paint when times get tough.
Nurkic's game doesn't rely upon shooting. It actually relies on passing and getting rebounds, he'll find a way to score. Plus, the former Blazer is a way better passer than Ayton; that's crucial to note since Phoenix now has three wings that are lethal.
How the other pieces will fit in for Phoenix
Say what you will about Grayson Allen, but he knows how to ball like a starter and is a very consistent three-point shooter. The Suns are a very inside-the-arc shooting team, they like their mid-range jumpers and paint points. While that is fine, having a player like Allen will give them a boost beyond the arc to knock down consistent threes.
In fact, I'll say the Suns are just replacing Landry Shamet with Allen. Allen is better and is what the Suns were hoping for in Shamet, a player they traded for when Monty Williams took control of coaching this team.
You then have players like Keon Johnson and Nassir Little, who will be good contributors for depth purposes. They are as young as Phoenix and will have time to explore their potential down the road.
For the time being, this completes their short-term goals of trying to win a championship right now and being an elite championship-contending team. Also, this completes their quest of expanding depth and making it look better for better outcomes in the upcoming season.
Grade: A
Portland Trail Blazers
What they received: Jrue Holiday, Deandre Ayton, Toumani Camara, a 2028 first-round pick swap (Milwaukee), a 2029 first-round pick (Milwaukee), a 2030 first-round pick swap (Milwaukee)
What they gave up: Jusuf Nurkic, Damian Lillard, Keon Johnson, Nassir Little
For long-term purposes, I believe the Blazers won this trade. They get a young center in Deandre Ayton, a second-round prospect that could turn into something down the round and a player they can easily get a good return on.
Jrue Holiday, when put into this deal, was always seen as a flippable piece. Never did they imagine a scenario where they would be keeping the veteran guard; one of the reasons being the team's desire to keep the backcourt young and have them all developed soon.
The picks they received can be used in future trades and/or used in the future for themselves, it's just an added bonus for such a great trade. Ultimately, the biggest highlight is Deandre Ayton and Scoot Henderson.
What the Suns tried doing with Devin Booker and Ayton will now be done with rookie Henderson and Ayton. Plus, there is this sense in Portland that head coach Chauncey Billups will be able to get more out of Ayton and utilize him better.
What the Blazers can get for Holiday
Not only did Portland get off two expensive contracts, Lillard and Nurkic, but they now have the ultimate power in trading Jrue Holiday. Remember, this is an All-Star point guard who is seen as a big player by many teams.
The Boston Celtics, Philadelphia 76ers, and Miami Heat have been tied to wanting Holiday. In the end, it makes sense why they would want a guard like Holiday. Besides all the knowns and greatness surrounding the 1X champ, these teams need clarity and reassurance in their backcourt.
Boston is dealing with the Malcolm Brogdon situation, Philly is dealing with the James Harden situation, and Miami (after losing their guards to the offseason) now has an issue for depth in the backcourt.
With all that said, Portland can get extremely good value in return. As I mentioned previously, this is a very flippable player with high value in our current trade market. Portland can easily get two first-rounders and a good/rising young player.
Power forward could be a position they try to fill in this trade, including the possibility of winding up with draft capital.
This deal makes room for more minutes for developing players
This is obvious, but getting rid of players will open up significant minutes – especially if one of those players is your core player like Damian Lillard. Where I'm trying to get at is the potential minutes Anfernee Simons, Scoot Henderson, and Shaedon Sharpe will be receiving and being able to do with.
A much-needed move for the Blazers as it now ushers in the new and younger talents of this franchise, something Joe Cronin and Billups have been trying to complete for a while now.
I know we all want to talk about the Bucks and Lillard, but I think the Blazers have found success in this deal and it's going to pay off in the now and the future.
Grade: A
Milwaukee Bucks
What they received: Damian Lillard
What they gave up: Jrue Holiday, Grayson Allen, 3 first-rounders
I'm very hyped to talk about this part of the deal as this deal is going to lead them to the playoffs and beyond, plus it keeps Giannis Antetokounmpo very happy and (for the Bucks' sake) sign an extension with them soon.
The combination of Damian and Lillard is going to be something else, they'll probably be the best duo in the NBA. Right now, it's between them and the defending champs duo – Nikola Jokic and Jamal Murray.
However, besides that, there is one key element to this trade that I found astounding.
They didn't dismantle their roster at all for Lillard
They are in contender mode, which means their only goal in life is to bring home another Larry O'Brien. I could care less about the picks, because the Bucks are who they are right now, the picks don't matter in the slightest.
Even if the picks did matter, Milwaukee gave up picks from 2028 to 2030. In the grand scheme of it all, these picks do not matter and will not matter to them. They aren't a rebuilding team, it's quite the opposite.
Besides the picks, if we focus on the players, you will see the Bucks didn't relinquish too much to acquire the All-Star guard. While it is devastating to get rid of Holiday, people need to understand how getting rid of Holiday actually improves the team – when considering who they got to replace him.
Also, getting rid of Grayson Allen won't really affect them because of the depth they have in that position. Milwaukee pretty much upgraded one position and decreased by one at another, which is a huge home run.
Allen benefits the Suns because they don't have top-tier three-point shooters, or consistent deep-ball shooters that is their only objective in games. The Bucks have plenty of those guys, trust me, they'll be fine.
A look at their new roster
Their projected starting lineup will be Damian Lillard, Pat Connaughton, Khris Middleton, Giannis Antetokounmpo, and Brook Lopez.
Milwaukee definitely made improvements, this is a championship-contending team. I get they lost defense and positive impact from Holiday, but adding in the fit and versatility of Lillard is something irreplaceable. The duo of Antetokounmpo and Lillard will be unmatched. They'll have several years to win a championship.
To see a team not give up much, even factoring in the long-run effects, is something not many general managers can do and even perfect.
Hats off to Jon Horst for getting this deal done and being able to assemble this type of team.
Grade: A+
Conclusion
I think it is a rarity to give all three teams positive grades, let alone all of them be in the A's range, but all three teams definitely have a sense of direction and it shows here in this trade. Not one team was diminished in their role through this trade.
In fact, all three teams improved. The Bucks are contenders, just like the Suns, and the Blazers will be in the playoffs again at the end of their rebuild. All in all, a very successful trade that left no one dying on the inside wishing for better.