What Can The Suns Get For Deandre Ayton?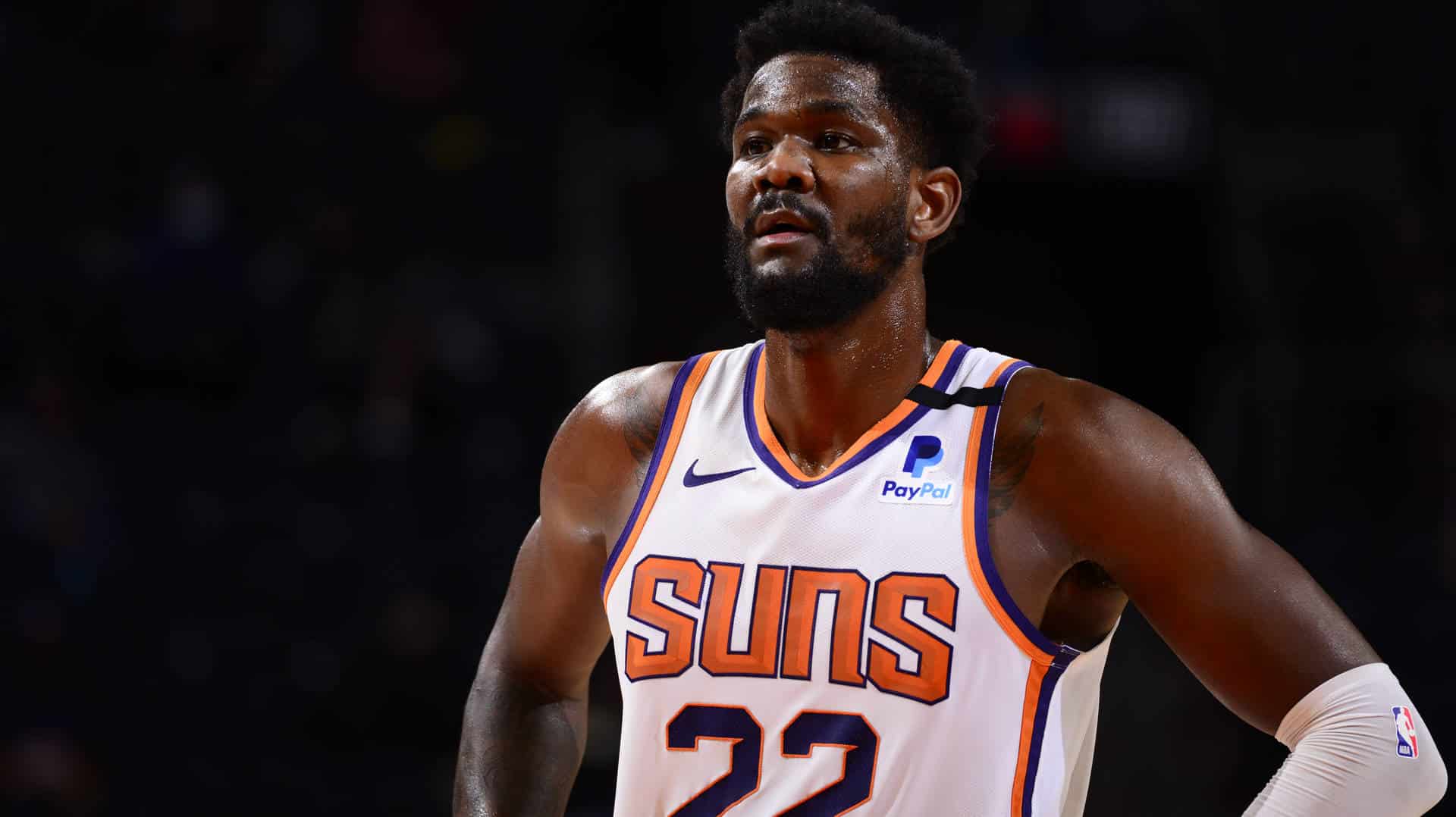 What Can The Suns Get For Deandre Ayton?
What Can The Suns Get For Deandre Ayton?
His value has been up and down since the beginning of the season; truthfully, it has been shaky since he signed the extension with the Suns.
Many have praised and criticized the 24-year-old center for his work ethic, his impact on the team, and everything else wrapped into his game.
While his effort and physicality have been criticized, the way Deandre Ayton efficiently scores 18 points and secures 10 rebounds per game does not go unnoticed. With those positives, teams (like the Bulls and Mavericks) have lined up and begun to show interest in the possibility of trading for Ayton.
Phoenix is testing the waters and has not fully committed to either trading him or not, but what if they did trade him? What would his value look like in a trade package?
These are the best mock trades that are realistic and beneficial to the Phoenix Suns.
Number #1, Dallas Mavericks featuring Kyrie Irving:
The Mavericks trade:
Kyrie Irving
2025 first-rounder
The Suns' trade:
Deandre Ayton
Cam Payne
2025 second-rounder
This deal would be very beneficial for the Suns as they have their new point guard for the future. Kyrie Irving is only 31 years old, which isn't bad considering the elite level of play he maintains and the fact Chris Paul is seven years older than him.
Phoenix would have a new big-3 established with Devin Booker, Kevin Durant, and Kyrie Irving leading the charge in hopes of securing an NBA championship.
The Suns can trade away Cam Payne and allow Chris Paul to be the backup, and now the offense can be balanced and the team can be more ready come May. Also, Payne is heading into the final year of his contract, better to offload now than having to deal with it when he's an unrestricted free agent.
The odds of the Suns winning a championship will surely increase as now they have better shooting, playmaking, and (partially) defense. However, the defense is not going to be worried about it. Fans will come to expect them to find a solid center and a quality small forward, if not keeping Josh Okogie as the starter.
This is a win-win for everyone as Paul can continue playing for the Suns, benefit the bench, and the starting unit has strengthened dramatically.
Number #2, Dallas Mavericks featuring Christian Wood/Reggie Bullock:
The Mavericks trade:
Reggie Bullock
Christian Wood
2025 first-rounder
The Suns' trade:
Deandre Ayton
Landry Shamet
2025 second-rounder
Maybe the Suns don't want to eat the massive contract of Kyrie Irving and maybe he is not a good idea for the Suns; there are doubts as Phoenix could want a big man that is an upgraded version of Ayton and a forward that brings intensity and absolutely crushing defense.
Christian Wood, while not fitting well within the system of Jason Kidd, could be on the Suns' radar of players to acquire. Wood is an absolute beast defensively and offensively, he's the type of player to give a team 20 points and 10 rebounds per game. When he was with the Rockets he proved that to be the case; Dallas was not the greatest showcase because of how dysfunctional that team was.
Overall, Wood is a consistent shooter from the paint all the way to the three-point line. His ability to knock down threes is something the Suns desperately need, a big lacking part in last season. Plus, the NBA has transitioned away from traditional centers (like Ayton) to centers that shoot the ball from anywhere on the court (Brook Lopez, Wood).
Ayton is not as nearly as talented as Wood and the Suns would benefit greatly from his offense and defense.
What about Reggie Bullock?
Reggie Bullock is one heck of a defensive player that can give the Suns much-needed physicality and defense-to-offense transitions. It goes beyond the stats with Bullock as his defensive play was loved by everyone when he was with the New York Knicks and up to the present times with Dallas.
He is a consistent player that will give you quality minutes that are beyond impactful. He is the older version of Josh Okogie that is a little more refined and skillful to get the job done. Could you all imagine the damage he can do if he and Okogie teamed up?
Phoenix would be unstoppable from the starting unit to the bench, which is something they severely lacked this past season.
Number #3, Charlotte Hornets featuring Terry Rozier and Gordon Hayward:
The Hornets trade:
Gordon Hayward
Dennis Smith Jr.
Terry Rozier
2026 first-rounder
The Suns' trade:
By trading away both Chris Paul and Deandre Ayton, the Phoenix Suns would be able to clear up much-needed space; plus, by shipping away those two players, Phoenix finds their starting point guard with much-needed depth being added.
Terry Rozier can be that playmaking point guard who doesn't need to score to be effective, which was a concern many had when formulating a big-3 in Phoenix. Kevin Durant and Devin Booker are growing, and already, know how to play together. Even if you had Rozier, it is only going to strengthen the relationship of this team and the production of this team.
Despite the age of Hayward and his injuries, he is a solid player when healthy. Give him some quality minutes and he will become a good two-way the Suns have been looking for since last year's offseason.
His tenure with Charlotte has been rocky due to the Hornets being a rocky franchise, one of the worst in the league since trading Kemba Walker. With that being said, Hayward is a very reliable bench player that would fit the culture and system of the Phoenix Suns.
Dennis Smith Jr. is also a beneficial player for the Suns, how so? He's maturing each season as a point guard, can play off the dribble, has shown capabilities of making the right play, is athletic, and can score off the bench nicely for the Suns.
In this deal, the Suns are gaining depth players and a starting point guard. These are areas of concern for the Suns and they may look to the Hornets to try to conquer their needs/wants.
Conclusion of this article:
The value of Deandre Ayton is there and I believe the market will treat him well. Ayton has talent, but, for whatever reason, isn't clicking and transitioning well in Phoenix.
Trading Ayton may be the best for both sides, even with Monty Williams fired as their head coach. Chicago, Dallas, and even Charlotte can use the big man and value him more than the Suns have valued him.
Personally, the mock trade I like the most is the second one with the Dallas Mavericks. I would love for the Suns to accomplish offense and defense in that deal, plus receive interesting draft compensation as well.
While Kyrie would be great to have, I believe Phoenix's success lies in getting a solid center and forward that is experienced and can meet the needs of the Suns. Why wouldn't you want to have a nearly all-around center and defensive-minded forward? To me, that is where the gold is at involving Ayton and others.
This offseason is going to be very interesting with all the league's teams, however, Phoenix will be closely monitored by many. It is going to be exciting, and nerve-wracking, times for their fanbase.