'Collaborative effort' will be on coaching per KD and Kyrie!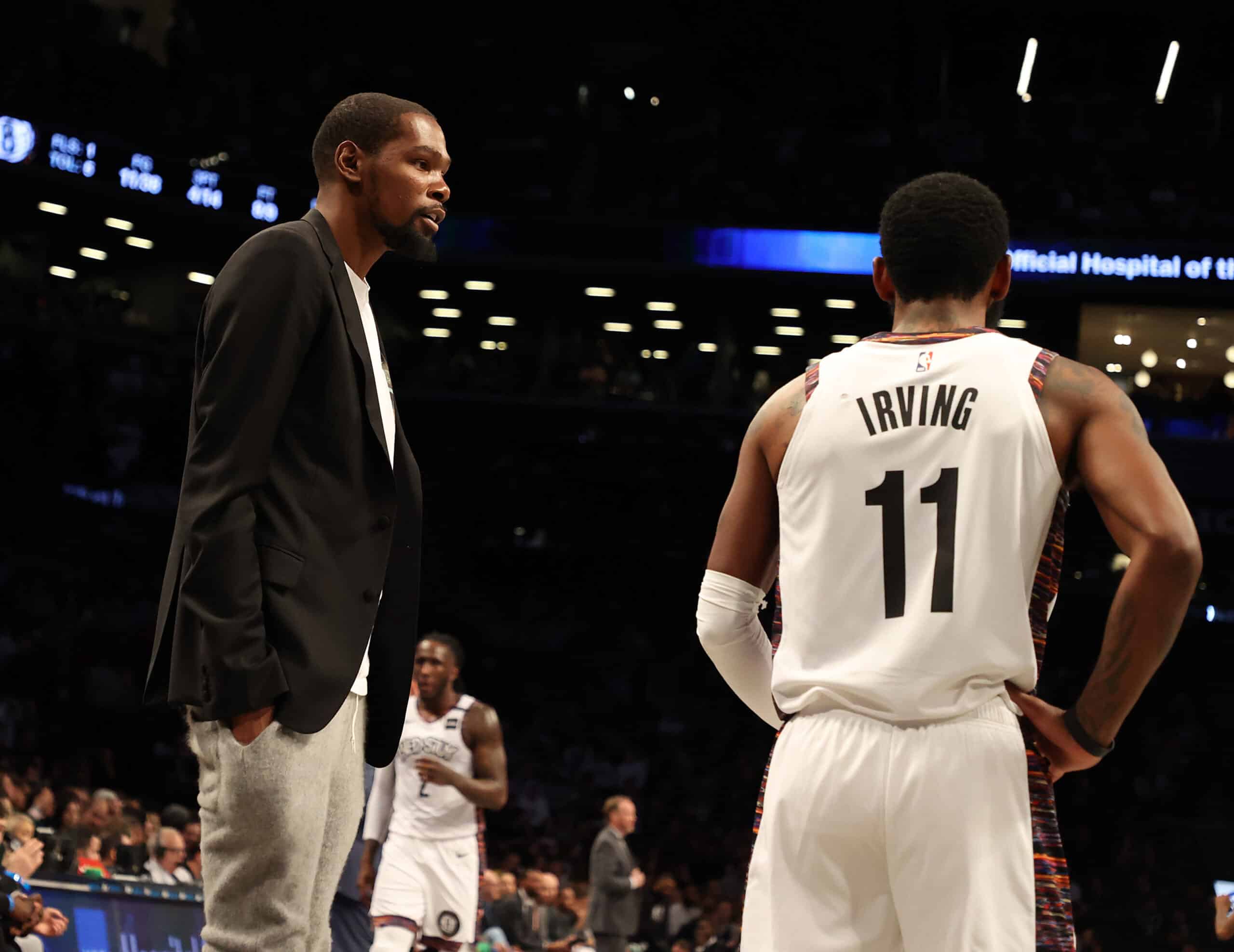 'Collaborative effort' will be on coaching per KD and Kyrie!
'Collaborative effort' will be on coaching per KD and Kyrie! The Net's star players, Durant and Kyrie, says there will be no real head coach. So, basically, Nash won't have full say. He will have to go through KD and Kyrie also, plus this could make KD a coach and Kyrie a coach also.
"I don't really see us having a head coach," Irving said on Durant's new podcast, "The Etcs." "KD could be a head coach, I could be a head coach [some days]."
Now, they aren't discrediting Nash. Kyrie was talking about him on KD's new podcast, by saying he was most excited to work with Nash. Kyrie said that he is a "savant with the basketball." Plus, he is really looking forward to Nash's role and impacts with the Nets.
"Steve is great, and I have a relationship with him that's going to build over time, bro." Irving said. "Steve don't know me from anything he heard or he's heard someone else. We've worked out one time in 2014, but it's grown as just a respectful relationship from afar. I saw him at the Hall of Fame two years ago, gave him a big hug and now he's the head coach. And I think it's also going to change the way we see coaches."
Now, what is interesting is that Nash wants him to understand that he is a human being first. That he won't do anything first that isn't helping his community and having a role that doesn't involve basketball.
Here's the full quote:
"I want somebody that's gonna understand that I am a human being first. I serve my community first, and then basketball is something I do every day because I love." Irving said. "We always heard and saw how great Nash was as a player, but also when you get to know him as a person, you understand why he can coexist with us. We don't need someone to come in with their coaching philosophy and change everything we're doing."
That's interesting as he is saying he wants what they want and Nash might have to work around that. I guess that makes sense, but both players don't have their own philosophy. So both players wouldn't have a plan, because if they had a plan then they could have gotten someone else and they controlled the role.
Here's what KD has to say on his relationship with Nash:
"I think having Steve there and collaborating with our floor general every day is only gonna yield good results for our scorers like myself and Taurean [Prince], Caris [LaVert] and Spencer [Dinwiddie]," Durant said. "Them having that relationship I think is gonna be key for us going forward."
What do I think about this matter?
Here's the thing, KD and Kyrie must not ruin this. I mean this because if they want to have tons of control just like Nash then there might be complications, why? Because the Net's hired someone to rebuild this team, to have his shooting input, his overall mindset, and tips/tricks on how to build a good team. Like passing, shooting, playing solid D, dribbling, etc.
To me, personally, you let the coach be the coach. It's not like he is going to change everything and make them play as he did. No, I think he is going to make them adapt to a new formation of passing more, looking for the open teammate, and not taking cruddy shots.
Also, it is not like Nash is going to leave KD and Kyrie out of big decisions. To me, I think Kyrie is being a little bit too much with his thinking that he is going to change their way of playing. I think he is being a little bit too much, who knows. We will only find out when they start playing, hopefully, things go well for these three.
What do you guys think? Is Kyrie overreacting? IS Nash really going to change everything? Are they being greedy with their relationship with Nash? Sound off in the comments below!
Get to know our shop and our content better!
Watch our last podcast episode to see what has been going around the league, getting caught up, and what you may have missed. Trust me, you don't want to miss out on this podcast. Everything you need to know, and more, within 40 minutes! https://courtsideheat.com/dream-team-action-lebron-rage-playoff-boldness-and-more-ep-6/
If you want to visit our shop for the coolest, most retro items available; then click here: https://www.mercari.com/u/892211489/