Knicks-Hawks finalized for NBA Playoffs!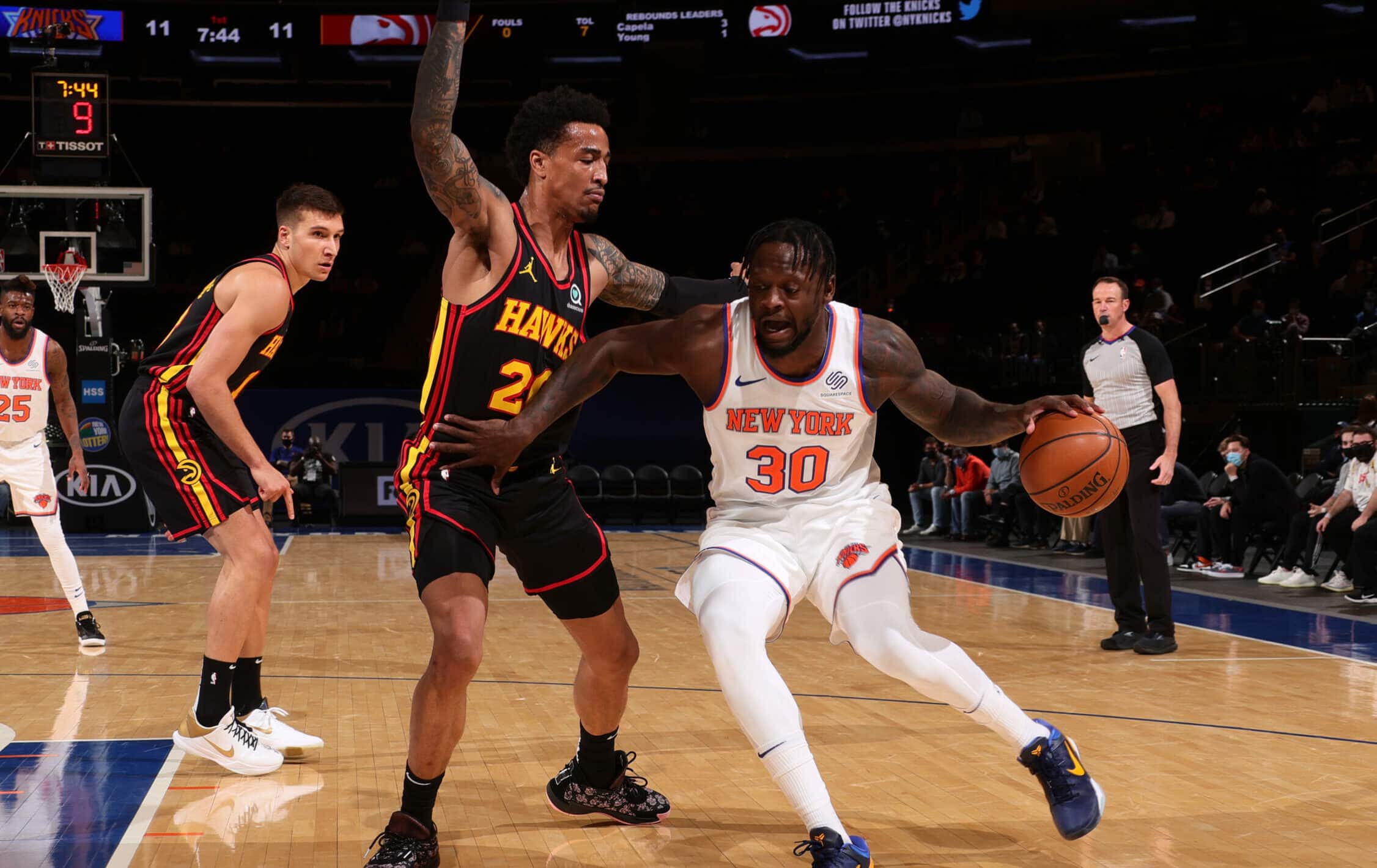 Knicks-Hawks finalized for NBA Playoffs!
Knicks-Hawks finalized for NBA Playoffs! Yep, it has become officially official. We knew these past few days, and even weeks, that the Knicks were going to be in the playoffs. Along with Atlanta. Now it is confirmed; the Knicks has clinched the fourth seed in the Eastern Conference which sets up the first round of the NBA Playoffs.
The Knicks will be getting home-court advantage come May 21st this time around. They were not projected to go have a winning season… or even make the playoffs. This was not speculation, this was confirmed by the higher-ups in the organization. Things really doubled down when it was only Thib's first season with New York; however, with the wonderful coaching that he provides, they were able to exceed expectations. Rapidly and by huge numbers.
The 41-31 team are heading to the playoffs since 2012-2013 and for the NBA Finals since 1999. Their prime years are when they had Patrick Ewing and then arguably with Melo in recent memory. However, this is a new and exciting memory as they finally have a chance to be someone. Especially when playing in the greatest arena ever, MSG.
Also give props to the Hawks and Nate McMillan, who is their intern HC after firing their last one. Why? Because he took this team from 14-20 and transitioned them into a playoff team. Something to think about as the Hawks were going to have a tougher season and another losing season if not for McMillan. With McMillan that created fire for the players, most notably with Young, Collins, and everyone else. Everyone played an important role in becoming the fifth seed, it has been shown and proven.
Here is the thing about the Knicks…
So, basically the Hawks and Knicks will be squaring off with good players and first-year head coaches. Crazy to think about. Now, before everyone starts to rant about how the Knicks do not have any good players and it was Thibs that made them who they were. I completely and 100% agree with that statement and would defend that argument 24/7. However, RJ Barrett, Julius Randle just to name two were turned around due to coaching and management. They are now spreading out to be the players that they were signed and drafted to be.
Then you add in Derrick Rose who can give you some veteran insights, that helped. So, management, coaching, and the players played a huge role in making the Knicks a success. Period, end of discussion.
Now here is the thing about the Hawks…
Atlanta has been very lucky up to this point, why? Due to the fact that they may have saved their relationship with Trae Young after several disastrous seasons with him. Also, showed some life into John Collins who could have been a free agent or potentially resigned once his contract is up. This gives a new perspective on him.
Also, you may have found a new head coach and I believe Nate McMillan is the guy to help. He gets it, he was a former player. A terrific player. As he can help with player development, the scheme fits of that team, rotations and who should be given minutes, and things along those lines. That has proven to be a success up to this point and has not failed yet.
I would make him a certified head coach after this season, whether win or lose, because you should see how he performs next season. Give him a contract extension, if needed, and make him no longer an intern HC. I believe this is the safest, smartest, and most wise thing they did since hiring that bum of a former HC.
Back to the story:
So as you and I can all see is the fact that both of these teams have been very lucky and very skilled this season; the transitions out of bad seasons have happened and new window of opportunities have been opened. This is going to be very interesting to see how both sides face off in the playoffs, not the Play-In Tournament but the real playoffs.
Also, the Celtics who lost to the Knicks for the final game of their season will be making the playoffs. However, it is the Play-In Tournament to fight for a spot in the playoffs. The Play-In Tournament happens between the 18th-21st of May.
It will be exciting how this all unfolds, if you want more news like this subscribe to our Elite Membership here:  https://courtsideheat.com/membership-join/
Get our exclusive content bundle now and visit our social media!
Want to be exclusive? Want to be a member of exclusive and unique content and deals? Then no further for a small price of three dollars you will be a part of the newsletter, get two articles exclusively to you, coupons to you only. Plus, want to know something amazing? We will email you personalized product updates and let you know when the article is live for you to see in the format of a newsletter. Check it out now as you do not want to miss out.
Check the membership out now: https://form.jotform.com/courtsideheat/new-customer-registration-form 
Find out the membership details: https://courtsideheat.com/membership-join/
Find us on Social Media!
Check out CourtSideHeat's social media and different platforms:
(Instagram) @courtsideheatnba
(Twitter) @courtsideheat
(Facebook)@courtsideheat
(Parler) @CourtSideHeat
(Rumble) @CourtSideHeat
(RetailMeNot) @CourtSideHeat
(YouTube) @CourtSideHeat