NBA2K24 Introduces The LeBron Era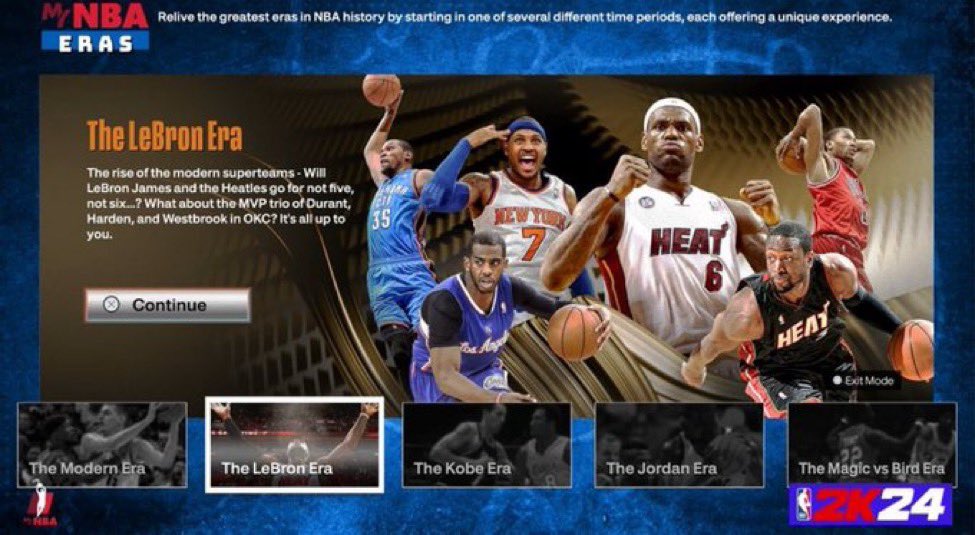 NBA2K24 Introduces The LeBron Era
NBA2K24 Introduces The LeBron Era
Not only is MyNBA back for NBA2K24, but it is back and bringing with them the LeBron Era.
The LeBron Era will be the fifth official era in NBA2K24. It'll be joining the Modern Era, The Kobe Era, The Jordan Era, and the Magic vs Bird Era.
Players can now play through the 2010s, reliving and experiencing some of the greatest superteams and inspiring moments of that period. For example, the Miami Heat and their historic run.
Here is what Erick Boenisch has to say about this new feature
"We're excited for fans of MyNBA to play the all-new experiences this game has to offer this year. MyNBA Eras continues to put players in control of the NBA's future and past, now including a vital part of NBA history with the LeBron Era."
By the way, Boenisch is vice president of NBA Development at 2K and Visual Concepts.
Conclusion
This new MyEra allows fans to have all different types of franchise starts and be able to relive any piece of history they like. All the "foundational" players and moments are now captured into a single, playable game.
WAIT! Don't leave just yet…
If you want to test your luck in trying to win a giveaway, then click on CourtSideHeat's post. You can win yourself a free copy of the NBA2K24 Black Mamba Edition. 
Enter now!