The five best signings of the 2020 NBA Free Agency!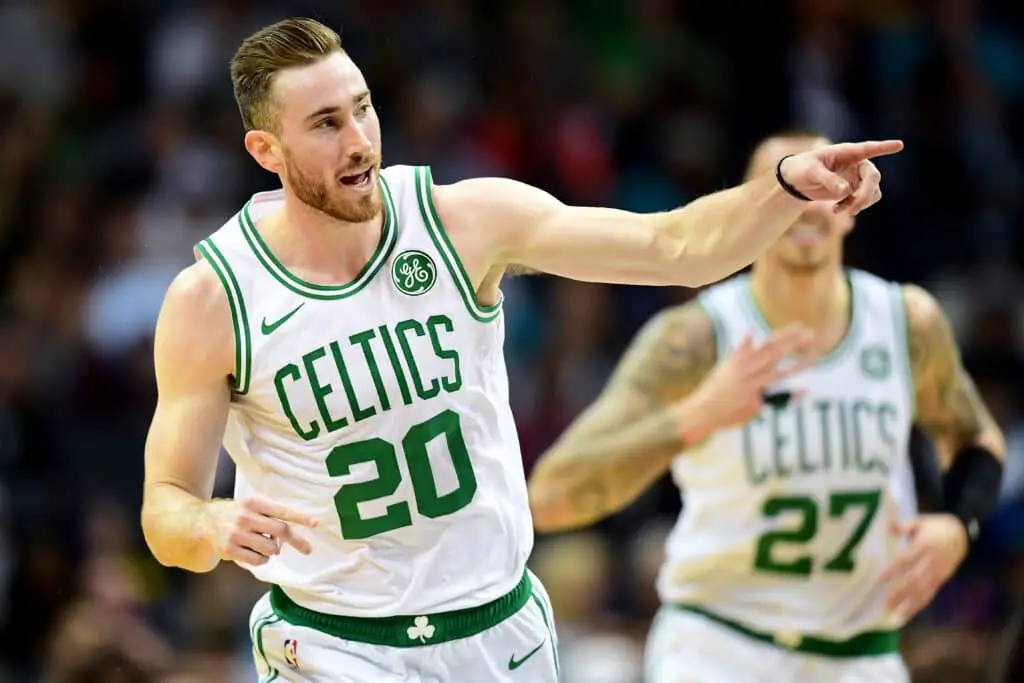 The five best signings of the 2020 NBA Free Agency!
The five best signings of the 2020 NBA Free Agency! The draft has come to pass us, free agency just hit us, and teams are now preparing for the upcoming season. So, this begs the question, what are the five best signings from this NBA Free Agency?
Today, CourtSideHeat will be breaking down the five best signings from five different teams; and how it will affect them heading into this year's NBA season.
Starting at number five: The Charlotte Hornets
The Charlotte Hornets are making an interesting case of signing free agents, have we never seen before this: That Michael Jordan is actually paying someone tons of money, but thank goodness it is for the right reasons.
Signing Gordon Hayward to a four-year, $120 million dollar contract. This move may be surprising to many, but it shouldn't. Because when Hayward is injury-free, he is a beast. Case in point, last season he was averaging 17 points and 6 rebounds per game. That is huge for his part in the Celtic's offense.
Not only is he producing high averages per game, but he is also an experienced veteran. He can command the ball when he wants to, control the pace of the game with the ball in his hand, plus he shows no mercy in the paint. He is that experienced player that acts like a big man that can average seven rebounds per game.
Also, with this young group, Charlotte is growing around them they need a veteran. They needed a player to come in and say this is how the game should look, to teach this younger group how to play the right style, plus having that one guy in the locker room to contain things is always great.
You have to remember the Hornets have now added LaMelo Ball to their group, not to mention other names. Like Washington, Graham, Bacon, etc. People may criticize the deal, but if you want a player to go to a small market team then you have to pay. Or in this case or overpay, to me I think getting Hayward is great but not the contract.
But Michael Jordan and the Hornets added a great basketball-minded player, veteran presence, a solid player of the game, and potentially a floor general type.
Coming in at number four: The LA Clippers
This one may be shocking, it may not. But it was a fabulous replacement, who am I referring to? I am referring to Serge Ibaka signing a contract with the Los Angeles Clippers to be the replacement of Montrezl Harrell.
While they are debating if they had the worse, best, or mediocre free agency this year. No one can debate that adding Ibaka was a bad decision, while they did make a poor decision regarding talent they let walk or being traded. They did make up for it by adding a championship-caliber player.
Imagine this team: Kawhi Leonard, Paul George, Serge Ibaka, Patrick Beverly, and Lou Williams. That is an incredible starting five, just imagine the first three names being a trio. The Clipper's organization is shaping up this team nicely. Trying to push their way, punching in their ticket, to the playoffs and hopefully the NBA Finals.
While this doesn't address their point guard issues and team needs from that direction, it does address the filling of Ibaka. Ibaka has been averaging 15 points and 8 rebounds per game. He is the type of player that can fill the gaps in the perimeter, show no mercy in the paint, and get rebounds and show aggressiveness in the paint on both sides of the ball.
Plus, he can lead the second-unit. So, even though he is getting older; he can lead and follow the first and second-units of the Clipper's team. Great signing, great effort to get him, great for both sides.
Here is number three: The Atlanta Hawks
The Hawks made multiple moves in free agency, and all of them are great moves. This team is in playoff-mode, right here and right now. They are going all in, because they are becoming stacked.
They have signed Rajon Rondo, Danilo Gallinari, and Bogdan Bogdanovic. Bogdanovic and Gallinari are perfect shooting guards, with those two shooters being added this team is becoming stacked at the shooting positions. This team is becoming more lethal.
Rondo will be great for mentoring the younger players, for example, Trae Young. He can teach Young how to distribute the ball better, better passing and seeing the whole court that isn't shooting related.
This new team has been shaping up just through the NBA Draft and Free Agency just this year alone. With the new additions the Hawks now have: Trae Young, Rajon Rondo, Cam Reddish, De'Andre Hunter, and Clint Capela. Those were a few names to name a few.
This team has been looking vastly different and with the new sign-ons and add-ons; this team could be looking at a winning season for once. I would so much as take them to the playoffs when looking at this team on paper.
Heading into number two: The Boston Celtics
The Celtics have signed Jayson Tatum to an extension that is worth up to $200 million dollars. Yes, he was a Celtic before the extension. This is still a great sign and an impacting one on our NBA Free Agency list, the teams themselves, plus keeping their cornerstone player.
I love this contract, the move, the decision, pretty much everything. Because they wanted to keep their franchise player, the guy they need and want to build around. Tatum has been averaging 23 points and 7 rebounds per game, and that was just last season. In every season he has been with the Celtics, since 2017, he has been pushing up his averages. He has been improving like no other player in the 2017 class and has proven he is the piece the Celtics needed and wanted.
I feel great with this, why? Because he is a shot creator, a floor general when needed, can bring up the ball, can be a leader, plus add great depth and numbers to their roster and lineup. The minutes he is getting and will be continuing to get are worth it.
Lastly, at number one: The LA Lakers
The reigning, defending, undisputed, untouchable NBA Champs Los Angeles Lakers have made some moves. But the best signing they have made was signing Montrezl Harrell.
This signing comes as no shock because with Dwight Howard leaving for Philly, they needed a replacement and Harrell is the guy. The Lakers were lacking energy on the bench and defense on the bench, for the most part. That is why you get him because Harrell is a great sub in for the bench and showing his strengths coming off the bench.
The Laker's are in a "win-first" mentality and that is why they are going all in, the big-man will do great. His rebounding skills are perfect, filling the gaps in the paint is his specialty, plus he shows aggressiveness when down low in the post or even in the paint. With the Lakers going big on height and physicality, the team is again being projected to be a serious threat in this year's NBA Playoffs. More so the finals again, they want another ring and they are committing to it all.
Conclusion:
These five teams have made great impacts and moves in this year's free agency; and this should take them further. The Lakers were expected to get a filler, hence Harrell and Gasol. Those moves helped them, but they are already a super team.
While the Hawks, who struggle like nobody else, is making a strong argument to be a good team. They are gathering up all the pieces and are making a compelling case; I'm taking them as a sleeper, an underrated team, to make the playoffs. Bank on that.
What do you guys think? Was this a good sign for the Hawks? Contenders? lakers improving them to another finals? What teams should have made this team? Jayson Tatum worthy of this contract? Sound off in the comments below, CourtSideHeat.com wants to know what you think of this!
Get to know more about our content and our shop!
Check out where Fred VanVleet should be going; there are four possible places. But who are they? Find out right here, right now. https://courtsideheat.com/daryl-morey-and-76ers-ink-up-a-deal-for-5-years/
Get to know more about our content and our shop!
Look at the entire NBA Draft, live coverage, and more! Nobody else kept up with this year's NBA Draft like CourtSideHeat did: https://courtsideheat.com/category/2020-nba-draft/page/5/
If you would like to visit our store on Mercari than click here: https://www.mercari.com/u/892211489/