The two teams that won Free Agency were not the Lakers or Suns – but the…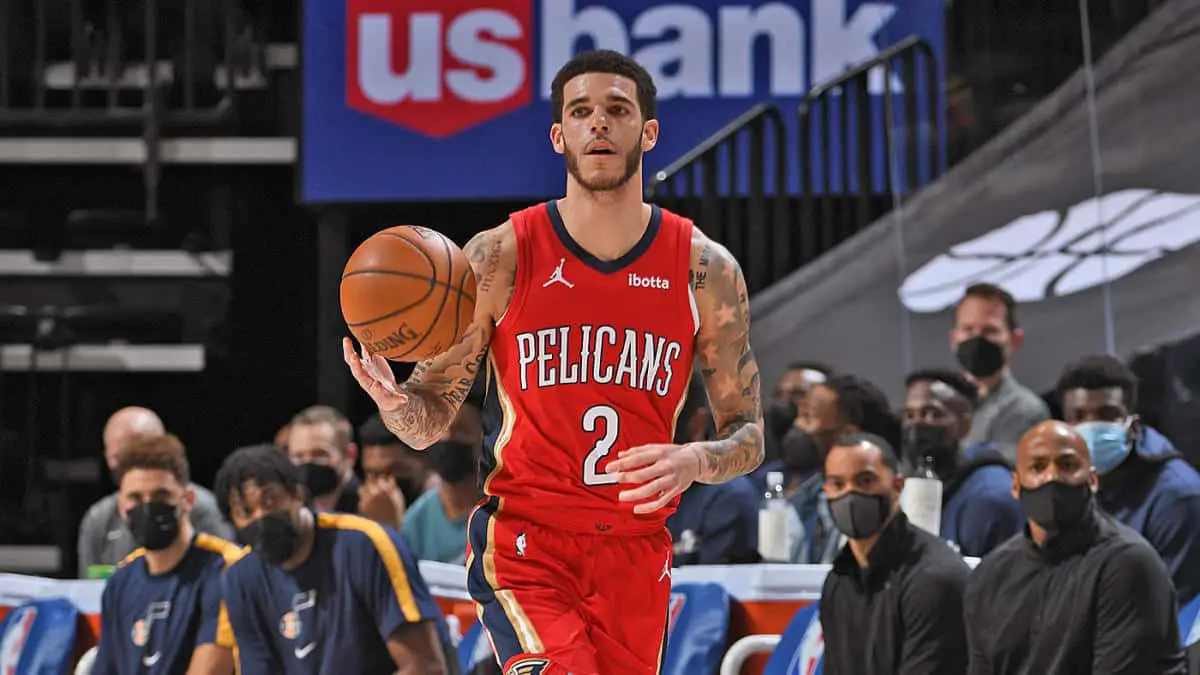 The two teams that won Free Agency were not the Lakers or Suns – but the…
The two teams that won Free Agency were not the Lakers or Suns – but the…
The NBA took some sharp turns during this year's NBA Draft and Free Agency, however, the biggest players in the game were not the top teams from last season. Meaning the Lakers and Suns. However, it was two teams that went under the radar and didn't make huge waves; they are the New York Knicks and the Chicago Bulls.
They are the two fascinating teams out of them all as this free agency saw tons of money go to players that were expected to get huge paydays, but was it worth it? That is what I am going to break down today as both situations are very fascinating to look at.
Now, don't get me wrong, I am happy for the Suns resigning Cameron Payne and Chris Paul so far; I am grateful that has happened, but it was expected. However, they did not make any significant moves besides adding the backup center JaVale McGee, former Nugget that was recruited by Chris Paul and Devin Booker. Then you have the Los Angeles Lakers, who made tons of moves but the majority of them were over the age of 29. There are pros and cons to that, but even with all the acquisitions, they made nothing significant to make them the top two teams that won Free Agency.
So, with all that being said, let's breakdown the two biggest teams that won the 2021 NBA Free Agency!
First up, the Chicago Bulls!
This organization dropped a lot of bombs on the NBA Free Agency side, not so much the draft, however, they have transformed this team from what it looked like in 2018 to what it looks like now in 2021. Chicago added names like Lonzo Ball, DeMar DeRozan, and Alex Caruso. Plus, they already have Zach LaVine, Coby White, Nikola Vuevic, Patrick Williams, and then a good-enough bench.
Adding Lonzo Ball is huge for this Chicago team, why? Because now they have a true point guard and, no offense, Coby White won't have to bring up the ball as the point guard any longer. Ball averaged career-highs in the majority of his stats, especially in shooting percentage. But he was dishing out five assists per game along with 14 points per game.
He is an excellent passer, IQ is great, awareness is spot on, and there are more pros to his passing than shooting. Which, not to sound funny, the Bulls need more than anything. Because with the addition of new players and players like LaVine, they already have enough shooters. Lonzo is the type of player who isn't flashy with his passes (like his brother LaMelo Ball) but can still be very effective on that court with no hesitations. Plus, with him being able to be alongside Billy Donovan, that is going to be a design for success.
Alex Caruso, who is only 26-years-old, is a great fit for the Bulls. Why? It is due to the fact that Caruso brings great defense to the organization, something they need badly. Their center is good defensively in the paint, however, Caruso is a great defender around the perimeter. Plus, he can play uptight on a defender – with or without the ball. Plus, he has grown into a good shooter when he has the ball. His development could be bursting from the seems with Donovan coaching him.
Finally, DeMar DeRozan. Sure, he can be a very questionable sign-and-trade due to mainly what the Chicago Bulls game up to the San Antonio Spurs to acquire him. However, there are positives to him. His pick-and-roll game is legendary for his career, when playing close to the ball he is the ultimate threat to the opposing team's defense. DeRozan has good defense, it can improve, but with the addition of Caruso and then their big-body type guys; the team should be good as things go.
Plus, can anyone imagine what DeMar DeRozan and Nikola Vuevic can do on the court together defensively? That would make for some great plays that could lead to fast breaks, stops, and better rebounding/covering the spaces better.
Overall, the Bulls are the top winners of this Free Agency
Imagine the starting five be Zach LaVine, Lonzo Ball, DeMar DeRozan, Alex Caruso, and then Tony Bradley or Lauri Markkanen. With the guidance of Billy Donovan? Come on! That would be a great turnaround for the Bulls, who haven't been in the postseason since the 2016-17 season. Huge significance as that would be a great turnaround; you know what? Mark. My. Words. The Bulls will be in the Play-In Tournament or in the seventh seed in their conference going into the main playoffs.
Don't be worrying about this team as they could be on some of the biggest team's radars to face in this upcoming season; they could easily be an above .500 team, easily. Unless injuries or player's performance doesn't turn out the way it should, we should be rolling.
Second up, the New York Knicks!
New York has been coming more and more interesting since they turned around their organization last season – actually making the playoffs since the Carmelo Anthony years. But now, they have been coming in hot with the signings (and resigning's) of many good players that could help RJ Barrett, Julius Randle, and Derrick Rose. As we know, besides the signings, Randle signed his contract extension and Rose resigned with the organization. So, this is not a one-and-done experiment with their playoff-core of last year, they are here to stay. Plus, it is more than the money. They actually have a future for something.
Their two huge signings were Kemba Walker and Evan Fournier, hands down that is without dispute. You are rocking a great point guard/shooting guard in Walker, when healthy. As he will win you games, and it helps take the pressure off of Derrick Rose who is climbing up in the age category. Then you add Fournier and look at the Magic capitalized on trading Fournier for two second-rounders. However, people didn't think he was as good and thought the Celtics were doing themselves a disservice. Correction to them as it was the best move that trade deadline that could have been made, Danny Ainge (former Celtics GM) made the best move possible. Because he was able to play good defense, be able to shoot, and just be an offensive powerhouse to his best capabilities. Before getting traded to Boston, he averaged 19 points. Then traded to Boston, averaged 13 points. Still really good considering he was battling COVID and injuries of the sort.
Then you resigned good, quality bench players like Alec Burks and Nerlens Nowell. Sure, not the biggest names but those are names that will do the dirty work and will provide force to your bench. However, you did lose Reggie Bullock who was a great defensive player for the organization. Of which the organization needs more of, but at least they are adding pieces and not doing the Carmelo-trade. Who remembers that when they traded away their entire roster for Melo and he had no one good to play with? That could have happened between the New York Knicks and Damian Lillard, shooting guard of the Blazers.
Overall, the Knicks are underrated for the NBA Free Agency period this year
People may, and will, value the Lakers' moves over the Knicks. But, the Knicks are building a team that could easily go to the postseason several times to where the Lakers may not be able to. Everyone is in their 30s' and injuries have been running up on majority of those players; however, they are in the win-now mentality. Can you blame them? No, why? Because they don't know how many more years they will have of LeBron and Anthony Davis. So, you gotta make the best of it.
Turning gears real quick, when I look at the Knick's potential starting five, this is what I see so far. RJ Barrett, Evan Fournier, Kemba Walker, Nerlens Nowell, and Julius Randle. Something like that for a starting five would be dominant, you have the original playoff-core from last season and then adding two new pieces. Two pieces that could give a great push, might I say. Just imagine that for a moment. I am not saying they are going to advance past the conference finals with this team; what I am saying is this: this organization currently could blow past the first round and potentially, and most likely, the second round. Truthfully, that is how powerful these signings and resigning's were.
With all that being said, that is all I have for this article as these are the two teams that were the main player in this free agency class of 2021. The most dominant force and I believe come the regular season these two teams will be crushing their opponents. What do you guys think? Do you think that can happen with either the Bulls or Knicks? Should these two teams make the postseason within the next several months? Let us know in the comment section below!
Find us on Social Media!
Now, if you want to keep up with basketball and can't listen to their podcast. It's all covered for you, just go onto social media and click on @CourtSideHeat:
Check out CourtSideHeat's social media and different platforms:
(Instagram) @courtsideheatnba
(Twitter) @courtsideheat
(Facebook)@courtsideheat
(Parler) @CourtSideHeat
(Rumble) @CourtSideHeat
(RetailMeNot) @CourtSideHeat
(YouTube) @CourtSideHeat
Click here right now to know why Kobe Byrant is the greatest upset in NBA History, the answer will shock you! Click here: https://courtsideheat.com/kobe-bryant-the-greatest-upset-in-nba-history/
The two teams that won Free Agency were not the Lakers or Suns – but the…
Thank you guys for reading this article called, "The two teams that won Free Agency were not the Lakers or Suns – but the…"