Kobe Bryant: The Greatest Upset in NBA History!
Kobe Bryant: The Greatest Upset in NBA History!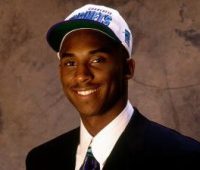 Kobe Bryant: The Greatest Upset in NBA History!
Welcome to Kobe Bryant: The Greatest Upset in NBA History! Kobe Bryant, what comes to your mind when you hear him? Black Mamba? Kobe and Shaq? The four championships? Loyalty? His work ethic and determination for greatness? Or how about his Draft-Day in 1996?
From all the questions listed above, today, we will be exploring the worst and best day of Kobe's career. The funny thing is this: How different it would have been without the trades, the betrayal, and multiple teams.
Intro to young Kobe:
Before we dive head first into things, we need to get a sense of clarity; a sense of where he is at before heading into the 1996 NBA Draft, let's jump into it!
The High-School Years:
First of all, there were no college years for Bryant. He never attended to go to college, the plan was always to go from high school to the NBA. To the pros, to live out a dream, and become successful.
Lower Merion High School, that was the school Kobe Bean Bryant played for; plus, got his high-school number retired: That was number #33. His success, accolades, and achievements were all the talk he needed to prove he was a "special" 17-year-old heading to the NBA Draft.
His accolades and accomplishments? Bryant's career on points would be 2,883, Won the 1996 Pennsylvania State Title, made the McDonald's All-American Team, plus won both the Gatorade and Naismith Player of the Year awards. Needless to say, the man was already climbing the ranks fast. Imagine if he would have played in college what his career would have been in terms of awards and stats?
If he wanted to go to college that would not have been a problem, he was academically prepared and already tested into colleges. He was smart beyond his years, already figured out what he wanted to do, plus determination was always his top priority. Choice came between college and ball, not school readiness. Academics were already a strong suit for him as he learned many languages and had a firm understanding of subjects.
Fun Fact:
Before Kobe Bryant, there were only four other basketball players that made the switch from high-school to the pros, their names?
Reggie Harding
Moses Malone
Shawn Kemp
Kevin Garnett
Now, getting into the good stuff.
Draft Day: Featuring Kobe Bryant
The year is 1996, and the NBA Draft is here. What was/did happen with Kobe Bryant did not only change rosters… but also NBA History.
With the 13th pick in the 1996 NBA Draft, the Hornets select…
The stage has been set, everyone was anticipating who it would be, and they announced the name of Kobe Bryant. However, that immediately changed as the Hornets traded Bryant for Vlade Divac. Both sides got what they wanted, at the time, a proven player and getting an extremely motivated rookie.
Jerry West, Laker's Management, got rid of that huge contract of Divac and got itself a great rookie. However, again, there was some controversy. reports came out that the Hornets never thought of Kobe to be anything, that he wasn't going to bring them value. Hence the reason why they traded.
But also, given the time and circumstances, Kobe bypassed college and went straight to the pros and didn't have enough experience. Plus, this was going to be a draft-and-trade type situation.
This could of, and is, the greatest mistake in NBA History. Why? Because imagine after Magic Johnson, Kareem-Abdul-Jabbar, Nick Van Exel, Eddie Jones, etc that was it. That was it for the Lakers to have a megastar or a superstar type player.
What would have been with the Hornet's roster, their gameplay with Kobe, or even the way they managed him going forward? Same with Kobe and the Lakers, there would have been no championship run, iconic battles would have never happened, and, personally, if they would have kept Kobe they probably would have underused him.
Kobe Bryant made a compelling tweet against the Hornets:
"Charlotte never wanted me," Bryant said in 2015. "[Hornets coach Dave] Cowens told me he didn't want me. It wasn't a question of me even playing [in Charlotte]. It wasn't a question of me even playing [in Charlotte]. They had a couple of guards already, a couple small forwards already. So it wasn't like I would be off the bench much."
Is he correct or is he wrong? If they would have kept him, my fear is this, that he wouldn't have come off the bench; and he most certainly would not have been able to express and show off his amazing and unbeatable skills on the court. If he was coming off the bench with limited minutes, we would be having a different conversation about the Black Mamba.
Trades are an amazing thing… aren't they?
While this still is the greatest, most idiotic trade to ever happen to this franchise and even in the NBA History itself. We have to remember this, that this was planned.
Kobe Bryant always wanted to go to the Lakers, all that needed to happen was the Hornets able to draft him. If they got past the Nets at the eighth pick, they were home free.
The plan, and always the intent, was to send Divac to Charlotte for Kobe in exchange for L.A.
Both sides, in theory, got what they wanted. Especially Kobe because he wanted to go to the Los Angeles Lakers, he did not want to hang around a team that wasn't going to give him the chances he wanted or could have gotten. Plus, would he have demanded a trade to L.A. or somewhere else if it didn't fall through? Who knows, Pandora's Box would have been opened for sure with what-if questions.
Now, where does the two-weeks come into play?
Arguments and different topics came up that it did not happen that night or in the next few days, actually it happened in the next two weeks. Take it like this, yes the trade talks were happening on that day and they made that happen unofficially; but it took about two weeks for it to become official.
Right? The draft concluded on June 26th, and the transaction was official on July 11th. That's where some of the confusion comes into play.
This isn't a what-if, this is controversy!
Now, what if I told you that the Hornets weren't too convinced of trading Kobe? Would you guys call me a lair, fake, clickbait, etc? Maybe, maybe not. But this is the truth. Their own General Manager, Mitch Kupchak, and former Laker's assistant in 1996, said they had some regret even before making the trade official.
Hesitancy and confusion were real and alive. Read what he has to say about this:
"There was such excitement around the pick that Charlotte actually didn't want to go through with the deal," Kupchak recalled. "There was a time there, whether it was Vlade (Divac threatening to retire) or just pressure on the franchise, where the deal was actually in jeopardy."

"It was Jerry's vision that we just had to get the pick (to acquire Bryant), which we didn't have," Kupchak recalled. "Somehow the kid was there" at No. 13.
Imagine this…
Kobe Bryant wearing number eight…. on the Hornets. Having Dell Curry, Glen Rice, and Muggsy Boates on your team. Having a mostly veteran team and rarely coming off the bench. That would have to be the scene.
It is contested and questioned, that would it have worked out better for Kobe or for worse?
I would have to say for the worse, why? The championships is what made his career and with the dominance of the Bulls, before it came crashing down, and the rise of other demanding teams. I don't believe he would have had that success of winning many championships; plus, if he was just coming off the bench with 15 or so minutes. We could have been seeing posting an average of 10/5/2 per game, which wouldn't have done anything for his career and hype with his rivals with Jordan, etc.
Also, the veterans and Anthony Mason would have dominated the head-liners and wouldn't have shown Kobe's true potential. Right? Curry, Bouges, Mason or whoever else would have stolen the spotlight and shot-takes.
Imagine, no Kobe-Shaq Era, no dynasty with the Lakers, Lakers would of had a tougher time (potentially), Shaq might have been the lead star in L.A. if no Kobe, and history would have been different. Most importantly, this could have put a halt to the Black Mamba, not even getting that off the ground for his career. Also, this could have put a damper on players coming right from high-school to the pros to show their inexperience and raw-talent; if there was no Kobe.
Imagine. No. Kobe. Bryant.
Conclusion:
So, as you can see, life in the NBA and his life would have been much different. Miracles and persuasion helped change the future of the NBA and their history. All it took was Divac to not stop the transaction by retiring and putting up a struggle; or even the Hornets not rethinking the trade after agreeing to it.
When an underrated, raw-talent, 17-year-old got that much attention and got what he wanted in the trade. You knew you got something special and pretty talented, just go look at the highlight reels.
How one thing could have led to the next or even worse, could have killed an NBA career and dream. Would the Black Mamba be where his legacy is now with the Hornets? Would he still have those epic rivals with Shaq, Jordan, or anyone he could dominant? Hard to say, but we're glad the trade went through.
A trade. A draft. Many conditions. Many mistakes. One Mamba. It was a ride, a journey, and a special from the very beginning. This, my friends, was the greatest upset in NBA History.
One team's mistake turns into another team's treasure and gold.
Get to know more about our content and our shop!
Want to know more about this one rookie player that many people have forgotten of, click here: https://courtsideheat.com/is-rj-barrett-underrated/
If you would like to visit our store on Mercari than click here: https://www.mercari.com/u/892211489/
Thank you for reading this article: The "Kobe Bryant: The Greatest Upset in NBA History!"
Check out our different social media platforms!
Now, if you want to keep up with basketball and can't listen to their podcast. It's all covered for you, just go onto social media and click on @CourtSideHeat:
Check out CourtSideHeat's social media and different platforms:
(Instagram) @courtsideheatnba
(Twitter) @courtsideheat
(Facebook)@courtsideheat
(Parler) @CourtSideHeat
(Rumble) @CourtSideHeat
(YouTube) @CourtSideHeat
Also, go to courtsideheat.com where you can read unique daily basketball content, shop at the store for sick basketball stuff; plus awesome reviews of historical basketball games. CourtSideHeat dedicates time to make sure you get the best basketball content possible.