Winners and losers of NBA Trade Deadline ~ grades!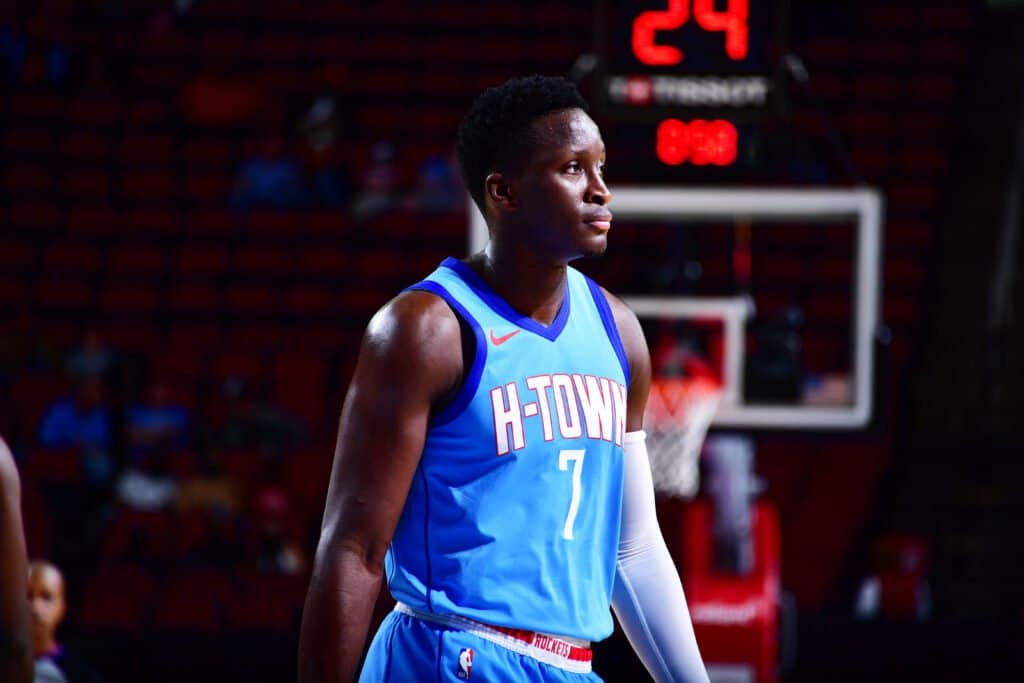 Winners and losers of NBA Trade Deadline ~ grades!
Winners and losers of NBA Trade Deadline ~ grades! With the Trade Deadline over and everyone has had the chance of digesting everything; CourtSideHeat will be breaking down every single trade, the winners/losers, and the grades.
Because there were many trades, 17 to be exact, and we need to know who won and why. And vice versa, we also have many popular names that went to many interesting teams. Remember the likes of Aaron Gordon, Victor Oladipo, Rajon Rondo, etc? This is why we need to break this down and more, all the trades, all right here.
As a key reminder, I am going to list these out in numerical order with the team's name; then of course I will be breaking down the trade and give it a grade.
1. Nuggets/Magic Trade!
The Magic traded Aaron Gordon and Gary Clark to the Nuggets for a first-round pick, Gary Harris, and RJ Hampton.
The Nuggets are becoming more and more of a dangerous threat in their conference and the NBA in general. Making the playoffs last season were great, but they are looking at higher goals and aspirations.
By adding Gordon you now have Gordon, Jokic, and Murray (with a great front and backcourt) on your side. That is a receipt for success. They have extra rim protection, able to fill up the gaps better, and have ferocious skill around the perimeter and paint. That is their money maker and with the way Jokic is playing they are going to cash in hard.
Now, the Magic. They are interesting because of their rebuild, and by the way, there is no problem with that. The Magic actually did well in this trade because they were able to get a first-round draft pick, RJ Hampton, and Gary Harris. Harris is great because he is young, not a bad shooter, passing skills are good, and he has tons of developmental and potential with Orlando.
Harris was having a great stretch of his career happen until more talent came in and they couldn't use him properly anymore and his shooting was off. However, I believe he can average 12/4/4 per game with the Magic and they can use him properly. I think they have a guy that can go out there and grind for 20-25 minutes per game. The other significant thing was the draft pick, great for the rebuilding process.
Who's getting the grade/win?
So who were the winner and who was the loser? By far it was the Nuggets that won, why? Because they can cash-in on that faster, don't have to rebuild, and use those pieces they got for the playoffs and whatnot.
Winner: Nuggets
Grade: A+
2. Celtics/Magic Trade!
Note: the Magic was really involved in these trades on Trade Day and they had about three or four of them. However, this is pretty significant for Danny Ainge and the Celtics.
The trade? It consists of the Celtics giving up two second-round draft picks for the Magic's Evan Fournier. Again, the Magic are in the rebuild process so those picks are crucial. Fournier is a great player that will fit perfectly with Tatum, Brown, Smart, and Walker.
Danny Ainge was a genius and this is something that will work out perfectly, that's why for this move we are making the Celtics the winner.
Winner: Celtics
Grade: B
3. Heat/Rockets Trade!
The Heat traded for Victor Oladipo from the Rockets as they get, in exchange, for Avery Bradley, Kelly Olynyk, and a 2022 first-round draft pick.
Even though they gave up some pieces they got a huge reward. Getting Oladipo is a huge piece as you will have him, Butler, Adebayo, and Herro. That will make them more dangerous and more of a threat for a playoff series and beyond. Oladipo, despite injuries, is a serious player and can have great chemistry with the scheme and players.
The Rockets are in the rebuild phase currently so getting a first-rounder is great and getting some center help is also great. Olynyk is perfect for the team as he can transition nicely because of his development with the Heat and in the NBA Bubble. They'll be able to use everyone to their advantage.
However, just like the first trade we discussed, this is leaning towards who will win it first. The Heat will be the winners of this trade because they got another piece in their playoff push back to the NBA Finals, and they have an all-around type player. This will certainly get them past a few series, but can they make the NBA Finals again? Who knows what is going to happen.
Winner: Heat
Grade: A-
4. Clippers/Hawks Trade!
This trade happened between the Hawks and the Clippers; as the Clippers gave up Lou Williams and two second-rounders for the Hawk's Rajon Rondo.
This is a great move by the Clippers because you are getting a great player in Rajon Rondo, who can still hit shots, open up the court to other players, use his basketball IQ to great lengths, and using his defensive skills. This is a trade-off for more, I get that you got rid of some picks and Williams; however, but you get a player that can be used for more than defense and can help push your team in the playoffs. Trust me, we don't want another repeat like last year's postseason.
Now for the Hawks I get the move completely, they get great draft picks for the future and they have a great defensive player. He can teach the younger guys how to play better defense, get better looks for your teammates, and potentially help them win games.
So the overall winner? I would have to go with the Hawks, they let go Rondo who could be retiring in the next few years to get draft picks and a player. That helps, you can build off of that. Especially for giving up essentially nothing. The Hawks are your winner, but what is their grade?
Winner: Hawks
Grade: B-
5. Blazers/Raptors Trade!
The trade between the Blazers and the Raptors happened and it allowed the Blazers to receive Norman Powell for in exchange Rodney Hood and Gary Trent Jr.; this trade is alright as Powell will be useful for the Blazers and Trent Jr. will be good for what his team needs of him.
Trent Jr. is nice and young to fit right into the scheme and future plans of what Toronto wanted. He will go right in with the mix of Vanvleet, O.G., and Siakam. I believe he can be a starter in that offense too because he is averaging 15 points per game this season.
Powell will be great for the Blazers as his shooting and overall athletic abilities will make him a good fit. That is whether coming off the bench or having some starter minutes. Personally, the matchups and mix-ups would be perfect with Damian Lillard, CJ McCollum, and even Carmelo Anthony.
I believe the winners of this trade would be the Trail Blazers because they'll be able to do more currently with this player and could expand greatly as a whole unit. Also, he could be another piece in their playoff journey.
Winner: Trail Blazers
Grade: C+
6. Bulls/Magic Trade!
The Bulls have traded Otto Porter, Wendell Carter, and two first-rounders for the Magic's Nikola Vuevic and Al-Forque Aminu. This trade ended up great for both sides as this worked perfectly. The Magic have been able to get so many picks from many teams, which helps in the rebuild process. Also, getting Porter and Carter are perfect. They can help out your offense and defense amazingly; they're transition game and overall offensive game is stacked.
Now the Bulls can stop the rebuild, they have the right head coach in Donovan, and they have the right pieces. That would be LaVine, Lauri, White, Williams, and now Vuevic. This team next year, or possibly this year, can make a for-sure run in the postseason.
With all that being said this is a tough decision because both teams have outdone themselves in the rebuild, long-term or currently, and they got fantastic players. So here is my decision…
Winner: Both
Grade: A+
7. Nuggets/Cavs Trade!
The Cavs traded away JaVale McGee for Isaiah Hartenstein and two second-round draft picks. McGee is a great center as a backup/bench type player and the picks are great, the Cavs can always use the draft picks. Hartenstein is a bum but at least you offload him, and to be honest, getting picks for an okay center is great.
Winner: Cavs
Grade: D+
8/9. Bulls/Wizards Trade then Bulls/Celtics Trade!
First off, we have the Bulls trading for Mo Wagner and Troy Brown to the Wizards in exchange for Chandler Hutchinson. This is just for the Wizards to clear up some space for the rebuild project. Now Troy Brown is here to stay, however, the Bulls have something even better planned.
This is where the Bulls/Celtics trade comes into play, how? Well, the Bulls trade away Mo Wagner to them in exchange for Daniel Theis. The reason the Celtics did this was to trade him away to stay below the luxury tax and the fact that they are not confident in able to resigning him. Hence him being unrestricted this offseason.
This is great for the Bulls in all respects because you unload a trashy player to one team and then you flip the player you just received. This led to bigger and better opportunities for them, which was Daniel Theis. That would solve the big-man issue.
So by far did the Bulls play their way into this one, being the likely winners of these trades. Now, what about the grade?
Winner: Bulls
Grade: B+
10. OKC/Knicks/76ers Trade!
In this three-way deal the 76ers get George Hill and Ignas Brazdeikis, Knicks get Terrance Ferguson, and OKC gets Austin Rivers, two second-rounders, and Tony Bradley.
Note: Austin Rivers was waived by the OKC Thunder as he did not fit into their scheme and future of younger guys. Bradley is averaging 5 points per game, not so great. However, their intent was not to get good players more so to offload the contract and potential burden of George Hill. That was their successful move in that trade.
The Knicks got rid of Rivers, which was good because they weren't feeling him either. Now the 76ers got the best deal, how? They got George Hill and his play-style and overall stature is the kind of player they want. You will know have the likes of Simmons, Embiid, Hill, Tobias, Howard, and Thybulle.
By far did Philly win this one, they got a great player, unloaded somethings, and they didn't lose that much in the process. Daryl Morey is a master of these three-way trades, we have seen that his entire career.
So what would be the grade?
Winner: 76ers
Grade: B
The final ones…. The "Ungradeables!"
This is where the final trades that are remaining have no value to them, meaning we can't grade them. It would be difficult and if we were grading them, just by looking at them, they would land at a "D" or lower.
Here is the list:
Mavs receive JJ Redick and Nicolo Melli in exchnage for a second-rounder, Johnson, an Iwanda.
Heat receive Nemanja from Kings in exchange for Silva and Harkless.
Kings receive Davis from Toronto in exchange for a second-rounder.
Jazz receive Matt Thomas from Toronto in exchange for a second-rounder.
Hornets receive Wanamaker from the Warriors for cash considerations.
Spurs receive Marquese Chriss from Warriors for in exchange Lalanne.
Conclusion:
With all the trades we have seen the good, bad, and the ugly. We had some trades that were "A's", some that were "B's", and some that were ungradeable because it was because of the trade or the player was just that awful and down right bad.
These were all the trades and that was the NBA Trade Deadline, we have covered everything. So, with this being said. Do you notice anything you want to change? Were we wrong… right? Do you agree or disagree with our list? Let us know in the comments below this article.
Find us on Social Media!
Check out CourtSideHeat's social media and different platforms:
(Instagram) @courtsideheatnba
(Twitter) @courtsideheat
(Facebook)@courtsideheat
(Parler) @CourtSideHeat
(Rumble) @CourtSideHeat
(RetailMeNot) @CourtSideHeat
(YouTube) @CourtSideHeat
Also, go to courtsideheat.com/ where you can read unique daily basketball content, shop at the store for sick basketball stuff, and awesome reviews of historical basketball games. CourtSideHeat dedicates time to make sure you get the best basketball content possible.
Get to know more about our content and our shop!
LaMarcus Aldirdge is signing with this team that COULD CONTEND FOR THE NBA FINALS! This is crazy and you shouldn't miss out on reading this article. https://courtsideheat.com/lamarcus-aldridge-signs-with-postseason-contender/
If you would like to visit our store on Mercari then click here: https://www.mercari.com/u/892211489/