Is RJ Barrett underrated?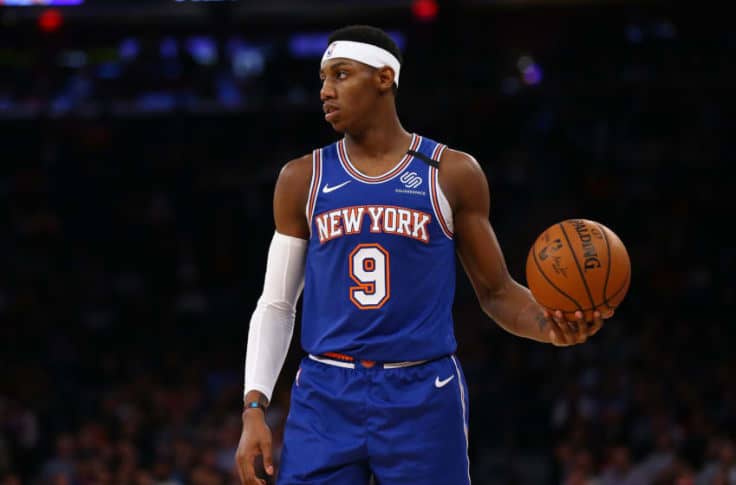 Is RJ Barrett underrated? That is a fair question to ask, why? Because he was the third overall pick in the 2019 NBA Draft, plus this is his rookie season. He showed be getting hyped up by the fans, announcers, sports-figures, ETC.
If anyone remembers the last NBA Draft they would remember it went Zion Williamson (Pelicans), Ja Morant (Grizzles), and then RJ Barrett (Knicks). So why is he being underrated, or why isn't getting so much of a look like Zion or Morant?
Today, I will be breaking down why RJ Barrett has fallen below our scale of talent, and why we need to stop sleeping on him.
Is RJ Barrett underrated?
Truth be told, he is. First of all, he was drafted by the New York Knicks. That was the first mistake. You would think a team in New York, plus playing in Madison Square Garden would help, but it didn't.
Sadly, that might have decreased the interest in so many because of where he landed too. It is not like he is playing badly, he is still scoring high numbers as a rookie. He has been scoring 14 points, 5 rebounds, and 2 assists. Which is in 56 games.
Since the Knicks have been relevant in so long nobody has cared. Look at Carmelo Anthony, he went to the Knicks and wasted his prime with them. Yeah, sure, he had a few botches but the team around him wasn't that great. Here are the statistics to prove that his talent was wasted because of the Knicks.
He was scoring, in all seven seasons, 24 points, 7 rebounds, and 3 assists per game. When people think of the Knicks it isn't about Patrick Ewing, it isn't about what they used to be in the '70s, '80s, and potentially the '90s. It is about how they stunk for the past 20 years and haven't made any progress because their heading coaching decisions were poor and their signings were mildly okay.
A team's reputation can have a major impact on a player's success for fame and for how the player plays.
Are Zion's and Morant's stats any better? Why are they known more than Barrett?
Zion Williamson, to start with, he is with the Pelicans. The Pelicans are unique, totally better than the Knicks. The Pelicans have been a popular team for a while, people talked about them in a positive and negative way, and they used to have a franchise player (Anthony Davis).
Plus, Zion is a lot more known because of his time at Duke. He was making ESPN headlines, breaking the news and internet, and he was the freak of nature in college. The injury he sustained didn't put his career on hold, he continued to get attention because of a shoe incident between him, Duke, and Nike.
This man was always in the spotlight, which helps tremendously. The same goes for Morant. Morant is with the Grizzles right now, which is in the NBA Restart Season currently. Plus, he made his name known in college before stepping foot onto an NBA court. His reputation in the NBA is growing rapidly on and off the court because of how big his success is so far, and if he (or Zion) gets to the playoffs it will grow even bigger.
Fine, they were big names in college and have great success with their teams. But what are their stats to back it up? In short, their stats are great (especially Zion since returning from that knee surgery).
Zion has gotten, so far, 23 points, 7 rebounds, and 2 assists per game. Plus get a lot of attention from the media for matching up against LeBron James.
Even though both Zion and RJ went to the same college, Duke, Zion was a better-known plus with the injury and all the headlines he was making it was truly his team.
Should RJ Barrett be in the conversation of ROY like Zion and Morant?
Truthfully, his stats are there, he showed a lot to us this season that he can grow and develop into an NBA player. The only problem is the team, sadly, it comes down to what team you play for. I think he should be in the conversation for the Rookie Of The Year Award.
Now, this could become a shocker but, Coby White might be ranked higher for the award than Barrett. Why? Because he was getting the attention of the media, he plays for the Bulls (which is a better team than the Knicks), and he has been playing ridiculously (not going off of stats even though they are impressive).
Here's how I would list the Rookie Of The Year candidates:
Zion Williamson

Ja Morant

RJ Barrett

Coby White
That seems like a very good list, but the truth of the matter is this: the media, NBA, and sources around the NBA will be noting only the first two players on that list. Why? To hype them up, to have comparable highlight footage, try to get them more involve, plus show the better stats than what the last two of the four players had.
I think this is my personal opinion if you are not well known going onto a bad team, or you're well-known but it is hard to find your place in the NBA then it will become tricky. A team can make a significant difference in how the media and NBA look upon a player.
Conclusion of "Is RJ Barrett underrated?"
With all that being said, I believe that RJ Barrett in the next few years will make a name for himself. Hopefully by leaving the Knicks, or if the Knicks become good.
For the ROY Award, I think RJ Barrett will just have to suffer through that. Because of the way it is going right now, it is looking to be Zion's award. I think give Barrett some time to grow into a superstar, become a leader on a team (whether on the Knicks or some other team), and let's just see how he adapts to everything.
Obviously, he does have talent. Now it just requires a good team for him to grow and to become a leader. Hopefully, that does come soon so he doesn't look like a bust after his time in New York.
What do you guys think? Do you think he will become a break out star with the Knicks or potentially another team? Can he? Sound off in the comments below!
Get to know our content and shop better!
Thank you for reading today's article called, "Is RJ Barrett underrated?"
If you would like to see more interesting player topics then click here: https://courtsideheat.com/__trashed-3/
If you would like to visit our store on Mercari than click here: https://www.mercari.com/u/892211489/