Sun's schedule comes out – Do they have a shot?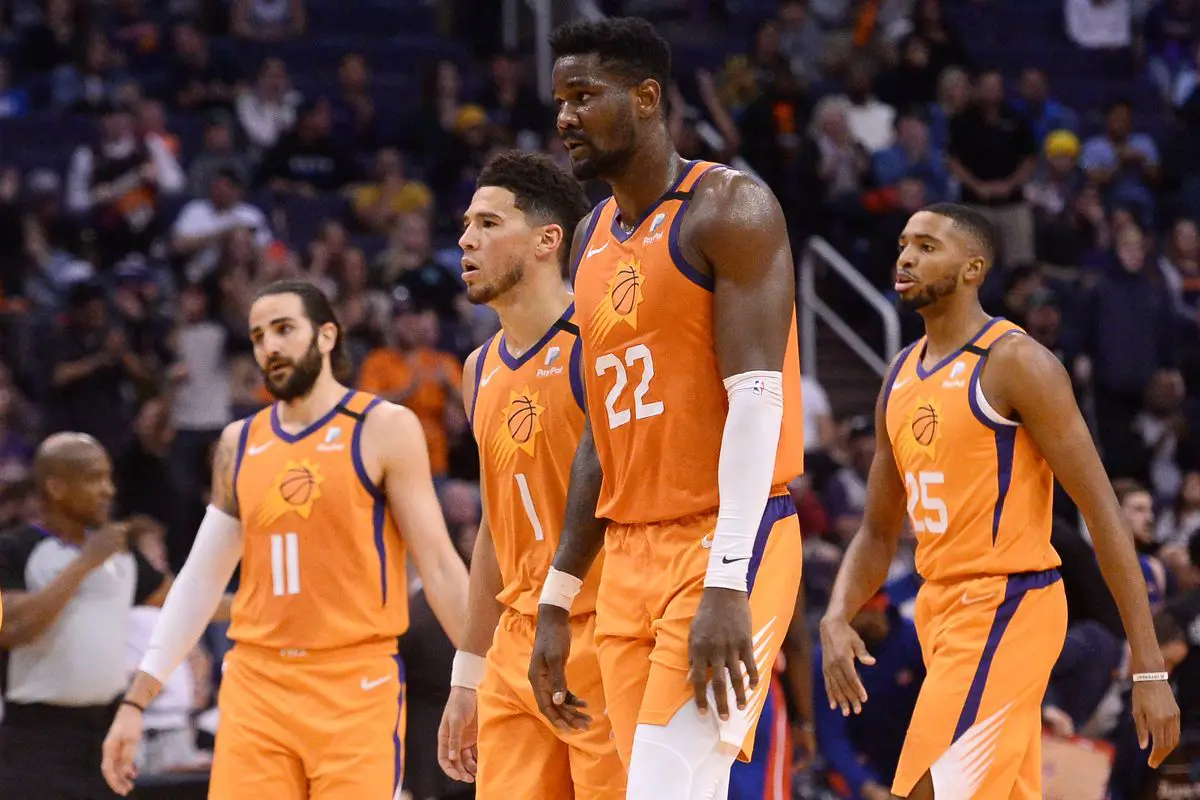 Sun's schedule comes out – Do they have a shot?
Sun's schedule comes out – Do they have a shot? Should we be worried that the Sun's new schedule came out for the restart season? Or should we be excited for them this season? Well, the answer to these questions can not be answered currently as time will need to play itself out.
But, first of all, let's take a look at the schedule to see what they have to look forward too.
1st Game – July 31st – Wizards

2nd Game – August 2nd – Mavericks

3rd Game – August 4th – Clippers

4th Game – August 6th – Pacers

5th Game – August 8th – Heat

6th Game – August 10th – Thunder

7th Game – August 11th – 76ers

8th Game – August 13th – Mavericks
After looking at the schedule – do they have a shot at winning any games?
The Phoenix Suns do have a chance to make the playoffs, but so many factors have to be played out. By looking at the schedule alone, I truly believe they can make something happen.
I think if you have Kelly Oubre, DeAndre Ayton, Devin Booker, and Ricky Rubio ready for the restart season then you have a shot. Here is how I would predict the outcome of all eight games.
(Game One) Win VS The Wizards

(Game Two) Win VS The Mavericks

(Game Three) Loss VS The Clippers

(Game Four) Win VS The Pacers

(Game Five) Win VS The Heat

(Game Six) Win VS The OKC Thunder

(Game Seven) Loss VS The 76ers

(Game Eight) Loss VS The Mavericks
That would bring the Suns record to 5-3, which isn't bad if other teams are struggling. But the probability of them winning some of these games are slim, but you never know.
If the Suns do manage to get into playoffs what could you predict to happen?
Let's say everything works out, miracles happen, they get into the playoffs. Then what? I think even they get into the playoffs they would become crushed, why?
Because these could be different, better teams than the ones they were facing in the eight-game regular season. I truly believe that, even if they manage too, the Suns would blow their chances in the playoffs.
Now, if they make it past round one then you got someone. I think in round one, maybe round two, since these players haven't (nor the coaching experience of this team in the playoffs) been in the playoffs before they will panic, make costly mistakes, and get a little to trigger happy.
I think because they will be new to the playoffs, I believe that they will make errors/mistakes along the way that could decide their future pretty quickly. Now, I don't want them to fail, the reason behind that? Is due to the fact that Devin Booker is becoming a great, athletic, talented player that he deserves to be in the playoffs and potentially win a ring one day.
Plus, for the sake of this franchise they need a change, they need a re-making of this team to where people won't be ashamed to watch them fail after losing by 10-20 points per game. Do you get what I mean? I think if they make it to the playoffs, this would be huge for both the franchise and the players.
Make it to the playoffs, it becomes momentum to something greater. You never know, this could be a landing spot for free agents in the upcoming years if they make the playoffs and show their worth.
Conclusion:
It would be a stretch for the Suns to win at least five games, they have the talent on paper but not so much in live-action, let alone trying to win a series in the NBA Playoffs.
The Suns would have to win at least five games, have the odds and factors play out in their favor, and try to hope for the best record-wise amongst themselves and the other teams.
If the Suns were able to pull this off and get into the NBA Playoffs, even if they lose the first or second round, that would help the franchise a lot and hopefully lead them in the right direction for free agents and winning in general.
What do you guys think, do you guys think they can make the playoffs? How about win five games? Sound off in the comments below!
Thank you for reading this article called, " Sun's schedule comes out – Do they have a shot?"
If you want more articles on the Suns then click here: https://courtsideheat.com/who-would-you-rather-have-devin-booker-or-damian-lillard/
If you want to visit our shop for the coolest, most retro items available; then click here: https://www.mercari.com/u/892211489/