Who would you rather have: Devin Booker or Damian Lillard?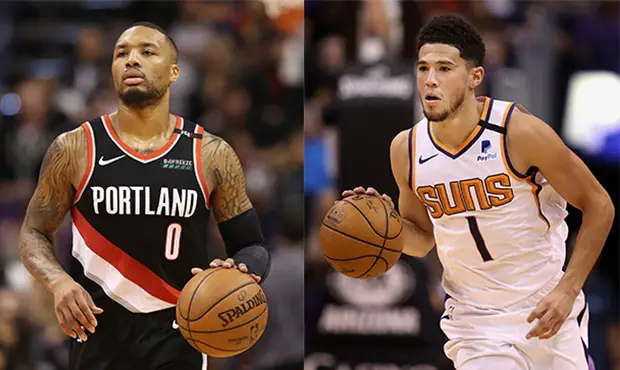 With the All-Star coming around and with Devin Booker replacing Damian Lillard in the All-Star game and three-point shooting contest, this begs the question: who would you rather have?
Both men have become leaders for their teams over the time they spent with them, Booker is the leader for the Suns and Lillard is the leader for the Trail-Blazers.
Lillard would have been in the All-Star game if it wasn't for a groin injury but it is nice to see Devin Booker get a shot at being a All-Star, because this is his first time being selected for this kind of event.
Now let me ask the question again, who would you rather have: Devin Booker or Damian Lillard?
Let's start with Damian Lillard:
Damian Lillard has been leading his team to the playoffs the past couple of years and have been showing off his range and showing that he and his team can make it to the next level, but does his stats do all the talking for him? Yes and no.
Lillard has been averaging 29 points a game, 7 assists a game, 4 rebounds a game this season. Now lets take a look at the percentage at which he's making these shots: he only has been shooting at 46 percent from the field and only 39 percent from 3-point range.
Those aren't bad statistics to have when heading into the All-Star Break since your team has a losing record, 25-31 sitting at 9th place behind the Grizzlies, but you got to remember he is not doing this all alone he has amazing teammates who can contribute too.
Plus he is playing 37 minutes which means he should be having better stats from the field weather that be lay-ups, jumpers, rebounding, defending, blocking, ETC. The one thing I will say that is true is that Damian Lillard is not a all-around-player, he is more of a offensive player which is fine because the NBA now don't care for defense just offense.
This by far one of the best seasons Lillard has had because his stats keep going up every year, but is it concerning when he is not hitting over 30 points a season? Most NBA players now are shooting for 30+ points a game, specially leaders on the team, lets be honest if a guy is not hitting over 30+ points a game and is not playing solid defense then he is just a offensive guy that can shoot.
Don't get me wrong I think Dame Time is an amazing player but we have to look at him face value and say that he is more of a offensive player then anything, if you need a guy who can drive, cross-up, or just shoot from long-range then he is your guy. But most guys now can shoot from anywhere, look at Steven Adams he shot a half court with ease yesterday that was epic.
Now lets direct our attention over to Devin Booker:
When anyone thinks of Devin Booker they think of a great player on a horrible team, sadly that is the part that stinks because if you are on a team that isn't doing well then everyone isn't going to pay attention to you.
That is what happened when Booker didn't get into the All-Star in his career except for this year, Booker has been putting up great numbers his whole career but this year he is on a mission. How?
He's doing it by playing better defense, offense, tightening up where he needs to, hitting three-pointers, getting into the lane, passing, shooting, ETC. The list goes on and on, if we look at the stats then you and I will be impressed.
His stats his year start out with 26 points a game, 6 assists, 4 rebounds, but here comes the ultimate stat he is shooting 46 percent from the field plus 36 percent from 3-point distance.
By having a shooter shooting over 45 percent a game and shooting 36 percent from the 3-point line that should tell us that he is capitalizing on more of his shots and taking smart shots instead of forcing.
His talent, his skills, his work ethic is being showed day in and day out. It truly is because you can tell that he wants to prove to everybody that the Suns and him are an amazing team and that they will be in the playoffs one day.
Out of the two players I would pick Devin Booker over Damian Lillard because Booker is more of a all-around-player type, he is a player where he looks to pass instead of shooting first. He can pass, rebound, shoot, play tremendous D on somebody, and have those fast break games.
Both players are great but I rather see Booker in the All-Star competition then Damian Lillard, to me Booker brings more to the table for a team then Lillard does.