Giannis on LeBron: "It's amazing. He's 35 and playing at a high level."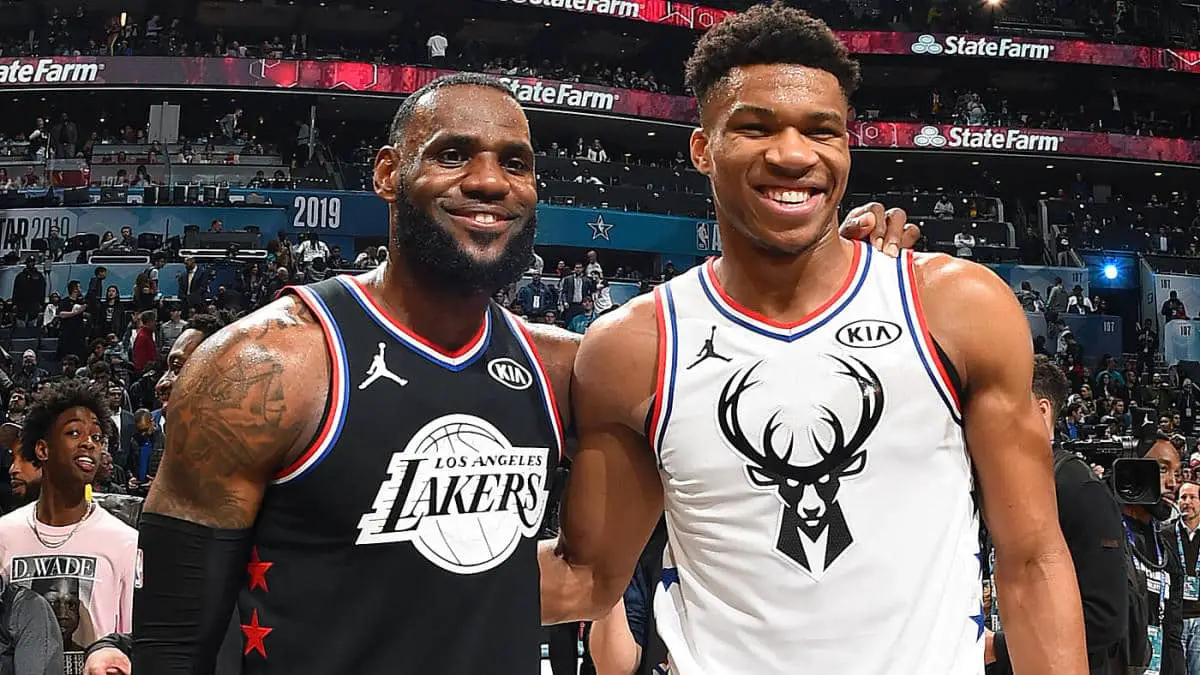 Even though Giannis Antetokounmpo and LeBron James are competitors on the court and were competitors in the NBA All-Star game, Antetokounmpo has said that he is inspired that LeBron James is still able to keep up with the game of basketball plus still be electrifying.
"It's amazing. He's 35 and playing at a high level," Antetokounmpo said Wednesday as his Milwaukee Bucks prepared to face James' Los Angeles Lakers on Friday. "He just leads the path for us.
"A lot of times we think that, 'OK, we're going to retire at 35,' but seeing a guy at 35 being still top-three best player in the world, that makes us want to be there. Makes me want to be there one day, so I've got to keep taking care of my body, eating the right way, being healthy, and as I said — he paved the way, and hopefully we can just follow."
With the Bucks and Lakers facing each other off tomorrow Giannis will be deleting social media to keep himself mentally prepared, because all he and his team wants to do is be laser-focused on LeBron and the Lakers. The Bucks will not be practicing today, just as a side-note.
"Obviously, they're gonna try to get payback. We beat 'em pretty bad," Bucks guard Eric Bledsoe said. "They're gonna try to come out strong, so we just gotta match their intensity. They're at the top for a reason — they've got two of the best players in the league and a great supporting cast. So we just gotta try to match their intensity."
Said Khris Middleton: "I don't want to put too much on it. … There are so many things that go into it. We just can't say it's going to be a Finals preview. We have to go step by step, not skipping anything. Hopefully we get there. Who knows if they'll get there."
The Bucks and the Lakers have the best records in their conferences and with the Bucks winning their last meeting, 111-104, the Lakers will be hoping to put an end to Giannis and the Bucks tomorrow. All Giannis is concerned about is how to stop the two best players in the league currently.
"Just go there and just play good basketball. As I said, the Lakers are gonna come play hard. We know that. I watched the game last night. They played extremely hard. They played through Anthony Davis, LeBron was facilitating, guys were shooting the ball, they were running to the corner, they were playing good basketball," Antetokounmpo said. "And they lost the first game, so they're gonna come out and try to win the second one.
"But at the end of the day, we gotta do what we do, which is defend and run to the corner and run to our spots, move the ball, take the open shot, make the right play, drive the lanes. We've done this two years now — a year and a half, almost two years — and things take care of itself. So as a leader, I just gotta do that, and as a team, we just gotta stay on track."
So don't miss tomorrow as it will be a thriller against the Greek Freak and "The King" LeBron James.