What To Know About NBA2K24's Season Passes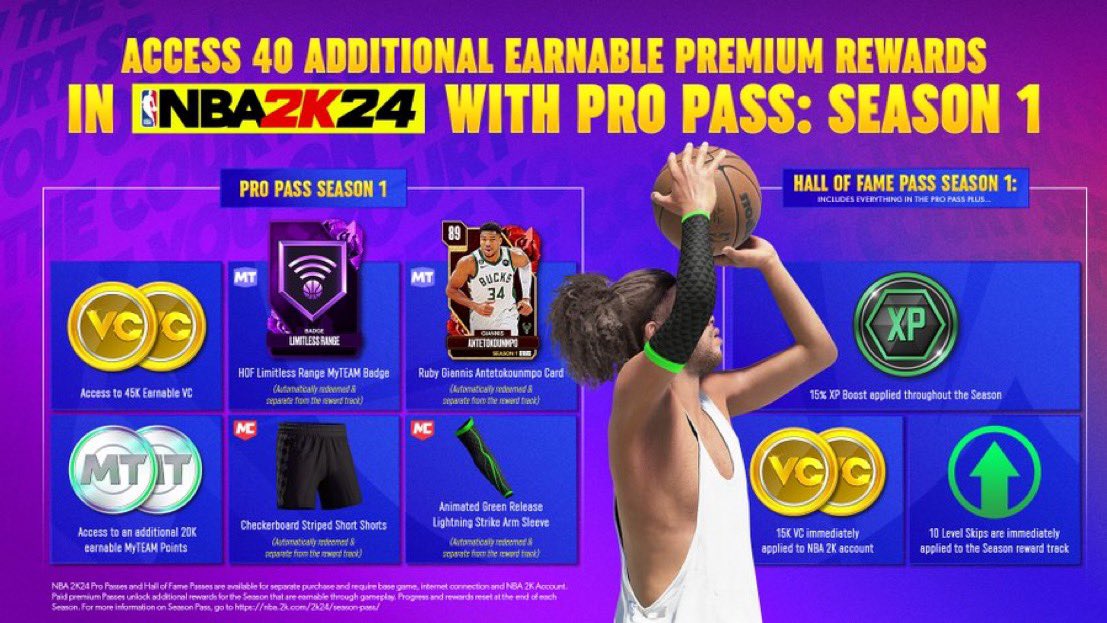 What To Know About NBA2K24's Season Passes
What To Know About NBA2K24's Season Passes
NBA2K has made some major announcements regarding seasons and it has the 2K community divided as some like it and many dislike it.
In NBA2k24, there will be new ways to progress through your journey from Season 1 to Season 40. New options and rewards have been put into the game to give players meaning and give them a sense of accomplishment and satisfaction.
To achieve this, 2K has announced different types of season passes one can purchase to advance through the seasons.
Here is everything you need to know about these passes
While you can still use the free pass, 2K offers the Pro Pass and Hall of Fame Pass. These two passes will cost players real currency, not VC.
The Pro Pass will cost $9.99 and offer users 40 different Premium Level rewards, VC, and MTP (MyTEAM Points). Players can collect these rewards throughout the season.
The Hall of Fame Pass will cost $19.99 and offers users of the Pro Pass, an additional season pass award, a 15% XP boost, and the ability to automatically skip ten levels of the Season Pass.
MyCareer and MyTEAM related to these passes
A unified progression system has been put into place, this is for all three levels of the Season Passes. Players can now earn up to 80 Level rewards, which means you can achieve 40 in MyCareer and then in MyTEAM.
This gives players more opportunities to earn more.
Why people have a problem with these new passes
The community is having a problem with how invaluable the free pass will become now that they'll always be a step behind unless they pay.
The game will cost $70+, then users will have to pay more to use the seasons' features. Also, games like Fortnite use passes, however, the game is free, and don't need to pay money to play the game. People continue to bring this up as a cash grab for 2K.
This will certainly be a big debate now until the game comes out, fans of 2K and causals will argue whether this was necessary and what could change to make it better.
While there are many good things to say about 2K24, there are some downfalls and questionable things that have fans speculating if they should even purchase the game.