Who Is Victor Wembanyama?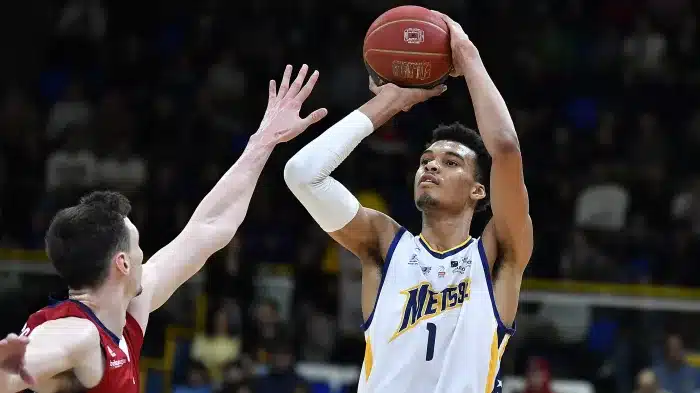 Who Is Victor Wembanyama?
Who Is Victor Wembanyama?
We all know that Victor Wembanyama is this generational talent that will go to the Spurs with the first overall pick; but, what made him this bigger-than-life player that is known as the greatest prospect in any sports league?
This article will be breaking down the fascinating start of Wembanyama, his time playing in EuroLeagues, what caused America to care about him, and leading up to the present times.
Victor Wembanyama: Life Before Basketball
Many people would think Wembanyama was always playing basketball to be this good and be called an "alien" by LeBron James. However, that isn't the case.
As a young child, Victor Wembanyama played soccer (or else known around the world, as football) and practiced judo. It wasn't until his mother convinced him to start playing basketball, that is when he started learning the game before going pro in 2019.
At age seven, he started to play at Entente Le Chesnay Versailles; Entente Le Chesnay Versailles is a youth basketball program. At the age of ten, Wembanyama entered the JSF Nanterre youth system, which became his home away from home.
Through interviews and general knowledge, Wembanyama was an intelligent child/teenager that had the best of manners. Beyond his basketball skills, he knew how to handle questions very well through the media. Became very well-spoken.
Fun Fact:
Victor Wembanyama taught himself English through English-speaking television shows.
Victor Wembanyama's first team WASN'T Metropolitans 92
He entered the JSF Nanterre youth system and continued playing basketball with Nanterre by joining Nanterre 92. He spent two years with this club, however, it had its ups and downs.
Pascal Donnadieu was his first professional coach, but this coach didn't allow Wembanyama to shine right away. Wemby's first two games had limited action with his professional debut only lasting 31 seconds.
At 15 years, 9 months, and 25 days old, he was the second-youngest player after Stefan Petković to play in the EuroCup. With that said, the freakish athlete then enrolled in Nanterre's under-18 team at the Kaunas qualifying tournament for the Adidas Next Generation Tournament.
On February 8th, Wemby posted 22 points, 15 rebounds, and an ANGT-record 9 blocks in a win over the under-18 team of Zaragoza. His career was gaining traction as he was on the up-and-up now.
Overall, Wemby averaged 15.8 points, 12.0 rebounds, 2.8 steals, and 6.0 blocks per game in Kaunas, leading the tournament in blocks and earning all-tournament team honors.
What makes it even more impressive is the fact mostly he came off the bench.
While he continued to join different leagues and have different experiences, the final negative to 2019-2021 was his suffering a stress fracture in his fibula; the injury caused him to miss two-and-a-half months of playing time.
However, he got much more time with the seniors when he returned and it elevated his game. He started in 10 of 18 Pro A appearances, averaging 6.8 points and 4.7 rebounds per game, and was named Pro A Best Young Player.
ASVEL (2021-2022)
Following his incredibly eye-opening season with Nanterre, he opted to leave and sign with ASVEL of the Pro A and the EuroLeague.
This was a rocky time for Victor Wembanyama, who did sign a three-year deal with ASVEL. Injuries took over and it took away from his playing time.
Missed start of the season due to an illness (month)
Fractured finger (2-3 weeks)
Bone bruise on his right shoulder (4-6 weeks)
Suffered season-ending psoas muscle injury
Despite Tony Parker, club president of ASVEL, promising to build a solid team around Wembanyama, he decided to opt out of his remaining contract and go to a different club. While he was still one of the best players during 2021-22, factoring in his limited availability, he just wanted new sights and bigger opportunities.
Metropolitans 92 (2022-present)
This is the team where fans all over the world, scouts in the NBA, teams everywhere, etc were hearing great things about Victor Wembanyama. The 2022-23 Pro A season was the season Victor Wembanyama let everyone know that he is "HIM".
What made Americans care for Victor Wembanyama is when he played two games against the NBA G League Ignite, not only was it the G-League, it was the fact that he was facing top-3 player Scoot Henderson.
Wemby made his debut in the United States as the games were televised nationally and attended by over 200 scouts and NBA executives.
In the first game, he recorded 37 points, 5 blocks, and 4 rebounds in a 122–115 loss. However, in the second game, he pushed his team to victory and recorded 36 points and 11 rebounds.
This, in a nutshell, solidified him as a top-2 pick before he continued on with the Metropolitans 92.
Amazing stats featuring Victor Wembanyama:
November 4th, Wembanyama posted a career-high 33 points, 12 rebounds, 4 assists, and 3 blocks in a 78–69 win over Limoges CSP.
December 2nd, Wembanyama posted his fourth straight 30-point game with 32 points, 10 rebounds, 4 blocks, and 3 assists in a 96–85 victory over Fos Provence.
January 9th, 2023, Wembanyama made a game-winning putback dunk with 3.5 seconds left in the game and posted 15 points, 9 rebounds, and 5 blocks in an 84–83 win over ASVEL.
Pros and Cons of Victor Wembanyama
Pros:
Great shot blocker
Absolute beast defensively
Gifted athlete
Can score on and off the ball
Solid rebounder
Good at being in the low-post
A solid shooter
Cons:
Needs to add strength to be more physical
At times he can struggle to hold position defensively
Sometimes his shot selection is not always correct
Concluding this article
The San Antonio Spurs have the first overall pick, the census is them taking Victor Wembanyama, which means they'll continue to have a greatness-level player. From David Robinson, Tim Duncan, and Kawhi Leonard, Spurs' fans will have another big man that could be better than all of them combined.
Wembanyama is a certified stud that has proven himself to be at a high level that can transcend into the NBA level. He is a versatile scorer that can be in the post or have a mid-range shot, that is his bread and butter.
While he needs to be more consistent on outside shots, his all-around abilities will make him one of the best-rising superstars in today's league. I have no doubt he will be Rookie of the Year and take this franchise from being hopeless to hopeful.
Plus, if he bulks up like Kevin Durant or Hakeem Olajuwon, then watch out. He is going to be very entertaining to watch as this could be the next big thing in the NBA.
The 2023 NBA Draft is June 22nd, 2023.