Brandon Ingram wins MIP Award!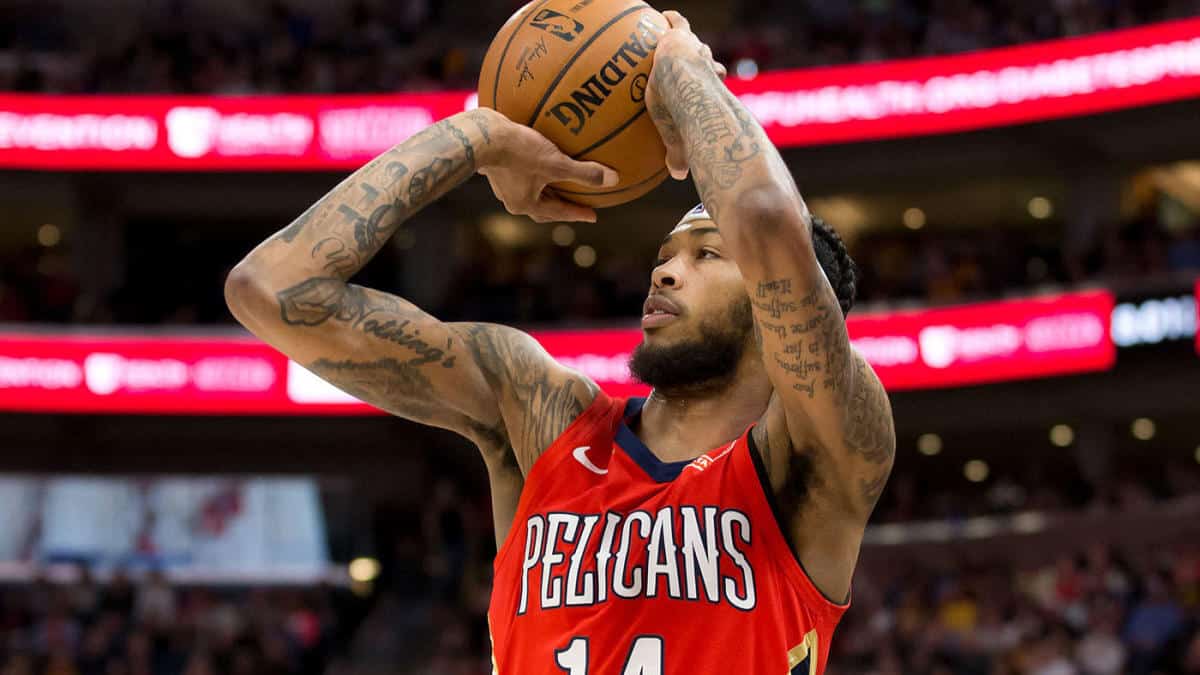 Brandon Ingram wins MIP Award!
Brandon Ingram wins MIP Award! Pelican's player, Brandon Ingram, has won the Most Improved Player Award. Ingram, this whole season, has shown what he is made of. He came through for the Pelicans, even when they were in their slumps through most of the season.
Ingram's stats were off the chain as he was setting career-highs in his points per game, this is what he averaged. He got 24 points, 6 rebounds, 4 assists, and keeping a steady 39% from the arc from this season.
If everyone recalls, he was in the package deal (along with other Laker players) to New Orleans for Anthony Davis. People were very down on him, but for some reason, he turned it on. He reached new highs in shooting, became a popular player through his game, and made an exceptional start with the Pelicans. Huge success for this man right here.
This is what Brandon Ingram said in regards of winning this award:
"But I think this year was just the year I had the most fun. The most fun playing basketball that way that I wanted to play basketball." Ingram said during a conference call after winning the award. "I had an opportunity to be in the gym every day with my teammates, who love to do the same things that I love to do. See some of the guys come back to the gym all the time. Always asking and asking for different advice on the basketball floor so they can get better in-game; but not just their game, but for our team. That was just the most enjoyable moment for me. I don't think it was a stat or anything that made me the happiest or motivated me the most. I think the type of player I want to be, I want to be well rounded all across the board, I think what impressed me the most was how much fun I had with my teammates and seeing the attitudes they had every single day."
It is amazing to see that Ingram was able to top all of his stats, from scoring three-pointers to his assist game. Because last season he was averaging 18 points, 5 rebounds, 3 assists, and shooting 33% from the arc.
How close was the award-race?
The award-race was very, very close. Because right behind him was Heat's player, Bam Adebayo. Ingram had 42 out of the 100 first-place votes, then came in second with Adebayo. Adebayo had 38 first-place votes. Then, which is kind of surprising, Luka Doncic. Doncic had 12 first-place votes. We have to remember, that all these votes came from a global panel of 100 voters. This consisted of sportswriters and broadcasters.
Do you agree with Ingram winning this award?
I 100% agree with this move, but it is tricky. How? Because Adebayo was kicking it into gear too, so was Ingram. They both made the All-Star teams, plus Adebayo won the Skills Competition at the All-Star break. Both players had great seasons, prior to their past season(s).
Now, what really made me love giving the award to Ingram. Was the fact that he came back, from the past season, of a serious blood clot that could have left him out of a basketball team and never to step foot again on a basketball court. That to me was spectacular, especially since having to mesh new chemistry with players there. So, that is a bigger accomplishment than winning the Skills Competition at the All-Star Break.
Who has won awards already?
So far we have Nick Nurse and Giannis as the only two, prior to this new award winner, being chosen for an award. Giannis won the Defensive Player of the Year Award, while Raptor's HC won the Head Coach of the Year Award.
Get to know more about our content and our shop!
Thank you for reading today's article called, "Brandon Ingram wins MIP Award!"
If you want to learn more about the greatest moments in Larry Bird's career, then click here: https://courtsideheat.com/larry-birds-top-5-moments-in-his-career/
If you would like to visit our store on Mercari than click here: https://www.mercari.com/u/892211489/