Breaking down Kobe's 81 Point Game!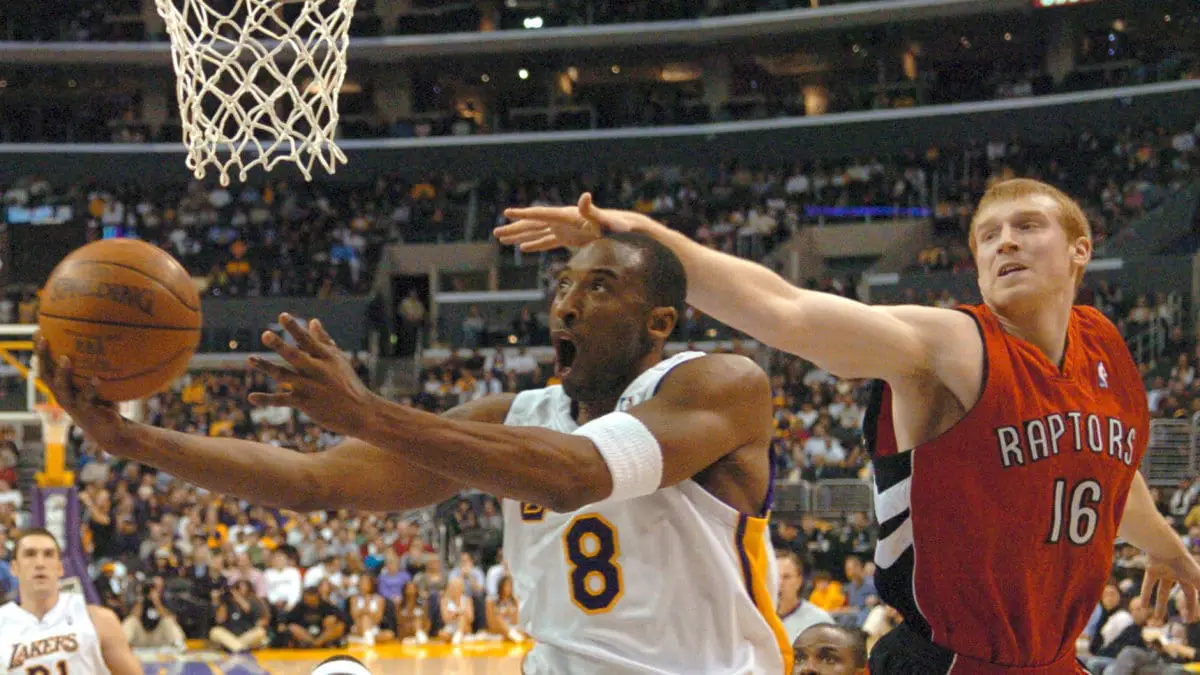 In honor of Kobe Bryant I will be breaking down the game when he scored 81 points against the Raptors back on January 22, 2006. In 2006 Kobe Bryant was dominant, fierce with his stats. He was always on fire with his assists, rebounds, dunks, shooting, pretty much anything you asked from him he could do.
Even though they lost to the Suns in the first round of the Western Conference playoffs his team was still playing very well with Bryant leading at the helm, Bryant showed off his talents during that season like no other player.

In today's breakdown I will be covering the game that Kobe Bryant scored 81 points against the Raptors back on January 22, 2006. His overall stats were amazing with 81 points, 6 rebounds, 2 assists, 3 steals, 1 block, and he played an impressive 42 minutes.

I will take you in each quarter on how the highest scorer did after the period ends, I will breakdown the highest scores in the half, I will breakdown both team's stats after each period too, this is basically an in-game analysis each quarter. Fun fact: when this game was over Kobe Bryant was behind the legendary performance of Wilt Chamberlain's 100 point game.
QUARTER #1:

The Raptors in 2006 got off to a rocky start in November posting a 1-15 record but since then they were 13-11, they seem to be rebounding their season. A lot of times in the first the Raptors were executing, rebounding, getting good passes and shots. First quarter was okay for the Lakers because they haven't gotten anything started yet, Kobe got some buckets falling for him but nothing spectacular.

Villanueva has been getting off to a strong start, he's been shooting, passing, rebounding, and playing defense the right way. He is definitely having a strong first quarter, but the only probably for him when coming into this game was that he was inconsistent some nights he could light it up other nights he would vanish like a ghost.

Entering tonight for Kobe he was 59 straight free throws after making two in the first quarter, Kobe has 12 so far with less than a minute left. Mihm has been following Bryant with 8 points, he has been having some put back points. Fast break points have been the thing for the Raptors while the Lakers have been trying to have a slower pace to the game.

Kobe Bryant drew a foul while pump-faking, there were two guys on him but the one big man bit on the fake shot. Bryant drew the foul with 1.0 second remaining in the first quarter. Kobe Bryant leads the NBA in points per game while, which is interesting, LeBron James notched 5,000 points before the Raptors-Lakers game. LeBron was the first in NBA History to be the youngest player to reach 5,000 points.

End of the first quarter Lakers are trailing by 7 as the score is 36 to 29, this has been a productive game for both teams. Some of the things both teams need to fix is that the Raptors need to stop playing sloppy defense by playing poor zone, for the Lakers they need to fix on their shots. What I mean by this is that they are missing somewhat open shots whether that be three pointers or simple lay-ups, the fast-break has been more Toronto while the Lakers are trying to slow things down at home.

The top scorers for both teams right now would be Bryant with 14 points (Lakers) and Villanueva with 10 points (Raptors), right now the Lakers are at 46% field goal percentage while Toronto is going strong with 68% field goal percentage. The Lakers have more rebounds (14) than the Raptors (6), but for the Lakers, this is the season-high game where they allowed 36+ points in the first quarter.

QUARTER #2:

Kobe hasn't checked in the game yet and we are at 9:39, Lakers struggling but the Raptors are taking advantage of the defensive break. Raptors and Lakers are both missing shots now, at least 3 fouls have been called combined this quarter. IMPRESSIVE AND-ONE! They got the controlled rebound and now they got the and-one, but sadly they missed. Score: 40-29 Raptors, 3 second fouls have been killing drives at least two of those.

Kobe Bryant hasn't checked in yet and it's been 5 minutes, the team is hurting offensively without him. The Raptors are cashing in, the Lakers have been flat not being able to cash in on offense is hurting them and Toronto is taking advantage. There is 6 minutes left to play timeout was called by the Lakers.

Kobe Bryant has finally checked in after seeing 6 minutes, he cashes in the triple. He has 13 points in 13 minutes, momentum is turning to the Lakers. Toronto has been knocking down their free throws, 8-9. Kobe has 17 while the rest of the team has 20 points with four minutes remaining, wow that tells you something.

Chris Bosh has been playing very well, stats heading into that game was 22 points and 9 rebounds per game. The Raptors have been 5/12 and the Lakers 4/18 so far, the Lakers offense seems to be filling in the gaps, playing with toughness now.

The Raptors have called a timeout trying to stop the momentum of the Lakers even though the score is 52-39 Toronto, Kobe has been a difference maker. Two minutes and fifty seconds remaining in the half. James, a Raptors player, played physical and knocked down his defender and drained the three. Lamar Odom has three fouls for the Lakers so far.

Kobe with the step-back-fade-away shot…. GOOD! He has momentum as he draws the foul off the fast-break, defensive steal. Kobe Bryant has made 62 free throws in a row, sadly the streak ends but he gets his own rebound and gets the 2-pointer. Bosh rattles it home with the triple! The Raptors are beating the Lakers by 11, it is 60-49 Raptors.

The Raptors this game have been having opportunities and they are cashing them in, but as we know the Lakers are struggling but they will find their own grove heading into half now.

HALFTIME:

Heading into half the Lakers defense hasn't been strong, there was misconnections on both sides of the ball. Kobe Bryant has been the number one shooter for the Lakers at 26 points while Mihm sits at 8 points but has 4 rebounds and a block, the Raptors by far is looking like the better team in the first half with 62% shooting from the field and having 20 points coming off the bench while the Lakers only have 5 points from bench and is shooting about 40% from the field.

The Lakers definitely need to get things moving because if Kobe has more points than your team then you know only Bryant is playing, Lamar Odom is going to have to wake up soon because he played 19 minutes without making a shot. Kobe Bryant has been 10-18 from the field and the rest of the team has been 10-32 from the field, they are going to need to tighten up before heading out of the locker room.

Here are the first half comparison stats:

Field goals: (TOR) 62% (LA) 42%
3 pointers: (TOR) 7-10 (LA) 3-10
Free throws: (TOR) 8-9 (LA) 6-9
Offensive rebounds: (TOR) 2 (LA) 15
Bench points: (TOR) 20 (LA) 5
QUARTER #3:

What's interesting about Toronto is that they fall flat in the third quarter all season. They have never been a good third quarter team, so this is the time for the Lakers to shine.

The Lakers had three chances on the same possession but couldn't come up with anything, Mike James for the Raptors have drained the open three. The Lakers have already committed two fouls which would have helped them score baskets, the core is 65-51 Raptors.

The Raptors three point shooting is 9-12 while the Lakers have 3-11 with 9:24 left in the third. Bryant is finding his rhythm even though the Lakers can't. So far Kobe has 35 points, things are starting to cook up for Kobe and the Lakers. The Raptors have been playing sloppy defense and are wearing down on offense, Bryant has multiple triples while the Raptors miss multiple threes.

Lamar Odom has been struggling all game as he is trying to hit a shot, at least a free throw, he is 0/6 and 3 turnovers before taking his second foul shot but know he hits his second free throw. Odom has one point, 0/6, and 3 turnovers.

Fast break three by Bryant! When in doubt give it to Kobe Bryant, he drains his third three pointer this quarter. The Raptors have called a timeout, so far the Lakers have been doing very well with Bryant scoring like crazy. The rest of the team is playing good on defense and is doing their parts on offense, for the Raptors they now have been missing shots if that would be a mid-jumper or a three-pointer. The Raptors even got relaxed on defense, third quarters have never been the strong suit of the Raptors and they are showing it here.

This is Kobe's 13th game with 40 points in a game. He also made the last nine field goals for the Lakers. The score is 77-65 Raptors, but no fear Kobe is here! Kobe Bryant has just hit a spectacular shot, drawing the foul, in the corner, three point play was a success.

Contested three? NO PROBLEM! Kobe has hit another three, that's his fourth of the quarter. Timeout called it is 78-73 Raptors, instead of this being a 13 point deficit it is now a 5 point deficit. Great way for the Lakers to turn it around here, playing solid offense and defense for the Raptors not so much as they are struggling to find their groove and tempo again. The Lakers have found their momentum and are going to stick with it.

Third quarter points for the Raptors would be 15 while Kobe has scored 21 points out scoring both his team and Toronto's team. Chris Mihm was hanging in the air as the shot was short by Kobe but he could rebound mid air and shot it mid air, AMAZING!

COUNT IT, 51 points for Bryant as he gets the steal, goes for the hussle play, and then finishes it with the slam. The Lakers are playing tremendous defense and offense, while the Raptors are falling to them. The Lakers are up with 6 as Odom got the assist to Kobe.

End of the third quarter and the Lakers are winning by 6 points, the score is 91-85 Lakers. What a tremendous comeback even though they are only winning by six you can just see that Bryant and the Lakers are in control, they have tightened up the defense and offense and it is looking great. The Raptors need to take a few minutes and figure out how to stop Bryant because they have tried putting everyone on him but that doesn't work, let's just hope that the fourth quarter will be as exciting as it is now! 
QUARTER #4:

Kobe Bryant has 9 50 point games so far, incredible what the Lakers were able to do when they play a little better on D. Kobe got hit in the head and is not happy about it, surprisingly there was no foul on the play.

Kobe Bryant hits both free throws as the crowd chants M-V-P, the Lakers are doing amazing in passing, shooting, rebounding, boxing out, pretty much everything they have tightened up on.

The Raptors are still in it but they have to fill in the holes of defense and offense, because they are letting score anywhere he wants too and for offense they are missing passes, missing (kinda) open shots, and rebounding has been okay.

Kobe, when he hit all three of his free throws, has set a new career high at that moment with 64 points. Fouling has been killing each other with fouls because the Raptors are biting on that pump fake while the Lakers are getting caught in the shooting fouls.

Bryant has 70 points after nailing two 3-pointers, Kobe has the magical touch. This game is over even with 4:19 remaining, with that two-pointer going in he has 72 points and a new high for points in Lakers history. He Has passed up Elgin Baylor with 71 points and Wilt Chamberlain with 66 points, and this is only in a single game.

This is unbelievable, how? The Lakers were trash in the first but lights out in the second, this is Kobe and the Lakers how you. Let me also say they were down by 18 but that was no problem heading into the second half, in Kobe we trust.

The Raptors are starting to make shots but it is too late now, the Lakers have all the momentum in the world and the Raptors can't stop him. Kobe notches both free throws and is at 76 points so far, Raptors probably want to throw in the towel.

Kobe Bryant is going back to the line and makes all three of his free throws as he has 79 points in a single game, he passes Wilt Chamberlain for second on all-time scoring in a single game.

These two free throws have sealed it, Kobe Bryant gets the legendary performance of 81 points. Kobe has left the game with 4.2 seconds left, the game is officially over with the Lakers winning it 122-104 against the Raptors.
Postgame Summary:

After breaking down each quarter with stats, crazy plays, following this game has been amazing. When the Lakers were trailing in the first half you thought something was wrong because, including Kobe, didn't get that spark into them but we all knew at some point they would turn that energy on and compete.

The Raptors were on fire the first half and I believe if they could have continued that momentum throughout the third quarter into the fourth we could have seen a upset by the Raptors at Staples Center, Mike James was certainly there main player and then came Jalen Rose as those showed hussle, effort, and balling out but even after all of that they couldn't capitalize since the start of the second.

The Lakers were looking quite interesting and to say the least disappointing coming into this game cold with nobody playing defense, rebounding, shooting correctly, and passing. Fouls for both teams were costing them as we could see with the Raptors fouling Kobe a lot because they bit on the pump fake and the Lakers were committing shooting fouls because guys were driving a lot.

What made it really interesting is that they never took Kobe Bryant out in the second half, the only breaks he had were timeout breaks. I want to point out that in the second quarter when Kobe was out until 6 minutes were left in the half the team was struggling and couldn't shoot but when Bryant was back in the game he was the number one scorer, Kobe actually scored more points in the first quarter, and maybe a little in the second too, more points then the whole team and he was shooting a lot better than the whole team.

Once the Lakers got into a groove nothing was going to stop them, they were better at passing, rebounding, shooting, and all the little stuff that might have gone unnoticed. From watching to rewatching that game that always makes a fan smile and say, "in Kobe we trust!"

One last thing about Kobe Bryant would be that this isn't just a career-high, he broke records, broke franchise and history records after that game. This man was hitting shot, after shot, after shot and no one could stop him. This is what fans love to see, when a player gets in a groove and he draining threes, twos, jumpers, lay-ups, free throws, dunks, crisp (but fancy passes), basically everything I listed the Mamba did already in his career and in this game.

Here is the link to watch the marvelous, record breaking game Kobe Bryant was in: