Enes Kanter sticking up for the voiceless by attacking CCP Nike!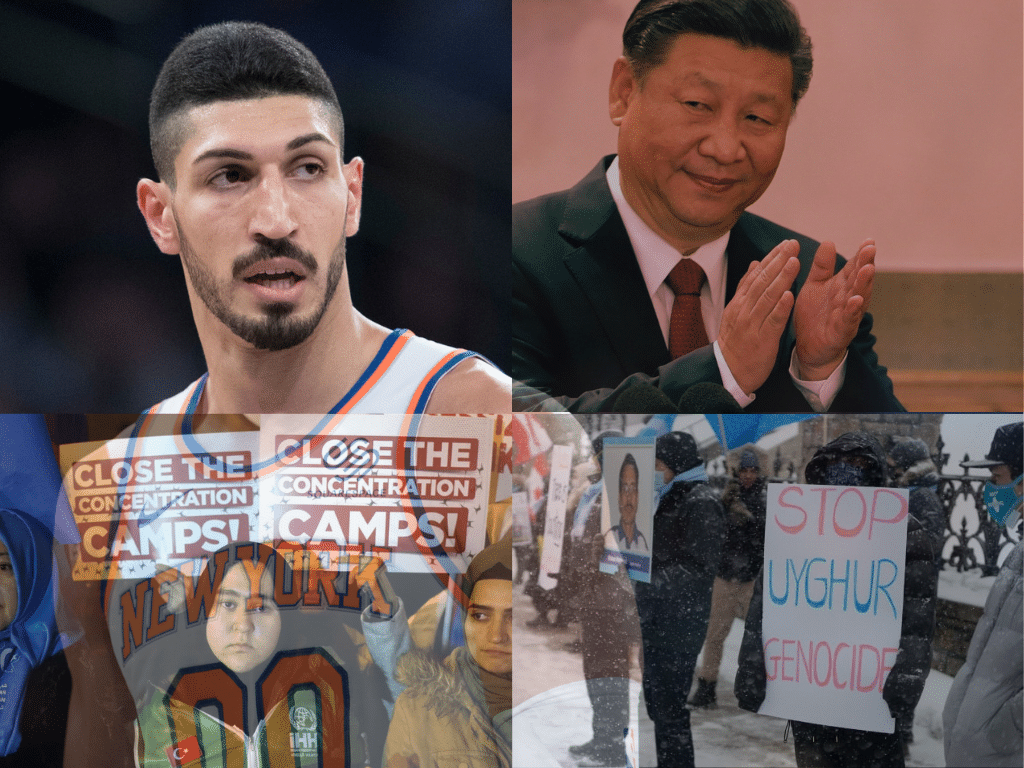 Enes Kanter sticking up for the voiceless by attacking CCP Nike!
Enes Kanter sticking up for the voiceless by attacking CCP Nike! This is not a political topic but one of a humanitarian topic, politics don't concern the humanity aspect but humanitarian issues do. China is one of the most destructive countries in the world, but they consider genocide and oppress normal? That is not right and Enes Kanter is sticking up for the people being effected by this "brutal dictator."
Kanter has voiced his opinion on the vaccine, but out of it all, this is the most important voiced opinions.
He wants Tibet to be free, and that is very understandable. It must be that way. Now, not only did he call out China and their demonic, brutalizing dictator; but, now he is calling out Nike.
So, what's the deal with Nike?
"Nike claims that they do not allow any forced labor in their supply chains. Yet, they don't have the receipt to prove it," Kanter said in a video posted to social media. "They have not provided clear timelines or updates about their efforts to end this. They have not publicly committed to the steps outlined by the Coalition to End Uyghur Forced Labor."
Face of the NBA when it comes in terms of apparel, Nike believes in slogans and things to appease the woke mob. The woke mob doesn't care about what horrific things are happening over in China, so why should Nike? Celtic's center has been calling out on what is right and doing the correct thing. He has nothing to lose, but everything to gain, why? Because China already cancelled the Celtics from being viewed in China, that's gonna hurt the viewership of the NBA.
Here's the clip:
Per Shoshy Ciment of FootWearNews: "China, along with Vietnam, is a key manufacturing hub for many major footwear and apparel brands in the U.S. According to the Footwear Distributors and Retailers of America (FDRA), 68.3% of U.S. athletic footwear came from China as far back as 1996. In 2021, that percentage was 62.2%." (from OutKick)
The insane part? No one is talking about it, why? Because when it comes to China suddenly we must all bow down… starting with the NBA. They get billions of dollars and views from them and they can't afford to lose that, because if China gets upset then it is cancellation time.
Enes Kanter is fighting for global rights and it is truly amazing to see and to hear; this is what more and more athletes should be doing because of the inhumane, injustice, cruelty that is being done to those people are horrific. #EndUyghurForcedLabor is something that must be prayed for and supported, why? Because "Bigger Than Basketball" applies here and different areas of this.
Keep representing those people and make their voices known, thank you Mr. Kanter. This is true bravery, courage, and knowing what you are doing will meet opposition or silence. So, this is a huge deal.
I have reached out to Enes Kanter for further comments on his stance, will update if given any.
Find us on Social Media!
Check out CourtSideHeat's social media and different platforms:
(Instagram) @courtsideheatnba
(Twitter) @courtsideheat
(Facebook)@courtsideheat
(Parler) @CourtSideHeat
(Rumble) @CourtSideHeat
(RetailMeNot) @CourtSideHeat
(YouTube) @CourtSideHeat
Click here right now to know why Kobe Byrant is the greatest upset in NBA History, the answer will shock you! Click here: https://courtsideheat.com/kobe-bryant-the-greatest-upset-in-nba-history/