OPINION: Durant's team-bailing antics are the reason why no one gutted their team for him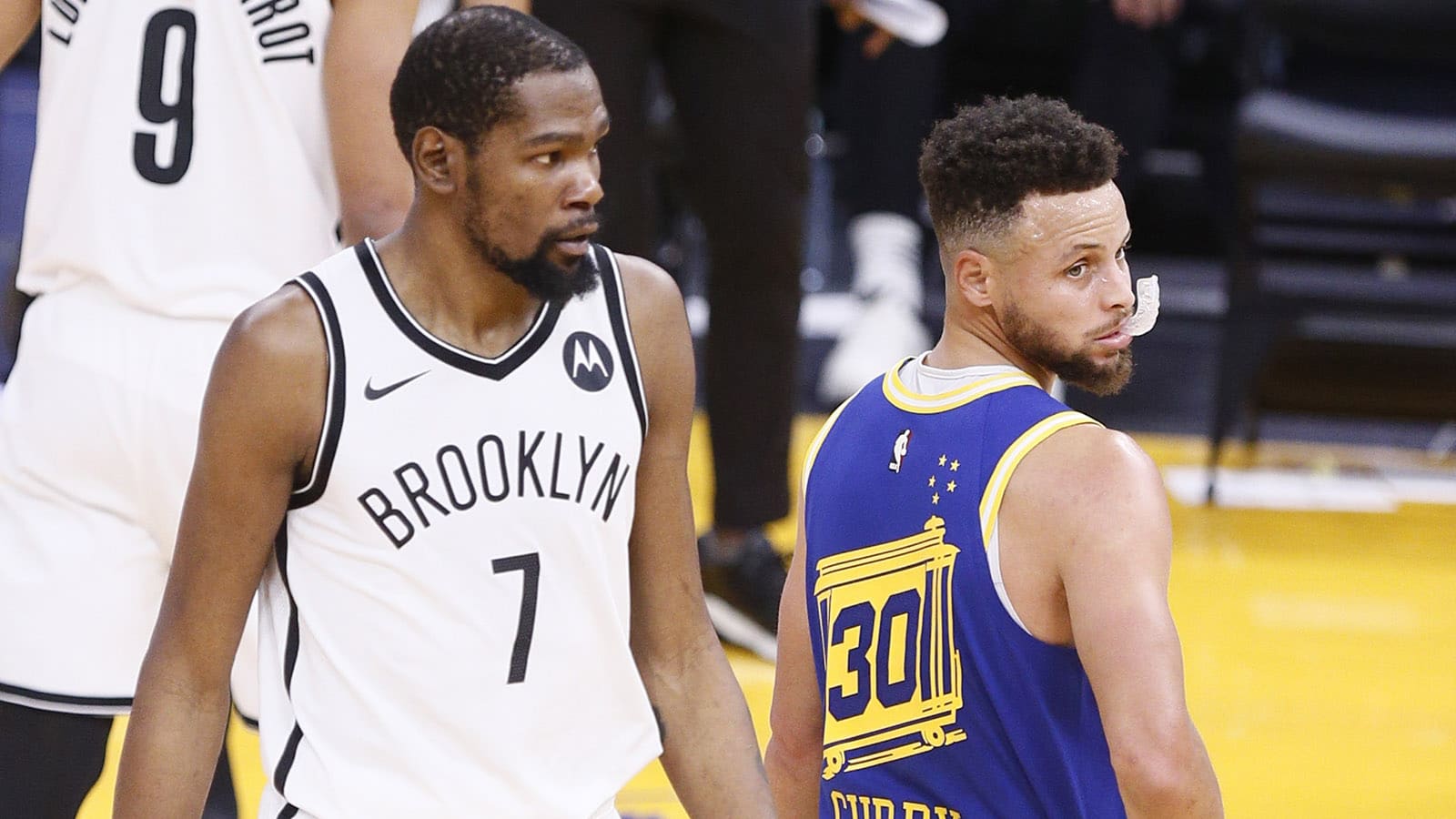 OPINION: Durant's team-bailing antics are the reason why no one gutted their team for him
OPINION: Durant's team-bailing antics are the reason why no one gutted their team for him
Disclaimer: before this article begins, I want to say this, I am a huge fan of Kevin Durant and wanted him as a Phoenix Sun. However, his antics and the baggage that was coming to Phoenix and what was leaving Phoenix were not too enticing. I did not want to give up Cam Johnson or Mikal Bridges, yes when it comes to draft compensation; but not to the other assets, such as Johnson and/or Bridges.
I wanted Durant, but it had to make sense. In the end, it did not make much sense as the Suns are better off keeping their core and not chasing after him. Phoenix did the smart choice, James Jones and that team took the appropriate response to all possibilities surrounding a trade for Kevin Durant.
Am I a bit upset? Yes, but I want to run it back with the core players that took this team to the postseason on a 64-win season. Let's win a championship with the guys we built from the beginning of The Bubble to the present times.
With all that being said, let us jump into the article.
Introduction:
Kevin Durant is a wonderful player, a true legend of this game, and a unicorn to sum up who he is. However, there has been a common theme about why teams didn't give up what was required to receive the future HoFer.
He has played for the Warriors, Thunder, and the Nets. Still currently playing for the Nets, but including them because they are the third team. Now, you may be asking, why would this be considered team-bailing when he only played for three teams and beyond two seasons?
I am going to be answering that question and providing reasons as to why no one wanted to go all-in for Kevin Durant.
The OKC Thunder:
Durant spent nine seasons with the Thunder as many saw their chances of winning a title coming to reality. However, the title shot only happened for one season and they never won a title. This roster had a lot of special players, such as Westbrook, Harden, Ibaka, and other guys along those lines. The team had many good moments and many bad moments, but Durant focused on the bad moments.
He criticized them for not having many shooters outside of himself, that they could never reach the top of the mountain, and there was some bad blood between him and some players. Players such as Russell Westbrook.
There was a falling out, the relationship ended after his ninth season, and wanted to win a championship. He gave up on one formulated super-team to join another one, the Golden State Warriors. The Warriors, in his mind, would give them the best chances of winning a championship.
In a way, he became toxic and not the best for the team anymore. Talent-wise, yes. Attitude and commitment to the team, not so much. Honestly, it was better he leave than stay. However, he wasn't traded and so the Thunder didn't get anything in return.
The worst part for the Thunder, they failed to have any success, and Harden, Westbrook, Ibaka, and others soon left. This left them disheveled, dismantled, broken, and with a burning hatred for Kevin Durant.
This is a mere summary of what took place between the Thunder and Kevin Durant. If we factored in all their flaws, like the 2016 NBA Playoffs, it would be horrific to match. James Harden was traded after his failure in the NBA Finals, they kept blowing games and becoming unorganized, untimely injuries, and everything else in those nine seasons was truly disappointing and made this so-called "dynasty" underwhelming.
The Golden State Warriors:
So the Thunder was not completely Kevin Durant's fault as he did give it nine full seasons, however, the Warriors were completely his fault. But y'all want to know the funny part? He didn't affect the team, he just affected himself and his legacy as a player.
Golden State served him well until it didn't. Won a championship, got to form a good super-team, made headlines, and got into the spotlight more. Who wouldn't want that to continue for years to come? One player… Kevin Durant, what a shocker!
There was no clear-cut reason for him leaving The Bay, but it just wasn't for new scenery (referring to Brooklyn and their franchise). The main problem was Durant and Draymond Green having beef with one another. Green told him to kick rocks and leave, but Durant didn't like those comments, and you know how the story ends.
Green said those comments because the Warriors won before him and he believed that they could win after him; which is correct, they won again after their disappointing run in the 2019 NBA Finals against the Toronto Raptors.
He explained to Draymond, in an interview/episode, that he thought it was bigger than the argument they had. He thought the Warriors mishandled the situation, didn't treat it to his standards, and it ultimately rubbed him the wrong way.
You can tell in the final season of his tenure with the Warriors, he was done and had enough. They didn't compose themselves correctly and a lot of the time looked out of it or disconnected from each other. That is not team basketball, that is not how a team wins championships.
In the end, Durant got caught up in his feelings and that is why he left the team.
Real quick… where does the team-bail jumping come into play?
With the Thunder, OKC could never win a championship – even with four talented players, forming a super team. With the Warriors, Golden State won him a championship and he was ready to move on. Why would he do that? Because not many people believed his legacy was all that and that he was given a ring instead of working for it on his own.
He used the Warriors to get what he wants, he leaves because of the backlash of all these incidents happening. Also, he used the Thunder until he couldn't win with these teams. He kept team jumping until he wasn't being criticized, he got what he wanted, championship(s) were being won, and he was considered the "Chosen One".
The Brooklyn Nets:
Brooklyn has been an abject failure for a long time and not much has changed; unless you want to throw in new faces coming in and out of the organization. Durant moved on from the Warriors and was traded to the Nets. Brooklyn, originally, won that trade after giving up D'LO and some other assets to the Warriors. Nothing significant, however, after it didn't work for the Warriors, they were able to flip him for Andrew Wiggins. That proved to be a major upgrade for them.
Kevin Durant once more created a super team trying to win a championship. Thinking he can do it all on his own, with some help, and failing repeatedly. Each season was met with the same result: failing in the postseason or not making it. Injuries, medical controversies, and everything else prohibited the Nets Big-3 from performing to the heights they were supposedly supposed to be at.
Long story short, he gets frustrated and wants out. His top request was to go to the Suns or to the Heat. In the end, Durant stays after no one wanted him for the price the Nets were asking. Durant couldn't believe this and decided to stay. He created a very messy situation and it caused great pain for the Nets.
He blamed coaching, other issues, not himself mind you, and everything else for his reasons to leave. Didn't win a championship, got ridiculed significantly, and was in the worst situation than when he was a member of the Golden State Warriors.
Plus, how does the man repay the team that gave him a new contract while healing from injuries (paying him)? He demands a trade after a collapsing sweep versus the Boston Celtics in the first round of the postseason. No one played well, including Kevin Durant.
The man was trying to jump to another team again, but no one was going to fall for those mistakes again.
The Warriors and Thunder were his victims of that crime. He complains, has serious attitude issues, rarely takes the blame, tries to take the cheap way out of winning a championship, and if all else fails… HE LEAVES THE TEAM!
FACT: every team he has ever been to has been for a super-team formulation
Have you ever noticed that before? Any team, beginning his career to now, has always been joining teams that have three-plus players that have attributes of a good super-team. Truly disappointing that he leaves the team high-and-dry after his demands, his attitude, and what he put those teams through.
Legends don't act like that, Durant has a lot of explaining to do for those interesting methods to ring-chasing. He is exactly that: a ring chaser. Plain and simple.
That is pretty upsetting if you ask me.
Players he has played with:
Stephen Curry
Klay Thompson
Draymond Green
Kyrie Irving
James Harden
Serge Ibaka
Russell Westbrook (Prime Westbrook)
Reggie Jackson
JaVale McGee
Steven Adams
Jarrett Allen
Blake Griffin
Landry Shamet
Cameron Payne
Jeff Green
Those players he played with are incredible-to-good athletes like he has played for super-team teams.
Concluding why no team wanted to trade for Kevin Durant when he was on the market:
No team, no general manager, and no front office as a collective unit would make the conscious decision of trading for Kevin Durant. He has a good legacy, a damaged legacy now, but it was not worth the headache and having to walk on eggshells.
You didn't want to go all-in for a player that could potentially want out, want more, demand more, or create more chaos, it just isn't worth it. The demand by general manager Sean Marks was significant and it would have left those teams putting in, or feeling, offers for Kevin Durant bankrupted or completely defeated for the following season(s).
You never know next what might out of his mouth. Players could be gone, coaching staff or head coaches could be fired, the front office tinkered with, and a lot more headaches. His attitude has gone from a team perspective to a me perspective. One is respectable, one is hatable.
Teams will never tank for a player that is running out of juice, unpredictable, and highly controversial with the things he does or says.
There is so much more Kevin Durant can do to a team within a season, it would depress me to bring that all up. Great player, just has gone down a bad road that will affect his legacy tremendously.
His antics are not appreciated, they scare teams away, and his latest demand blew up in his face. This off-season was the perfect off-season to show just how bad Durant has gotten.
I hope this article made sense and you learned something new, as this is just my opinion. Just keep researching and keep watching his style, it gets really frustrating if you are on that team.