The Heat Are The Biggest Underdogs In NBA History – If They Win This Championship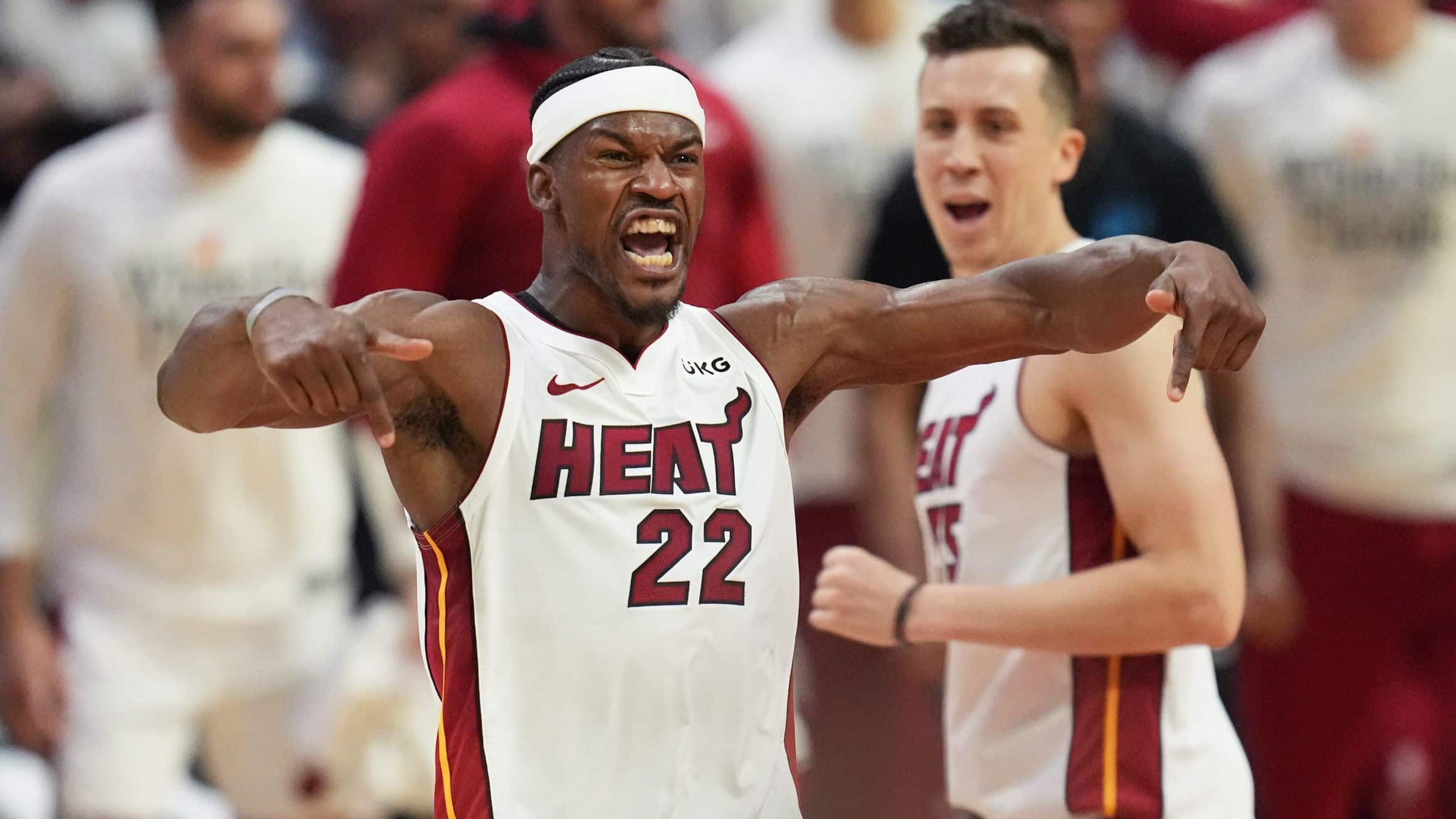 The Heat Are The Biggest Underdogs In NBA History – If They Win This Championship
The Heat Are The Biggest Underdogs In NBA History – If They Win This Championship
Everyone by now has heard the incredible story of Jimmy Butler and the Miami Heat, something no one saw coming.
Miami was a play-in team that lost their first game to Trae Young and the Atlanta Hawks before making a miraculous comeback against Zach LaVine and the Chicago Bulls late in the fourth quarter. No team has done that in NBA history, however, it gets more impressive the further we go.
Has an eighth seed ever won a championship? No. Has a seventh seed ever won a championship? No. The only underdog to ever win a championship was the 1994-95 Houston Rockets as the 6th seed.
Clyde Drexler and Hakeem Olajuwon swept Shaq's Orlando Magic to win the championship.
If the Heat win, then they are the biggest underdogs in NBA history to win a championship. From almost ending their playoff journey in the play-in to now being championship-bound, this is why they are the biggest underdogs in NBA history.
This season had one of the most interesting rosters ever seen
People will argue about intriguing rosters and rosters that have people raising some eyebrows, however, has anyone ever seen this type of constructed roster that works almost perfectly and has somehow pushed themselves in The Finals?
Miami has nine undrafted players, seven of which are active for the postseason, playing for their team. This melting pot of experienced, inexperienced, old, and younger talent has come together and created something beautiful.
Amongst all their struggles/hurdles, this team fought for a playoff spot like never seen before. It was between the Nets and the Heat, while Miami couldn't beat out Brooklyn, they were still securing a play-in spot.
In the end, this roster was playing with house money because so many people were ruling them out and favoring them as the likeliest team to have their season ended in the play-in or in the first round of the postseason.
With that being said, what does this full roster look like?
Jimmy Butler
Bam Adebayo
Kyle Lowry
Tyler Herro (still injured)
Caleb Martin
Kevin Love
Udonis Haslem
Duncan Robinson
Cody Zeller (still injured)
Max Strus
Gabe Vincent
Nikola Jovic
Haywood Highsmith
Victor Oladipo (OUT – season)
Impressive what this team did when injuries were at a high for this team and flow couldn't also be connected. Even then, Jimmy Butler wielded this team to success.
What makes people find their story incredible is not the tiny to major injuries in the regular season, it is the setbacks endured in the beginning of the postseason.
Many expected the Milwakuee Bucks to eliminate Miami
The biggest upset this season happened when the Heat defeated the Bucks in six games. This was a series where injuries impacted the Heat more, but sometime thrived more than what many expected.
After losing Tyler Herro and Victor Oladipo, Gabe Vincent had to step up. So far he has done just that, to keep their offensive flow Miami has turned to him. Same can be said for Caleb Martin, who was one vote away from winning the ECF MVP.
Robinson has also shown glimpses of being that guy for the Heat, same can be said for majority of these players.
Since upsetting the first-seed Bucks, Miami had overwhelming confidence that wouldn't be diminshed for anything. This has also seen the rise of Max Strus and Haywood Highsmith, who is emerging as a solid 3-and-D player.
Tyler Herro almost cost the Heat
"Tyler Herro almost cost the Heat" is a phrase many believed in after he suffered a devestating hand injury, but Erik Spoelstra found a way to mold this team into a high-functioning team even with the beginning setbacks.
I believe the Herro injury, while upsetting, allowed the Heat to explore the talent they had on their bench and dive deeper into their team culture. This allowed for Caleb Martin, Gabe Vincent, and Max Strus to rise to gain the trust of Erik Spoelstra.
People thought for sure the Celtics were the team to beat the Heat
The New York Knicks just wasn't that team after beating Donovan Mitchell and Cleveland Cavaliers in five games; Miami proven to beat the Knicks fairly easy after going up 3-1 and winning it in six games.
Also, to be fair to New York, nobody thought they were making it past the second round anyways. In fact, majority of the people were hoping them not to make it past the second round.
With that said, Boston (who was in The Finals last postseason) was made the favorites to win the series. Game 1 was a loss, same with Games 2 and 3, however, the Heat couldn't close it out till Game 7.
Coach Spoelstra had to think of many adjustments of taking out Kevin Love and putting in Caleb Martin, amongst other adjustments, due to how well the Celtics were beating them Games 4-6.
Game 7 saw the Heat absolutely destroy the Celtics; something some people didn't think was going to happen. In fact, many people thought Jayson Tatum and Jaylen Brown was once again going to punch their ticket into The NBA Finals to face the Denver Nuggets.
Though, in the end, Miami reigned on top and punched their ticket to The Finals for the first time since 2020.
Let's summarize this all…
The Heat ran through the ninth-seeded Bulls, first-seeded Bucks, fifth-seeded Knicks, and, lastly, second-seeded Celtics. This Miami Heat team defeated All-Star type players and MVP runner-ups to get to the NBA Finals.
The most unlikeliest team in the NBA to get this far, or even past the second round, is beyond impressive. This is while battling injuries, figuring out rotations/lineups, and not breaking the chemistry and morale when times got tough.
You can credit Jimmy Butler all you want, and he should get his props, but this was a true team effort. From the coaching staff to the players, this is a team that battled through so much adveristy and odds stacked against them that it took everyone.
Butler had many impressive games, he gave them confidence, but players that you wouldn't think to have as big as an impact as they've had do what they is extremely impressive.
This team was at the time the unlikeliest team to win a series, or to even get out of the play-in, to know three games away from winning the NBA Finals.
Can the Heat beat the Nuggets?
I believe the Nuggets will loss to the Heat in seven, I've had this stance for a long time now. It's either going to be in six or seven, but, ultimately, it is going to be Jimmy Butler getting his first ring and Pat Riley getting his tenth ring.
The way Miami matches up with Denver is going to be a challenge, however, through two games, they've found their footing and won a game in Denver; which is something that hasn't happened this postseason, teams couldn't win in Denver.
Miami can use Haywood Highsmith or Kevin Love on Nikola Jokic; they can use Bam Adebayo on Aaron Gordon; they can even use Jimmy Butler on Jamal Murray. These are all examples, but these would be the best fits for Miami – if Coach Spo wants to go down that route.
What's going to seperate the Heat from the Nuggets is their ability to outbeat them in consistency, limiting fouls, driving to the hoop to generate more free-throw opporuntities, and limiting the two-man game of Murray and Jokic.
While many are picking the Nuggets to win, I'm going with the "underdogs" to win The Finals. This has been my stance since the beginning of The Finals.
This isn't even a discussion, they will be the greatest underdogs EVER
Never has an eighth seed won a championship and never has an eigth seed needed to endure extra games by going through the play-in tournament. Setting aside all the injuries, going through the extra games and having to face who they faced is tough enough.
Miami faced a Bucks team who won a championship not too long ago, they even faced a team (the Celtics) who was just in the NBA Finals and almost won it against the Golden State Warriors.
This is a 44-38 team who had no business making the playoffs, they were seen as a team (statisically and visually) that wouldn't even stiff the postseason. Too many ups and downs to take them seriously, but this group of tough men made it work.
If they win the championship, then they will be the greatest underdog story in history. If they beat the Nuggets then they would have beaten two first-seeded teams, one second-seeded team, and one fifth-seed team – if not including the play-in.
Here's the one catch… read the header
Sadly, if the Heat don't win this championship then this ride wasn't worth the hype. Remember, back in 1999 the Knicks were the eigth but ended up losing to the Spurs 4-1. Nobody remembers their journey, depsite it being difficult, people just remember how dominant San Antonio was.
An underdog story is only completed if they win a championship, right? A team can't be so close and yet fail, what's the feel good, ultimately rewarding, moment when in the end that team lost?
If the Miami Heat win, then they'll be recongized as the greatest basketball underdog in history. They be achiving so much history it'll be ridiculous. Jimmy Butler, Bam Adebayo, Kyle Lowry, Caleb Martin, Max Strus, and the rest of the great talent on this team will be marking their names in the book of history.
They were three minutes away from elimination in the play-in, now they are three games away from a ring.
Conclusion
This will be memorable for fans of old and new, it will be memorable for the city of Miami, this, when it's all said and done, will be a special time to be alive in general.
This goes to show that when the postseason begins, all bets are off and it's every team for themselves. It doesn't matter the seeding, that team is in and their ready to do damage. Miami could have fallen, yet they didn't.
If Miami wins this championship, and I'm hoping they do, then this will be a special time and a team-based ring like we've never seen before. In fact, think of a time a team has worked this hard to win a championship. Given the amount of setbacks, different routes, and overall journey they had to take to be given a shot for thr gold.
Remember only the Knicks have been to The Finals as an eighth-seed; no team has ever won The Finals as an eighth-seed or seventh-seed. Fans will be talking about the Heat doing something that has never happened and being the greatest underdogs ever, something fans were talking about when the Rockets won their championship back in the '90s.
It took 20+ years, but fans are finally witnessing something incredible that involves the true heart and meaning of an underdog. There's a reason why the Heat have had five difference players leading their team in scoring this postseason. This is a team game and Miami is proving why it takes everyone.
But, remember, for this all to count, they gotta win the championship…