Trae Young is questionable for Game 4!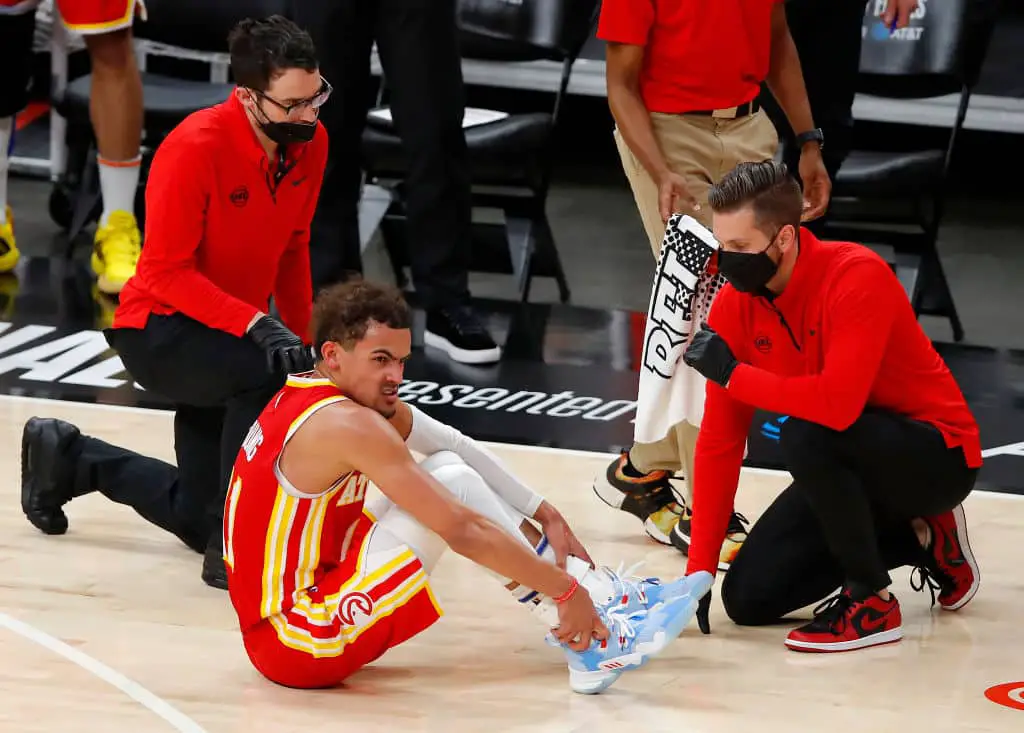 Trae Young is questionable for Game 4!
Trae Young is questionable for Game 4! This could be confirming bad news for the Hawks, and Trae Young of course. As the young point guard could be out tomorrow due to a bone bruise in his right foot, confirmed by an MRI. The report will also being showing up, if it does, as a right ankle sprain.
However, he is not indefinitely out but he is listed as questionable. That is a huge game-changer since the team is currently trailing 2-1 in the series to the Bucks. The injury happened with 36 seconds remaining in the third quarter when Young accidentally stepped on the foot of an NBA Referee.
Here is what people within the Hawks Organization is saying about this:
"That's the head of our snake," Hawks forward John Collins said Monday afternoon. "That's the last thing I feel like anybody who is a Hawks supporter wants to see is that dude coming down with any sort of knickknack or whatever it is. I think he stepped on the official's foot or somebody's foot. That's the last thing I want to see. I hate to see it, and just hoping, praying that he's going to be OK."
"He's feeling OK," McMillan said. "He's disappointed in the loss. Just as most guys, they have something that's going on, whether it's an injury or some soreness. Today is a day to take care of whatever it is that you need to get yourself ready for tomorrow.
"So that's where Trae is at. He's getting what he needs, which is a little treatment, and whatever else he needs, whether it's a massage or whatever, to get himself ready for tomorrow."
So, we will see what happens as this is a pivotal game for the Hawks as they may be going in solo. Who knows, more will be released when gathered the information.
Want to be exclusive?
Also, want to become exclusive? Like membership exclusive? Like where you are able to have your own exclusive content, coupons, personalized newsletters, and more? Well, look no further because for the price of three dollars you will be sent two newsletters (one of the top products and one of the exclusive articles and in-depth articles with additional coupons), two articles accessed to only you, four personalized coupons, and even emails telling you that your posts are ready to be read. For a small price you can get huge perks as this is per month, per month you will be an insider of the NBA after reading these articles. It is a win-win, how? You get the best in NBA content that shows you everything that the insiders see. Plus, you get to help a small business which means so much to us when everyone subscribes.
Link to register for the Elite Membership: https://form.jotform.com/courtsideheat/new-customer-registration-form
Also, join now and get your first three (3) days FOR FREE. Save huge, go large, and become the insider you were always meant to be. That's a true membership, only here… NO UPSELLS! Legit content, great news, and exciting times ahead! So, what are you guys waiting for? The doors are open, only CourtSideHeat!