What to know about Robert Sarver amid the allegations against him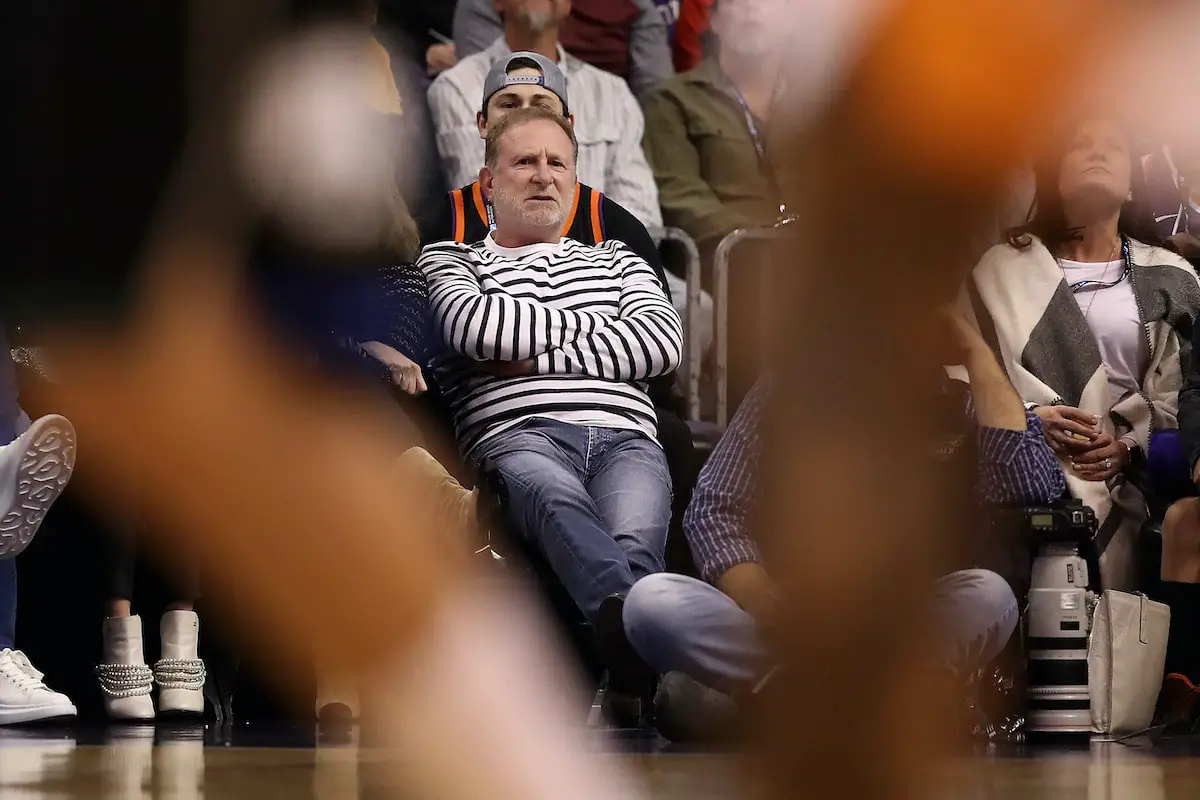 What to know about Robert Sarver amid the allegations against him
What to know about Robert Sarver amid the allegations against him, we need to know something and that is this: Sarver is either guilty or innocent. Why are there anti-Sarver signs being created and uproars being stirred up within the valley? CourtSideHeat has been reaching out to many people within the organization, researching this topic, and then reading the up-front ESPN article that (allegedly) exposes all.
Baxter Holmes, senior ESPN writer, wrote the article that looked into the 17-year tenure of the billionaire's ownership. The article detailed accounts of racism, sexism, and misogyny. Earl Watson was involved with multiple accounts of racism committed by Sarver. They documented Sarver saying the N-Word on October 30th, 2016 against the Warriors. Holmes details it here: "Oct. 30, 2016, at Talking Stick Resort Arena in downtown Phoenix, Earl Watson, in just his third game as the Suns' head coach, faced a tall task: beat the powerhouse Golden State Warriors."
Sarver, allegedly, creating a toxic work environment
About 70 former and current employees came out against Robert Sarver that included people coming on the record and some that didn't. Former executives and even minority owners have came out in defense of Sarver and then in accusing Sarver. James Jones (GM), Jason Rowley (CEO and President), and different important figures within the organization came to the defense of Sarver. However, that wasn't the entire case as Jahm Najafi spoke out against Robert Sarver. He is their Vice Chairman and minority owner.
Multiple women came forward to say Robert Sarver was creating a toxic and harmful environment.
"One female former marketing employee describes sitting in meetings with senior leaders and hearing sexist remarks made about women, including the need to have women at certain events in low-cut tops. "And then I would say, 'This isn't a productive meeting for me. And I'm uncomfortable,'" the former employee said. "They would say, 'It's just a joke; get over it.'"

Current and former employees said women often did not feel valued and were ignored when they said so, a sentiment that led to frequent departures.

"Especially with the younger girls, I felt like I was abandoning them," said one female former employee. "I felt bad for leaving. It was hard. And so I was happy when [I learned] all of them are out of there."

"It breaks you," said another female former employee. "I'm hard to break, and it broke me."

"It wrecked my life," said a third female former employee. "I was contemplating suicide."

Per the ESPN Article, "Allegations of racism and misogyny within the Phoenix Suns: Inside Robert Sarver's 17-year tenure as owner"
It gets worse, per the ESPN article, HR was no safe-space
CourtSideHeat got an opportunity to talk to David Bodzin, worked 14 months with the team from 2013-2014, as he talked about HR and how bad it got.
"There are absolute accuracies in the remarks of employees simply not feeling comfortable approaching HR with issues in fear of retaliation. One of the main reasons I never came forward off the bat with my experience was that I was confident the Suns would blacklist me and keep me from my dream job (at the time anyway) that I had just accepted."
This is what David Bodzin said when asked about the legitimacy of the ESPN article and how it correctly states the situation featuring HR. Something to consider as we detail the entire conversation featuring Mr. Bodzin, here: "TOXIC ENVIRONMENT: Insider tells all that experienced the Sarver-Drama!"
Even people within HR knew how bad it was (and could be still be that) and how the fear would have been created substantially if they came forward… on the record and when know the boss (Sarver) could be in the loop of these complaints and potential problems. Can this still be happening currently? Maybe, but we should not comment (or even speculate) until the investigation is over. Why? Because we must allow a fair process and mindset to happen when looking at this situation.
"I don't like diversity" – Robert Sarver
Not something you want to say publicly, or even within your heart, as (if true) then this would be deeply disturbing and very disappointing. Not only from a fan's perspective but from a human perspective and how ugly that truly is to say. But, that was directed in a conversation with former head coach, Earl Watson.
How did it pop up in conversation? It came in Watson's first year with Phoenix, he was coaching the bench, and Robert Sarver asked if there. were areas that needed improvement. Watson said that this team lacks diversity and that is when the "I don't like diversity" sentence came out by owner, Robert Sarver.
"Everybody knows that our diversity here is s—," one current business employee said.
Is that true? Who knows as it depends what the conversation was before that quote popped up and what was said afterwards. However, per Watson and another at the scene of this meeting, "Sarver said to Watson that having a diverse staff made it hard for people to agree. A lack of diversity among the organization's highest ranks was an issue that a number of employees voiced to their superiors, including to Sarver." – per the ESPN article.
Conclusion of this article and recapping some of the points of the ESPN article:
Like the header suggests, this is not the full summary of all the points made by ESPN. There are many more stories and important things in that article that needs to be read. This article was to recap some of the main points; the main points would be what people are looking at mainly; how HR is more damaging than helping, that is crazy to truly understand. Then we saw one executive call their co-worker Charleston and telling him to dance. That is highlighted in the article.
The main points of this article, highlighting ESPN, is showing some of the important aspects that could remove Sarver as owner. Here are some more points highlighted by ESPN:
Watson explaining a situation to Sarver, and then Sarver reacts poorly
"Watson said that Sarver's ultimatum quickly reached him. He asked Sarver if he was serious.

"Yeah, I will f—ing fire you," Sarver told Watson. "You have 10 days to think about it. Don't wait too long."

Watson said he explained to Sarver the optics of a white owner asking a Black coach to fire an agency led by a Black agent, Paul.

"Yeah, I understand what race you two are," Sarver replied, according to Watson. "So I'm asking you, How bad do you want your job?"

Watson said he told Sarver that he wasn't going to fire Klutch.

"You can do whatever you want," Watson said he told Sarver. "You own this team, but my culture is not for sale. And I'm not for sale."

Per the ESPN Article, "Allegations of racism and misogyny within the Phoenix Suns: Inside Robert Sarver's 17-year tenure as owner"
That is just some of the many things in the ESPN that needs to be accounted for, looked at, and trying to get the full picture when the NBA are doing their investigation.
"If the commissioner comes in and investigates to see what the f— is going on in Phoenix, [he] would be appalled." One current Suns business operations employee

ESPN Article, "Allegations of racism and misogyny within the Phoenix Suns: Inside Robert Sarver's 17-year tenure as owner"
Said one former executive, "[His mentality is], 'If you don't like it, there's the door, you can get the f— out of here."

ESPN Article, "Allegations of racism and misogyny within the Phoenix Suns: Inside Robert Sarver's 17-year tenure as owner"
These are just some of the things in that article that is crazy to see/hear from an owner. What do you guys think: innocent or guilty? Also, do you believe the victims involved or Sarver? Let us know in the comments below; as we would love to hear what you guys think.
Also, CourtSideHeat has something to say:
CourtSideHeat will be reaching out to Jason Rowley, Earl Watson, and many more to get more insights on this story and where we should go next. Remember, David Bodzin could be coming onto our podcast to talk about some of the most hard hitting questions ever asked in sport's journalism.
Find us on Social Media!
Check out CourtSideHeat's social media and different platforms:
(Instagram) @courtsideheatnba
(Twitter) @courtsideheat
(Facebook)@courtsideheat
(Parler) @CourtSideHeat
(Rumble) @CourtSideHeat
(RetailMeNot) @CourtSideHeat
(YouTube) @CourtSideHeat
Click here right now to know why Kobe Byrant is the greatest upset in NBA History, the answer will shock you! Click here: https://courtsideheat.com/kobe-bryant-the-greatest-upset-in-nba-history/
TOXIC ENVIRONMENT: Insider tells all that experienced the Sarver-Drama! Check out the exclusive article of David Bodzin detailing his experience with the Phoenix Suns. Take a look at this as this is something to consider when looking at the Sarver article, investigation, as this tells all from an insider. Only on CourtSideHeat, no other sources have this information: