76ers opening up about trading Ben Simmons – on the trade block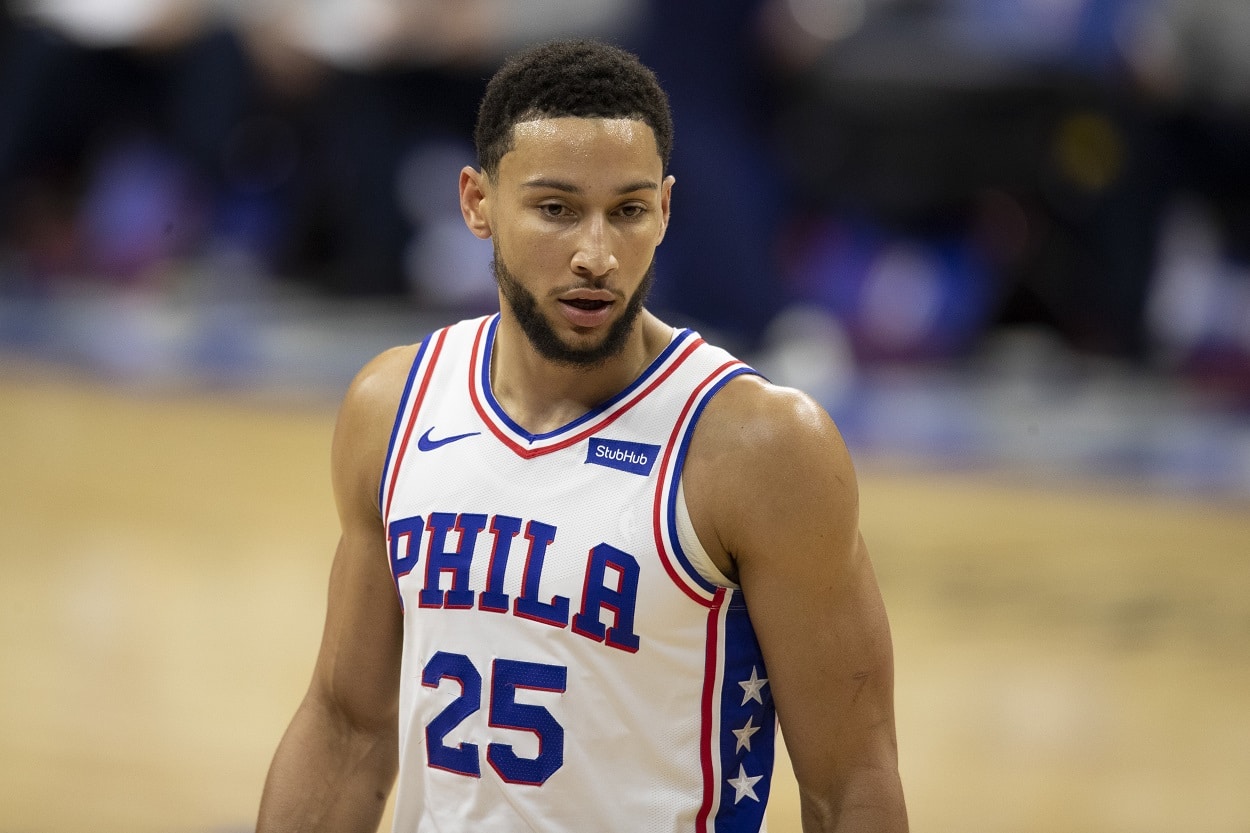 76ers opening up about trading Ben Simmons – on the trade block
76ers opening up about trading Ben Simmons – on the trade block. Should we have been surprised, truly? Ben Simmons has been on the rumors of potentially being trade, why? It is due to the fact that Simmons can't shoot, his playoff performance has been proof to that, and has been slowly declining since the All-Star Break. Plus, Bobby Marks (of ESPN) showed a chart of Ben Simmons' worth. He is extremely undergoing his contract value and his trade value has gone down from last year to now.
Shams Charania has confirmed that the 76ers have already talked to some teams and have been keeping an open mind about trading Simmons. Because Embiid is not the issue, even though injuries has gotten in his way. However, they have tried to make Simmons and Embiid work as a duo. But, Simmons just can't find a good shot as in the playoffs there were times where he was scared to take a shot – an open layup. Imagine that, it was during the close out game against the Hawks in the Semi-Conference Finals.
Also, during that game, Simmons did not play the remaining three minutes due to how frustrated and bad he was playing… and making his teammates around him play. Doc Rivers after the game even commented on Ben Simmons, questions regarding what they'll do with him, and Rivers said he doesn't know yet. He doesn't know if Simmons is the right fit for this team; so, with all that being said, he could be on his way out as GM Daryl Morey could be getting some new assets in return for this interesting player.
Fun fact:
Since we are criticizing how bad Simmons has been performing, let us look at his free throw stats against the Hawks. Simmons went to the line 45 times, however, do you know how many he made? Brick Simmons only made 15 of them; do you know how pathetic that is? They are free shots and you can't even convert on that, sickening and even though he has made the same excuses about his shot and how he was going to fix it… he still hasn't and it has gotten worse.
I'm going to make the easy bet that he is going to be out of Philadelphia and receiving a lot of criticism… like this Anthony Mackie roast from the ESPYS. Check it out!
Anthony Mackie destroys Ben Simmons
Find us on Social Media!
For social media, we have tons of it. From Instagram to Twitter, etc. We have them all, so why make it harder than what it has to be? Search us on Google by typing in "CourtSideHeat" as one word to get all of our social media and more. Plus, that will take you to CourtSideHeat.store, which is our Mercari Store with updating products. Head there now before it is too late!
Now, if you want to keep up with basketball and can't listen to their podcast. It's all covered for you, just go onto social media and click on @CourtSideHeat:
Check out CourtSideHeat's social media and different platforms:
(Instagram) @courtsideheatnba
(Twitter) @courtsideheat
(Facebook)@courtsideheat
(Parler) @CourtSideHeat
(Rumble) @CourtSideHeat
(RetailMeNot) @CourtSideHeat
(YouTube) @CourtSideHeat
Click here right now to know why Kobe Byrant is the greatest upset in NBA History, the answer will shock you! Click here: https://courtsideheat.com/kobe-bryant-the-greatest-upset-in-nba-history/
Remember, to check us out for Game Day tweets and social media fun. Starting back up tomorrow night at 6 PM on ABC; as we have the Suns versus the Bucks. Who is going to win? Comment down below as this going to be a very fun contest.