The Bucks are 2021 NBA Final Champions!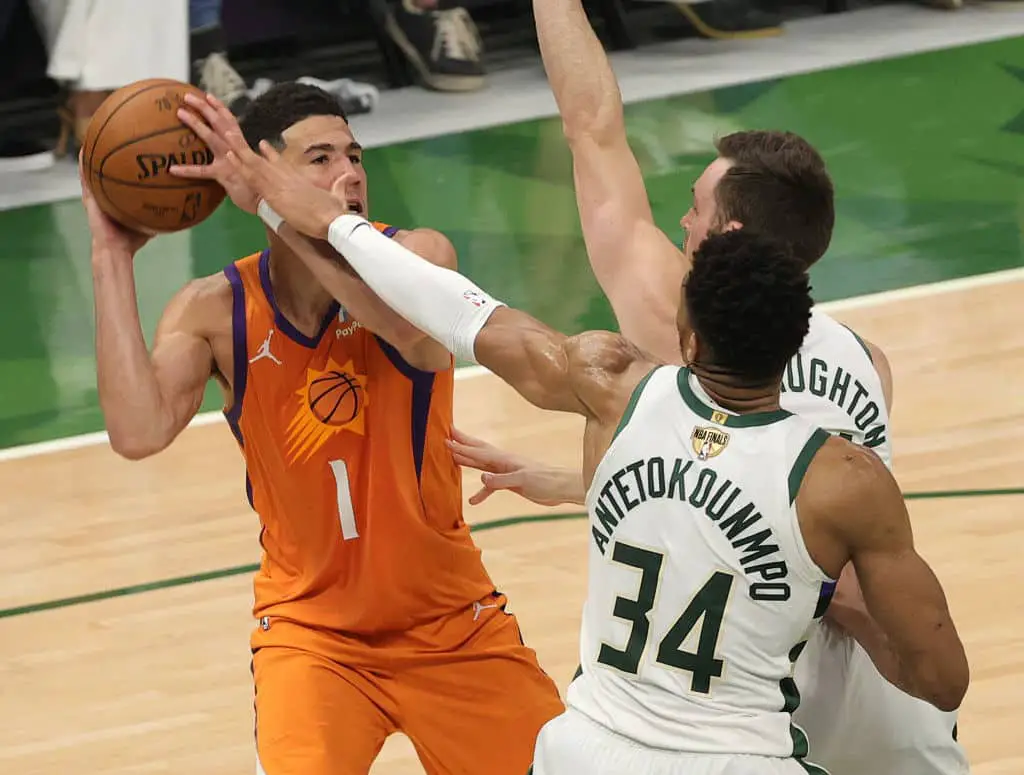 The Bucks are 2021 NBA Final Champions!
The Bucks are 2021 NBA Final Champions! What a hard fought contest for both sides, the Bucks came back from being down by 2-0. The Suns, yes did get outmatched, were able to make every game thrilling though and very entertaining. Emotions poured out, hatred, rivalry, happiness, relive, and what other emotion you could describe this series.
Devin Booker had back-to-back 40 point games, despite losing, he was grinding and making sure he left it all out on the court. Chris Paul, despite all the injuries he was battling, was able to help his team the best they could. Then you come down to Ayton, Johnson, Payne, Bridges, Saric (torn ACL in first few minutes of Game 1), "The Tank," and everyone else played good. Everyone on that roster had their moments, their bad moments, and then neutral moments.
Ultimately, after winning the home-court in the first two games; the Bucks did the same in their two home-court games and the rest was history. The nerves got to them, but never forget that home teams are supposed to win at home. To have the series go 2-2 heading into Game 5 was normal to see on certain occasions, now when Phoenix lost in Game 5 the feeling was starting to see "Bucks-In-6!" Overall, Giannis brought the intensity physically, Middleton brought his clutch-gene with him, and Holiday brought all the defensive stops this entire series.
What happened in Game 6?
Game 6 was an emotional game, why? Because the Bucks had the early lead of being up by 13 after the first quarter, however, in the second quarter the Suns rallied on and came back from that deficit. But it went neck-and-neck with really bad non-calls for the Suns that entire game – post first quarter – in the end, it ended with Giannis becoming a 26-year-old champion. Plus, winning Finals MVP.
Giannis had 50 points, 14 rebounds, and 5 blocks to end his dominant performance throughout the entire contest. While officiating were on the Buck's side, make no mistake about this: The officiating crew, with or without Scott Foster, cost the Suns four straight games. Milwaukee won three out of the four games at home, what if the Suns would have won Game 5? All the 'what-ifs' will be rolling through our brains, but that is the thing… you can't go back in history – you can only look ahead.
The Suns had a chance to go up 3-0, couldn't do it due to Khris Middleton and his elite gameplay. Game 4 was a tight game and a game the Suns should have won, along with Game 5 but choked several leads and made bad decisions. Either way, put that all behind us, last night was Giannis's night. Middleton's night. Holiday's night. The entire team's night. The Milwaukee Bucks have proven, to win their second championship in NBA history, that small-market teams can win championships too. People questioned the contract extension by Giannis, but he retaliated by winning the gold.
Truly amazing as that is a huge accomplishment for the multi-time MVP and for that entire team; bright futures are ahead for this franchise. For the Phoenix Suns, they will have to continue to search for their identity, however, they made huge leaps in their franchise. It was 28 years since going to the NBA Finals, and if you would have asked anyone at the start of the season if the Suns would have made the postseason let alone the NBA Finals… they would have said no. Agree? Fair? I believe so, that is still a great accomplishment by Phoenix and their limits are now being shattered.
Questions will now rise up about what they will do with DeAndre Ayton, Mikal Bridges, and what CP3 will do with his player-option. Who's excited about the offseason? For free agency? The Draft on July 29th? And everything else? Find it all here on CourtSideHeat as our continuation of the NBA Finals being covered has concluded as there is no Game 7, Bucks victorious since winning the championship in 1971.
That's a wrap – congratulations to the Milwaukee Bucks!
Here's a message from the Phoenix Suns!
Find us on Social Media!
Now, if you want to keep up with basketball and can't listen to their podcast. It's all covered for you, just go onto social media and click on @CourtSideHeat:
Check out CourtSideHeat's social media and different platforms:
(Instagram) @courtsideheatnba
(Twitter) @courtsideheat
(Facebook)@courtsideheat
(Parler) @CourtSideHeat
(Rumble) @CourtSideHeat
(RetailMeNot) @CourtSideHeat
(YouTube) @CourtSideHeat
Click here right now to know why Kobe Byrant is the greatest upset in NBA History, the answer will shock you! Click here: https://courtsideheat.com/kobe-bryant-the-greatest-upset-in-nba-history/