Can we say the Knicks won the offseason if Donovan Mitchell goes to New York?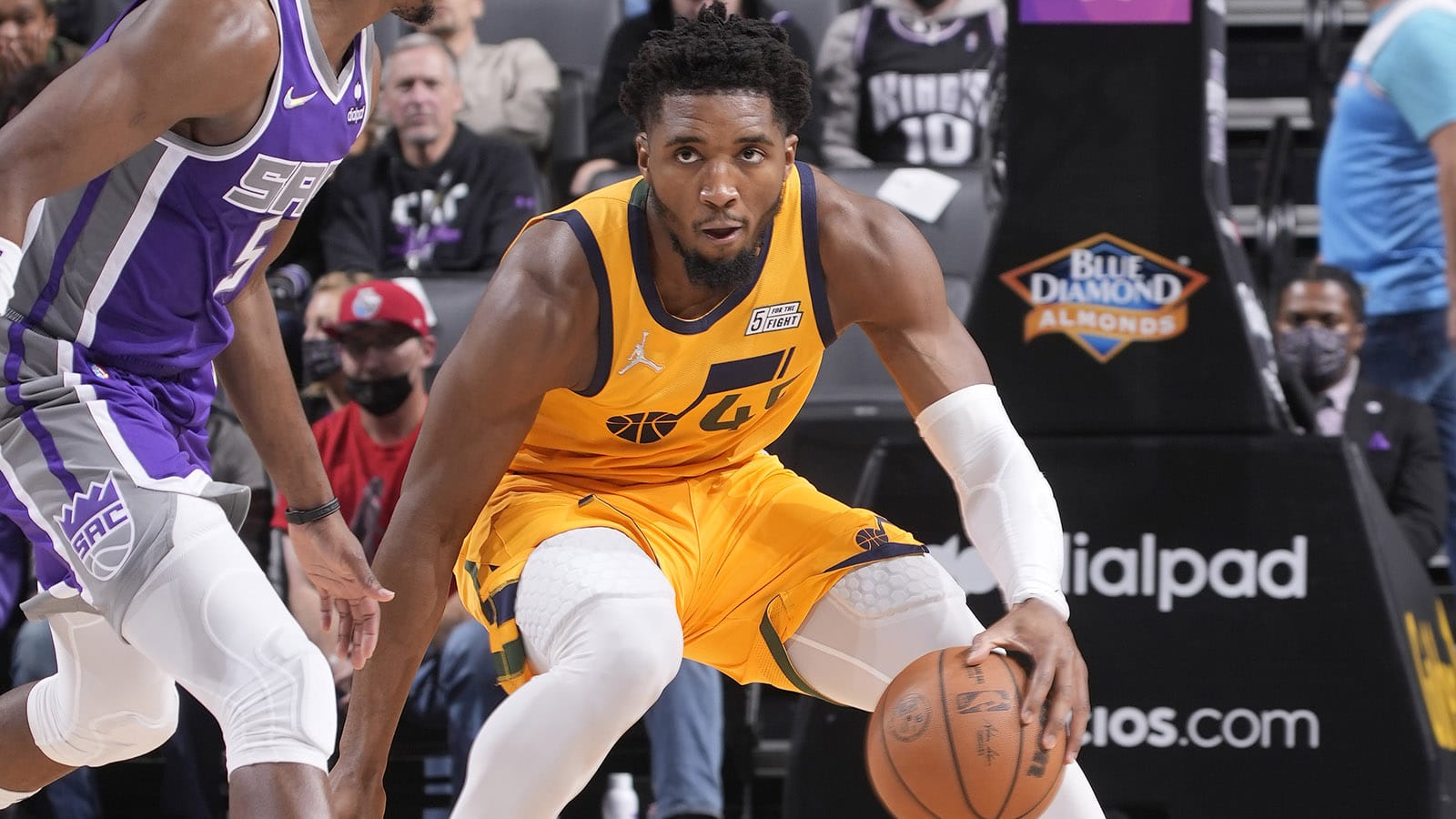 Can we say the Knicks won the offseason if Donovan Mitchell goes to New York?
Can we say the Knicks won the offseason if Donovan Mitchell goes to New York?
A lot of moves have been happening and a lot of guys have gone and re-signed, but can we say that the Knicks have done the best this offseason? They have been positioning themselves to be better than they were last season through the draft and free agency. Now, New York is propping themselves up to an excellent position to land Donovan Mitchell.
Imagine if the Knicks were able to land Donovan Mitchell? That would be extraordinary and a destination that has seemed likely since the beginning of these rumors; starting with Danny Ainge all the way up to the two teams almost completing this trade.
Let's say New York is able to get the deal done, do y'all know what this will mean for New York? Immediate success and a clear play-in or playoff spot awaiting them. Something to truly consider as this is becoming more and more a reality.
So, as we get into this article, I will be taking everyone through what this would mean for the Knicks, how this shapes up their roster, looking at their new top guys, and potential trade packages to acquire Mitchell. We will be looking at the different angles and perspectives of this trade, mainly for New York – including players. Then we will conclude the article by answering the question you all have been waiting for: "If Donovan Mitchell goes to New York, can we say the Knicks won the offseason?"
What does this mean for the Knicks?
Adding Mitchell it would make this franchise an immediate playoff contender. Like it would bump them up from 11th to an automatic playoff contender, how so? Well figuring they added Jalen Brunson, got rid of some unnecessary players, and freed up some cap space that we should be looking at them to be in a really good playoff-contending spot.
If they get Mitchell; then their top three players will be Donovan Mitchell, Jalen Brunson, and RJ Barrett. Plus, they will have Mitchell Robinson and Julius Randle or Evan Fournier on the team – depending on which one goes to acquire the shooting guard.
The Knicks will ultimately be loaded when factoring out the potential players gone, as they have some big names and big upcoming talents. Julius Randle, Brunson, Mitchell, Barrett, and Robinson will be the top five players on that team. I am assuming that Randle is staying on the team as I don't believe they are ready to move on from him quite yet.
Real quick, what does this mean for RJ Barrett?
The 22-year-old has been improving each season, that is undeniable through the statistics and just watching him play each season. But there has been a lot of pressure on him and it has affected him at times. By adding Mitchell, or another star guard, New York is taking the pressure off of Barrett and allowing him to grow without it being too much for him.
There has been a lot of criticism last season when it came to RJ Barrett and how he has been performing. Actually, both Randle and Barrett have been switching on and off as they have both been disappointing in some regards, and in some respects, they have been encouraging for Knick's fans to witness.
But giving Barrett a lesser load is a great way to see improvements, why? Because he has shown he can't handle those responsibilities to the fullest and has shown more weaknesses than strengths – for example, given the poor games he has expressed throughout his time in New York.
Allowing an All-Star guard to come in and take the load off will allow for more development to take place; plus, it just will allow for a sense of peace and comfort for the Knicks to see improvement. Barrett can finally have a role model that will show him how to progress and what to progress in and how to take it to the next level. He doesn't have that currently, no disrespect to the other players on that team.
In the end, this will bring more confidence to his game, how he plays differently, how he will excel, and many other things like that. You will see his game play out differently when he takes a backseat approach to the Knicks. The current Utah Jazz guard will show him the ropes, increase his game, decrease the flaws, and allow for a sense of confidence for New York to keep RJ around for a long time.
Are the Knicks trying too hard to get Donovan Mitchell?
Before anyone says anything, let me clarify one thing: THIS IS NOT ANOTHER CARMELO ANTHONY SITUATION. I can guarantee that. I can by saying that this Knick's front office isn't gutting their entire team to acquire one player. Yes, the Knicks would have to give up three-four players. Yes, they will have to give up a lot of picks. However, it is not scrapping their top talent in hopes of this one player making all the difference.
New York is keeping Brunson, Randle (most likely), Barrett, and Mitchell. Those are the four core guys currently. The players they are looking to give up would be Obi Toppin, Cam Reddish (potentially), Quentin Grimes, and Evan Fournier (big name centered around this trade). In the grand scheme of things, the front office is not committing suicide by making this deal – or at least proposing the deal.
These are expandable players that could be traded or released and it would have no ramifications on their playoff hunt. Does that make sense? Whether I am right or wrong about some of the players, that doesn't matter. The overarching message here is that they are keeping their main guys, their core, intact and bringing in another top guy – an All-Star and athletic athlete.
This is NOT another Carmelo Anthony move, this is actually smart and strategic. Something that needs to be emphasized, trust me. If the trade goes through, then it would benefit them more than anything.
What would be some of the trade packages that New York can offer Utah?
Are any of these realistic?
This would be my number one trade that seems very realistic. There has been word that Grimes, Toppin, and Fournier could be the main guys being shipped out to Utah. Could there be another addition like Cam Reddish? Yes and no, why? At some point, the Knicks will have to determine when enough is enough. However, don't rule it out.
But the Tweet I have copied and put above is the trade proposal that I can see happening the most. Honestly, in my opinion, would be the one I accept the most. You want to talk about a "big haul," New York is bringing it and this may be a deal that Danny Ainge can't say no to.
Yo, real quick, are the Knicks afraid of a different coming in and snatching away Donovan Mitchell?
Is there a possibility? Well, there is always a possibility of a team coming in and taking away the player the current team was trying to secure. That is always a possibility, right? That has happened before and it was rumored to have happened, or almost happen, with the Kevin Durant and Phoenix Suns many weeks ago. If anyone remembers that with the Toronto Raptors. The only negative for Toronto was having to give up Scottie Barnes; they didn't want to do that, both sides were forced into a stalemate, and that was that. To put it into a brief, summarized explanation.
But, getting back to the Knicks and the Jazz. I believe the Knicks are not afraid of a team coming in and wowing away the Jazz to let them have Donovan Mitchell. I couldn't see that even if my life depended on it. In all honesty.
The Knicks are the frontrunner, they will always be, and I will be surprised greatly if a team even tried to put together a trade package. This front office has the assets and will use all their allowable picks and players to gain a good, offensive player.
In short, the Knicks are fine and they are the frontrunner. The Knicks, nor their fanbase, has to get anxious about the thought of some other team coming in and trading for Mitchell. Don't worry, not going to happen. I am 98% sure of it. Hopefully, that clears up everything on that end.
Finally, can we say the Knicks won the offseason if Donovan Mitchell goes to New York?
Without a shadow of a doubt can we say the Knicks won this offseason if they land Mitchell. This organization has done the most to re-sign guys, clear players, and cap space to obtain players, get guys, and everything else to make them more postseason-ready. You can tell this was planned and you can tell they are ready to taste the postseason.
Mitchell coming to New York will cement everything the Knicks did this offseason and more. I honestly cannot say anything more than that. There is no other team that did as much, through quantity and quality, as the Knicks have done. Suns? No. Lakers? No. Raptors? Not even close. Warriors? Won a championship, and didn't target free agency to make explosive moves (which made sense). Clippers? Try again. I can keep doing this, but do y'all know where I am going with this?
You keep your roster intact, structured the money correctly, added a big name (or the hottest name in this year's NBA Free Agency), and have done things intelligently through deliberate action. If you look at all the moves the Knicks made, you would be stunned and excited at the same time. That is why I am giving them the best offseason because they have done so much to drastically improve their roster, to make opposing teams scared of them, a better (and bigger) chance of making the postseason, and all those other qualifications.
Now, they will only be dubbed this crown if they secure the gold. The gold being Donovan Mitchell. No Mitchell, no crown. Does that make sense? While they still did well this offseason, getting Mitchell will solidify their offseason and automatically give them the crown.
The league is watching the Knicks, it is their time to shine. Let's see how this plays out as CourtSideHeat will break it down once it happens. Bold prediction of this trade actually happening.