Is Deandre Ayton Shaquille O'Neal 2.0?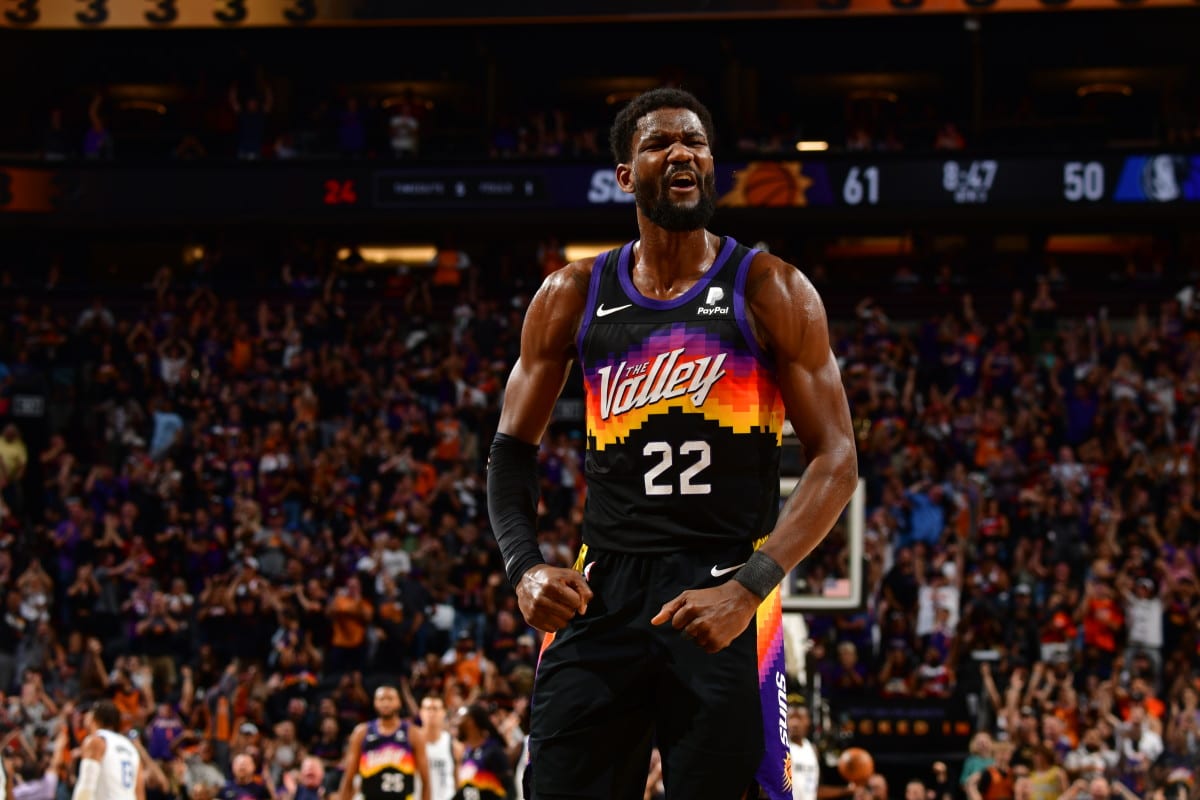 Is Deandre Ayton Shaquille O'Neal 2.0?
Is Deandre Ayton Shaquille O'Neal 2.0?
People reading this headline is probably thinking to themselves, "why would anyone in their right mind think Ayton is comparable and/or the same as Shaq?" Not a bad question to ask, as I've asked the same. However, there are many similar paths and traits these two big-men possess. For example, they both played for their drafted teams for four seasons and went to the NBA Finals. They lost and that pretty much derailed their time with the organization.
Big deal, why would anyone make the assumption that Deandre Ayton is Shaquille O'Neal 2.0? They share the same path (in many ways), were mix feelings by the fanbase of their drafted team, skill-set is similar in many ways, and things along those lines.
In today's article, I will be breaking down why Ayton may just be Shaq 2.0 and if that means he can win a championship like Shaq did when he left Orlando for Los Angeles.
First up, their beginnings after the NBA Draft.
The beginning journey of Ayton/Shaq:
The 1992 NBA Draft and the 2018 NBA Draft showed a lot of potential for guys, but what made it unique? The top three picks were sealed, locked-in and ready to go. In '92, Shaq led the way by being the first-overall pick. In '18, Ayton led the way by being the first-overall pick. Both were about 20-years-old as they stood out as the top guys to get, cornerstone pieces that a franchise can build off of to win a championship – or at least contend for one.
Orlando and Phoenix had the same idea in their mind, that idea? Getting this dominant, massive, good skill-set big that can make their opponents tremble when they come crashing through the lane and grabbing those boards. Both teams loved their talent, loved their energy and passion for the game, and other qualifiers. Now, it was just time to draft Shaq and draft Ayton – of which both were selected with the first-overall pick.
The draft was set up the same exact way for both classes, what do I mean? What I mean is that you had the first three picks locked in, and then it trickled down to other talented guys later in the first. In some ways, both draft classes are mirrored exactly because of the order guys went in and how much talent (and years played) was spread across the board.
Why is the draft so important to note?
You can already see the similarities in mindsets of the teams involved, player's age, player's talents, what teams wanted the former first-overall picks to accomplish and do within the franchise, and different things like that. Plus, when you see how the draft was laid-out and how teams prepared, it is a lot like these two draft classes were one-in-the-same.
Also, I may add, coverage on these two and scouting reports on these two were very promising and that is why people and teams were led to believe these guys deserved to be the first pick in their respected draft classes. Analytics pointed towards it, teams' needs pointed towards it, all the signs were lining up.
In a way, Shaq and Ayton were seen as the saviors to advance and push this team into contention for a title. Get this, and this proves why the draft is so important, Devin Booker and Nick Anderson needed help. Anderson was the leading player for the Magic back before Shaq came along, but they couldn't push forward without the help of another superstar-like player. Here comes Shaq and all of a sudden the franchise, and the fanbase, believe they have found that additional superstar to push the team to higher than ever before.
Now, take this perspective in year 2018. Devin Booker is balling out, doing his thing, but he can't take the team to the next level. So what does the Phoenix Suns think needs to happen? Get another star-like player to pair up with Devin Booker and that failing team (at the time). Both teams were failing, they needed another superstar-like player and they found that answer through a big-man.
Do you guys see how things are adding up and how things have played out through the franchise before these two big-men were selected? Want to hear another interesting fact about these two teams and the big-men?
What's going on before the draft took place?
Before the draft rolled around, something crazy happened. The Orlando Magic went 21-61 that season. Phoenix went 19-63. Do you guys see how creepy that is that two teams with almost identical records, needed a superstar-like player in the draft, choose a big-man, and made a push for the postseason, that is something that cannot be made up.
Just think of the significance real quick. Truly mind-blowing and we are only getting to the draft to start things off.
Strange coincidence…
When both Shaquille O'Neal and Deandre Ayton went to the NBA Finals, and lost, they were both 22-years-old. They were both in their third-year of their contract. At the time of these two going to the NBA Finals and making their way through the playoffs; guess what happened? The Media and their respective franchise thought this was the year their former first-overall pick was going to go off and win them a championship.
For O'Neal and Ayton, they had the spot light put on them nationally and locally. Made incredible plays, highlight reels were happening, etc. Overall, things were happening. It could not be denied, even if you tried. The two teams were putting more trust into their franchise-stars as they were ready to compete. Both battled, both failed.
Again, for all my statistic people out there; Orlando was 57-25, Phoenix was 51-21. Almost having the identical record in terms of wins and losses, despite the Suns not competing in ten games due to league rules and policies.
For an even more strange coincidence, we had both Shaq and Ayton have a rough last season. Things seemed different within the locker room and how things translated to the court; as moments did occur, especially for Suns' fans that do not want to be reminded of last season. Both teams did make the playoffs in their final season, but lost in brutalizing fashion. Shaq was swept and Ayton had to endure a brutal Game 7 after collapsing past Game 2 versus the Dallas Mavericks.
See how those coincidences add up? Almost like Ayton is becoming Shaq 2.0 through the journey they have endured.
The four seasons with Shaq and Ayton:
Throughout these four seasons you will note that Shaq had more stats and was more physical in a lot more situations than Ayton. However, a lot of this can come down to the Suns using Ayton in a different capacity than what the Magic did. Both men were having breakout seasons and showing tremendous upside.
"I would say Deandre Ayton. The only thing that I would like to see Deandre Ayton do is be more aggressive. Don't be tentative. When Shaq got that ball on the post, all hell would break loose."

https://thesportsrush.com/nba-news-deandre-ayton-is-like-shaquille-oneal-on-the-orlando-magic-former-shaq-teammate-makes-bold-claim-on-the-suns-center-amidst-stalled-contract-talks/
Nick Anderson, who saw Shaq play in all four seasons with the Magic, said Ayton is most likely the closest thing we have to a modern-day Shaq. You can understand why he said that and you can agree-to-disagree with him; or just take a side and stick with it. Shaq was very different, more commanding offensively and a bit less powerful defensively. However, where you can start to draw the comparisons would be through strength, athleticism, and some skills.
While not as physical as Shaq. Ayton has embodied the work of a post-player, working down-low, and potentially shooting some quick jump-shots ten-or-so feet from the basket. You saw Shaq have success in the paint, Ayton is growing and have had success in the paint. You saw Shaq hit some easy jumpers, same can be said for Ayton throughout his time with Phoenix.
They are both athletically sound and gifted. Plus, if Ayton wanted to, he could reach the heights of Shaq just by becoming more aggressive/physical with his opponents and becoming a monster to reckon within each game.
What else can be taken away from their four seasons before moving on?
Deandre Ayton and Shaquille O'Neal both improved in each season. That is the truth as they both became a double-double machine with great upsides for their respective franchise. Also, both have proven to be winning pieces that have proven their worth as a former first-overall pick. Despite all the failing their teams had in the beginning before success happened; they were rocking-and-rolling, without fail.
The two athletic big-men were just that good and proved it in the postseason. Not a lot of teams could stop Shaq and Ayton, that is the scary part. Something to think about when you see a huge big-man charging your way about to lay that ball into the basket.
Overall, when looking at each other's four seasons, you can see a lot of similarities. For sure. The way they began and the way they are exiting is almost one-in-the-same. Things were great in the beginning, but towards the end relationships were being soured on and priorities changed. That is a life within the NBA and in life in general.
Concluding the "Is Deandre Ayton Shaquille O'Neal 2.0?" Section
The interesting history is there to look up further and to reread again. Ayton, in my mind, is Shaq 2.0 when you see the journey both men have taken early on in their career. Ayton wants to be valued more, same goes for Shaq when he left Orlando for the Lakers. You saw both men get better and better with each passing season under their rookie contract. This is a fair comparison when you look at the almost identical beginnings of Shaq and Ayton, and just looking at things from the NBA Draft.
While you can argue Shaq is better than Ayton, especially in his Orlando-days, that is true, however, the main intent of this article was to show the similarities both big-men have over their teams, where that has taken them, interesting facts that can't be denied, etc.
Skills-wise, Ayton is not there. In the journey, yes. Yes a thousand times over, why? Due to the fact that Ayton started out in the draft like Shaq. The respective drafts are very comparable and looks almost the same in talent, etc. Then you go down to the ages, the same ages, of when they got drafted and went to the NBA Finals. Plus, to make things even more interesting, not only were they the same age but in the same year under their rookie contract. Talk about craziness.
Share this with friends, family, and even strangers as this is a fun piece to look at to get a really good conspiracy theory going about the second-coming of Shaq – if you wanted to put it that way. In the end, we could be seeing Shaq 2.0. Would people get upset about that, especially if the next team he goes and joins has to prosper that? Not at all. It would be incredible and they would be lucky to have his services to their full disposal.
Thank you guys for reading this, and I want to get one thing cleared up before you click off.
Ayton is most likely not staying with the Suns
Most likely he is going to go to the Pacers or another team that is interested in him. The Suns could have given him the max offer two seasons ago, or even this past season. However, they opted not to give him it. From that point on, they have been trying to find a new team to dish him off to.
So when taking into consideration the odds of him being like Shaq and stuff; I factored this into it because there is a higher probability of him going to the Pacers than him staying with the Suns. My take on it as things have been cooking up since Brogdon's trade became official and they have more money to go through a sign-and-trade to get their franchise-star.
Plus, go check out our podcast episodes as you can see where this would benefit the Pacers a lot. Also, it would benefit the player too. It gives more Shaq qualities to the situation as he goes, becomes number one option in many respects, and now can be paired up with Tyrese Haliburton. You can see the Shaq comparisons grow as this would give him a chance to become a mini-Shaq. So, go check out the podcast episodes detailing that all for more on Ayton, Pacers, Nets, Suns, etc.
Is Deandre Ayton Shaquille O'Neal 2.0?