Davis Bertans is OUT with a calf injury!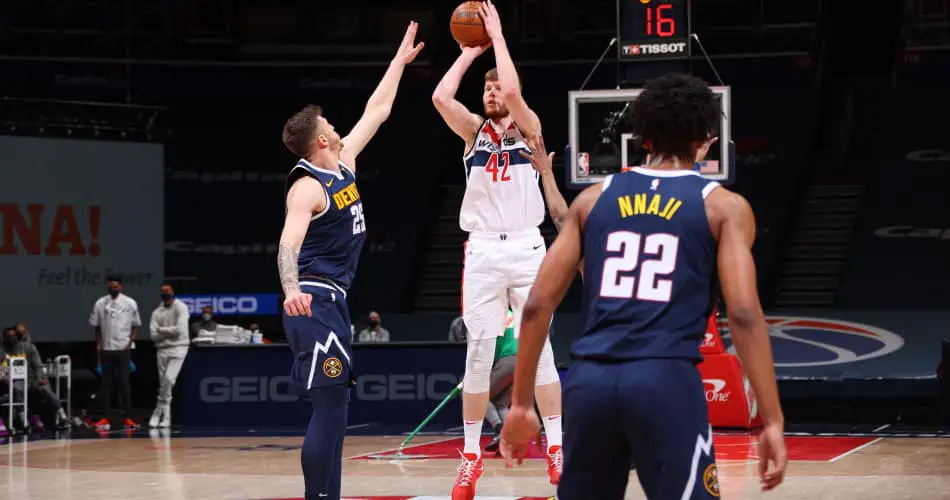 Davis Bertans is OUT with a calf injury!
Davis Bertans is OUT with a calf injury! If the Wizards' life couldn't get any more miserable with injuries and with their franchise in general; here we are anyways.
Bertans has suffered a right calf strain, shown by MRI, and will be out for two weeks. However, this seems to be a reoccurring injury. How so? This is the team's second time stating Bertans' injury. In SEVEN days.
How will this affect the team? I have no clue, however they still have a chance for the play-in tournament. Something that could give them life for the playoffs. They just need Bradley Beal and Westbrook to keep grinding and shining.
He is averaging 10 points and 2 rebounds; also, the Wizards are 15-25 and in 12th place.
Get to know more about our content and our shop!
Check out the NBA Finals Recap of Game 6, the game that made the Lakers champions! You need to read the article to fully understand what happened, what went wrong, and so much more! https://courtsideheat.com/full-recap-of-the-lakers-nba-finals-victory/
If you would like to visit our store on Mercari then click here: https://www.mercari.com/u/892211489/
Find us on Social Media!
Check out CourtSideHeat's social media and different platforms:
(Instagram) @courtsideheatnba
(Twitter) @courtsideheat
(Facebook)@courtsideheat
(Parler) @CourtSideHeat
(Rumble) @CourtSideHeat
(RetailMeNot) @CourtSideHeat
(YouTube) @CourtSideHeat
Also, go to courtsideheat.com/ where you can read unique daily basketball content, shop at the store for sick basketball stuff, and awesome reviews of historical basketball games. CourtSideHeat dedicates time to make sure you get the best basketball content possible.