Don't sleep on the Nuggets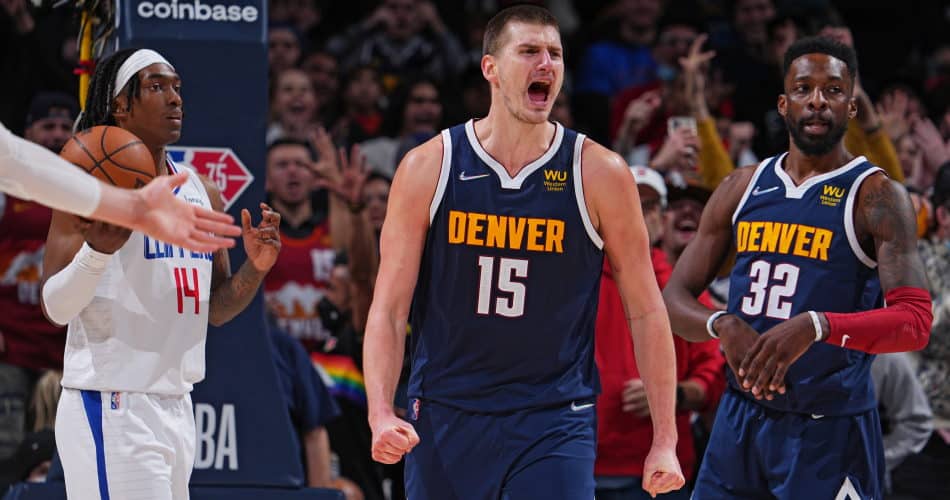 Don't sleep on the Nuggets
Don't sleep on the Nuggets
The NBA Season is only two months away, if that, and we are gearing up for that. We, as fans, have gone through this offseason with some of the biggest news that took our breath away. However, the Nuggets were there but nothing significant like what the Timberwolves or anyone else was doing. But that doesn't mean we should forget about them. Why?
It is because they will be one of the most dominant teams in the NBA next season, I bet you that. How so? Well, for starters, the past season was still a good showing for them as they made the postseason by clinching the sixth seed. That is impressive when realizing that they were without two of their top players, or key players, such as Michael Porter Jr. and Jamal Murray.
Back injuries and ACL injuries have been hurting these two athletic players tremendously, but when they return, most likely for this upcoming season, they will be impactfully impressive.
So, that is why (by the name of this article), you should not sleep on the Nuggets. We will explain why you shouldn't and how that will be accomplished for the 2022-23 season.
A healthy roster
This team has depth and when the roster is healthy, they are deadly. Honestly, who would you take over a healthy Nuggets team? Most likely the Warriors, Suns, but those two teams are about it. When you have a healthy Murray, Porter Jr., Aaron Gordon, Nikola Jokic, and KCP, why wouldn't you take this team to win against majority of teams in the league? It would be mind-numbing if you didn't.
That is just the starters, they have great-sized depth that will bring the heat all on their own. For example, the combo of Bruce Brown, Deandre Jordan, and Jeff Green will certainy bring the fire (or spark) Denver is looking for. They will be able to carry the momentum as they have done it in the past for previous teams.
Many teams, who has playoff success, have this factor ingrained into their culture. Denver is now adopting that, making it stronger, and will become a powerhouse of destruction with it. Also, let me just say this, the eight men I have spoken about how talent that is being unlocked still or is being enhanced. Michael Malone, head coach, has done a fabulous job and will continue to do a superb job that will ultimately lead them to a Finals apperance.
They have good depth, good chemistry, they are compatible, the only thing that is stopping them is having injured players. If they want to succeed and contend for real, they must stay healthy. Definte must and something that cannot be skipped out on. While they made it to the postseason without those guys, if you would of had those two then it would have been a diferent story with the Golden State Warriors in the first round of the postseason.
Get a healthy roster and you are gold.
Get back to Bubble form
This may sound odd, however, it makes sense from the perspective of how they played when their main guys were healthy. This team was a beast as they made the postseason, took down the Jazz, Clippers, before making it to the final round that would advance them to the NBA Finals. However, they lost to the Lakers – who ended up taking the whole thing by beating the Miami Heat 4-2.
But my main point being is that Jokic wasn't tapped into fully back then as he is now. They had a different roster, while losing key pieces, they did gain key pieces. For example, the likes of Gordon and KCP. Plus, when Murray played during that Bubble stretch, Jamal played in God-Mode. He was like Michael Jordan on steriods, he was doing things that were supernatural, he played like he controlled the outcome. For example, Murray was getting 50-point nights for fun like it was normal… okay Murray Chamberlain.
The Nuggets rallied, depsite the odds stacked against them, in The Bubble and that is the form they need to get back for this upcoming season. It is pertinent to the success of the Denver Nugget's organization, why? Because the 2020 Nuggets were dogs, fighters, (had injuries) fought through the defeat, and they came together when it mattered the most.
Imagine if they unlock that mode again for this upcoming season, do you know how powerful that will be? If that happens, then this franchise gets more than 50-wins. Easily. Nikola Jokic is a back-to-back MVP superstar, Jamal Murray will be coming back with vengance, Aaron Gordon is the role player that is sparking the flames, Porter will be here providing and improving his game, KCP will be raining in the shots, as this whole team will come together and be very good.
This is a talented group that should never be taken lightly; and if they rekindle the spark they had in The Bubble, then watch out. That is going to be truly special and heavenly-like to watch. The Nuggets have upgraded for this upcoming season and will be interesting to watch… especially if they get back their swagger like they did in 2020.
Just y'all watch.
Denver will be flying under the radar
This could be the scariest sentence in all of sports entertainment. Okay, kind of exaggerating. However, it had to be said. When good teams fly under the radar, that is never good. When teams are said to be dark horses, whether in the regular season or postseason – you guessed it, it is never good. Understand this: Denver doesn't have pressure, or grand-standing expectations, so that means they can play their style of basketball without the pressure to win it all. That makes a team the most dangerous. When you don't have to be dangerous, but want to be dangerous, that makes you dangerous.
These group of guys, from what I understand, are out for blood and want to get in their to win. People will be talking about them, but not in the respect of going deep into the postseason. Their goal is to win it all, but that isn't being pressured onto them.
When teams are able to fly quietly, strike silently, and do their job without it being talked about, that is when you can the differences of a winner and a loser. You can tell the teams that aren't being talked about, who are winners and who are losers.
Are they a dark horse? Potentially, I'd say yes. But if they get off to a hot start, then watch out. Honestly, that will be a tough team to stop if that happens. You fly solo and you get on top; if that makes sense.
Dangerous teams aren't always publicly seen. Dangerous teams aren't always discussed. Remember that.
Conclusion
Those are just three bullet points that prove why you shouldn't sleep on the Nuggets. This Denver team is looking scarier by the day. I mean that in complete seriousness. The Denver Nuggets are a team that is better in many ways that will impact their future positively.
I am a big fan of the Nuggets and you guys should be too. This franchise, under Michael Malone, is going to be reaching new heights. Exciting heights. Thrilling heights. Now, not everything can be existent in a perfect world. There will be ups-and-downs, uphill challenges, but Denver has been built to withstand that all.
Their culture is unmatched, in many ways. The way players, coaches, front office coexist is truly spectatular. Again, I am excited and this is going to be a fun season for Denver Nugget fans. They have the talent, they have the motivation, the coaches and staff are there, now this team just has to execute.
The real challenges begin in the postseason, however, to see how they perform as an unit, the regular season is key. Again, for the third time, I am excited and will be looking forward to how this team is in the upcoming season.
Two months away, if that, and these are going to be exciting times. Now y'all have something to look forward to as this team is assembled correctly and have their priorities straight.