LeBron James wants to finish his career with the Lakers for the foreseeable future!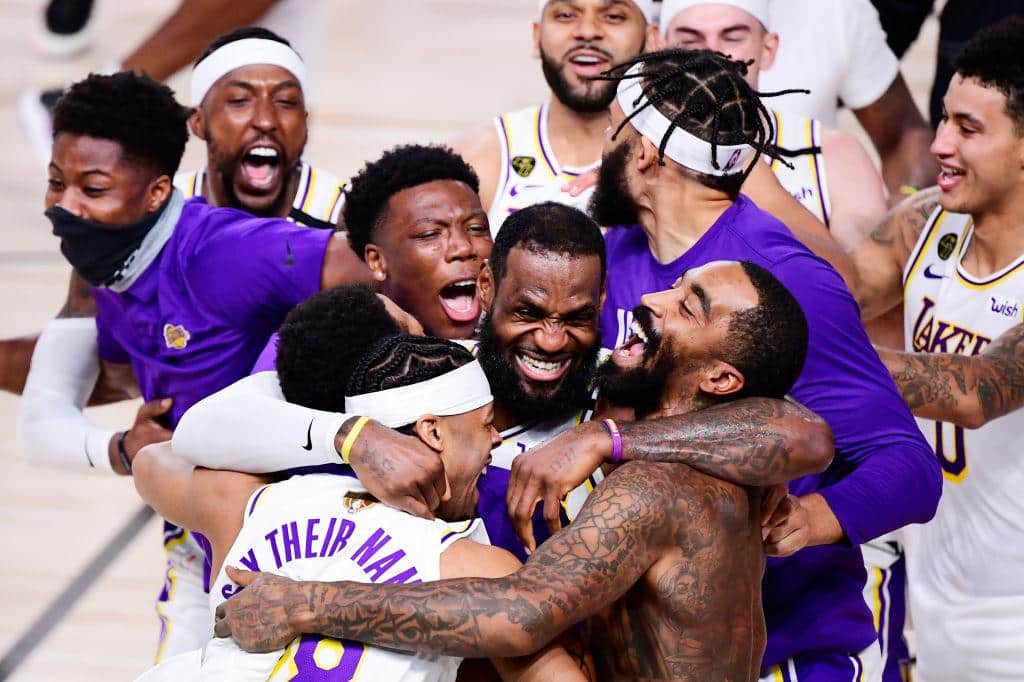 LeBron James wants to finish his career with the Lakers for the foreseeable future!
LeBron James wants to finish his career with the Lakers for the foreseeable future! Whether you hate the man or not, that is not in question about his basketball talents and super-human abilities. He has been there, done that with several teams in regular seasons and in postseasons. The multi-time champion, who won a ring with the Lakers in 2020, wants to end his career in Los Angeles with the Lakers.
News of this report surfaced when he was on a podcast interview on The SmartLess Podcast; the podcast episode was geared towards promoting the Space Jam Movie, however, when talking about career and how much longer he has left. This is what LeBron James had to say about L.A. and his future in the NBA:
"I truly hope that I can finish my career with the Lakers," James said on the SmartLess podcast while promoting the new "Space Jam" movie. "And how many years that is, if it's four, five, six, whatever, seven, I hope I can continue to play the game. I love being in L.A., my family loves being in L.A. Being with a historical franchise like the Lakers is something like, it's like me being in 'Space Jam' now. I never thought it'd be possible." Credit Sports Yahoo for the quote.
With LeBron under contract till the 2022-23 season, and making that his 20th season, the 36-year-old LeBron will be 38-years-old by the time his contract extension ends. What will be his future? Who knows, but can injuries play a role in his decision of continuing to play in the league? LeBron has commented on his injury status during this season and talked about never being the same after this season. For real, how much was he being a drama queen or was he being for real? Either way, these are factors that could determine his career post-contract extension.
Want to be exclusive?
Also, want to become exclusive? Like membership exclusive? Like where you are able to have your own exclusive content, coupons, personalized newsletters, and more? Well, look no further because for the price of three dollars you will be sent two newsletters (one of the top products and one of the exclusive articles and in-depth articles with additional coupons), two articles accessed to only you, four personalized coupons, and even emails telling you that your posts are ready to be read. For a small price you can get huge perks as this is per month, per month you will be an insider of the NBA after reading these articles. It is a win-win, how? You get the best in NBA content that shows you everything that the insiders see. Plus, you get to help a small business which means so much to us when everyone subscribes.
Link to register for the Elite Membership: https://form.jotform.com/courtsideheat/new-customer-registration-form
Also, join now and get your first three (3) days FOR FREE. Save huge, go large, and become the insider you were meant to be.
Find us on Social Media!
Now, if you want to keep up with basketball and can't listen to their podcast. It's all covered for you, just go onto social media and click on @CourtSideHeat:
Check out CourtSideHeat's social media and different platforms:
(Instagram) @courtsideheatnba
(Twitter) @courtsideheat
(Facebook)@courtsideheat
(Parler) @CourtSideHeat
(Rumble) @CourtSideHeat
(RetailMeNot) @CourtSideHeat
(YouTube) @CourtSideHeat
Click here right now to know why Kobe Byrant is the greatest upset in NBA History, the answer will shock you! Click here: https://courtsideheat.com/kobe-bryant-the-greatest-upset-in-nba-history/