The Suns don't buy the racist allegations on Robert Sarver!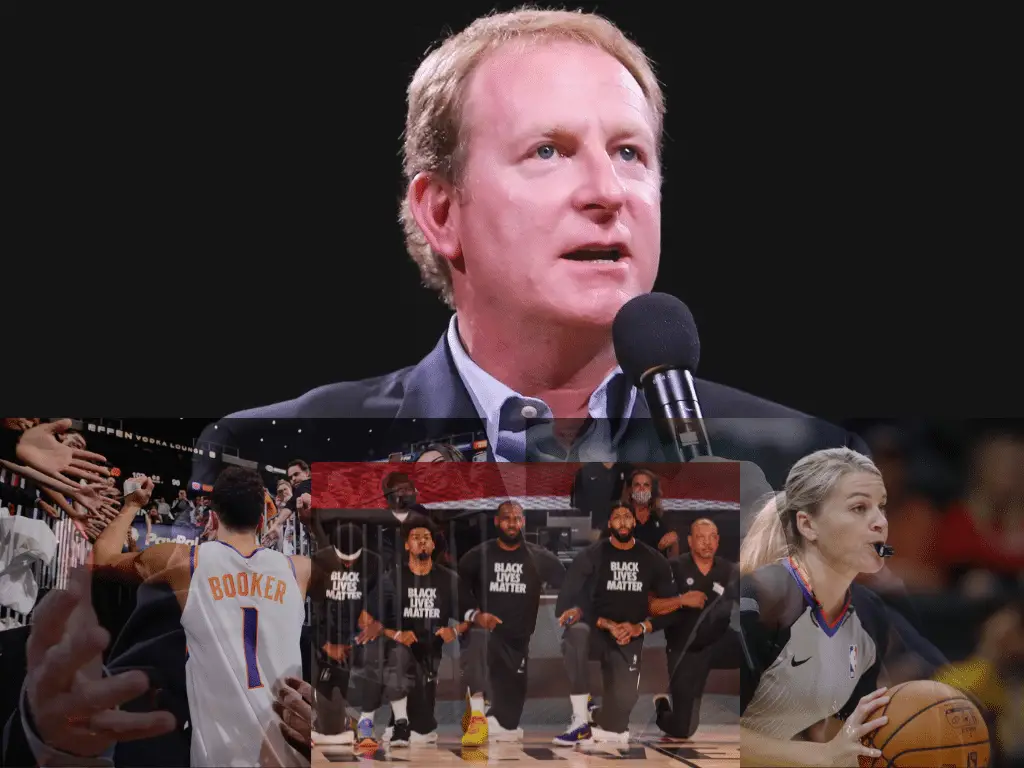 The Suns don't buy the racist allegations on Robert Sarver!
The Suns don't buy the racist allegations on Robert Sarver! These are scary territories right here, why? Because calling someone a racist, sexist, and sexual harasser are some tough labels to stick to someone. Want to lose respect and honor? Those are the labels.
Notice how Schultz said the league could force him out, imagine what this would do to the Phoenix Suns in the regular season? Will this play mental games? Have tension within the building?
However, nothing has came out yet. No evidence and no leaked reports about Sarver and this issue.
Hold up, where would these claims be stemming from?
Per ArizonaSports and other credible sources within the league and reporting of it; it would be former team employees coming out about these horrific claims. This is all suppose to be in a ESPN-related article that detail these claims and the claimers.
Now, we must take this a few ways. Would NBA players be connected? Meaning, could Chris Paul and Devin Booker be upset and/or know about this? They may have offense taken if these claims are true and he is a racist. That would be beyond basketball and you could either see two things happen: A. Both want to hold out or leave in disgust of this man's actions. Or, B. Sarver will be removed as majority owner immediately.
What happens if these claims are true?
This would be the most shocking news coming out of The Valley as who could have imagined that Sarver would do something like that. He has been the owner since 2004. But if these were to be true then we will see a lot of disappointment, anger, discouragement, and even hatred towards the man that is their boss. This is not only for the players but for the fans, workers, and even the minority owners.
However, there are a lot of variables that need to be pointed out. One, would Chris Paul want to associate himself with a racist? Two, wouldn't female workers have already spoken out in terms of sexist comments and sexual harassment? Three, wouldn't this have came out a lot sooner? Lastly, four, why are we judging so quickly on something that, at the moment, is baseless?
Those four points are just some of the many that need to be considered when looking and trying to investigate what is happening. Also, the Suns' general manager, James Jones, would not stand for that. Plus, he works pretty close with Sarver and probably would have said something by now. Just saying, consider what we have so far and use critical thinking before assuming.
Team statements:
With something so destructive as these comments have been made about Sarver, we knew that the Suns and people associated with him would be giving statements. Also, the man himself would be issuing a statement too.
"I am wholly shocked by some of the allegations purported by ESPN about me, personally, or about the Phoenix Suns and Mercury organizations," Sarver said in the statement. "While I can't begin to know how to respond to some of the vague suggestions made by mostly anonymous voices, I can certainly tell you that some of the claims I find completely repugnant to my nature and to the character of the Suns/Mercury workplace and I can tell you they never, ever happened."
He continues:
"First and foremost, I reject any insinuation of personal or organizational racism or gender discrimination. I despise language that disrespects any individuals, regardless of race, gender, preference, or choice. Such language has no place in business or at home in what I consider Suns and Mercury families. I am proud of our record of diversity and inclusion on both teams – whether on the court or in the front office."
The conclusion of his statement:
"I don't begin to know how to prove that something DIDN'T happen, and it is difficult to erase or forget ugly accusations once they are made. Even hints of racism or sexism in our culture today are toxic and damaging and should not be lightly raised. I categorically deny any and all suggestions that I used disparaging language related to race or gender. I would like to think that my actions and public record regarding race, gender, or discrimination of any kind, over a lifetime in business and community service, will adequately answer any questions anyone might raise about my commitment to equality and fairness."
James Jones, GM of Phoenix, statement:
"None of what's been said describes the Robert Sarver I know, respect and like – it just doesn't," Jones said.
The Suns statement says that these are lies!
"Documentary evidence in our possession and eyewitness accounts directly contradict the (ESPN reporter's) accusations, and we are preparing our response to his questions," it added. "We urge everyone not to rush to judgment here. Especially based on lies, innuendo, and a false narrative to attack our organization and its leadership."
Conclusion of a not-ending discussion:
This conversation and potential investigation will not end today; expect this to go into next week maybe beyond. CourtSideHeat will try to reach out to people within the Suns' organization for comment surrounding the allegations of Sarver.
He is innocent until proven guilty as we are not going to judge anything until evidence comes out. Legit evidence as we want to make sure that Sarver is put onto a fair trail; what do you guys think? Is he a racist or any of the comments made? Or is he not and these are baseless claims?
Find us on Social Media!
Check out CourtSideHeat's social media and different platforms:
(Instagram) @courtsideheatnba
(Twitter) @courtsideheat
(Facebook)@courtsideheat
(Parler) @CourtSideHeat
(Rumble) @CourtSideHeat
(RetailMeNot) @CourtSideHeat
(YouTube) @CourtSideHeat
Click here right now to know why Kobe Byrant is the greatest upset in NBA History, the answer will shock you! Click here: https://courtsideheat.com/kobe-bryant-the-greatest-upset-in-nba-history/
Heat