Where to go now with Phoenix and Ayton at rocky roads!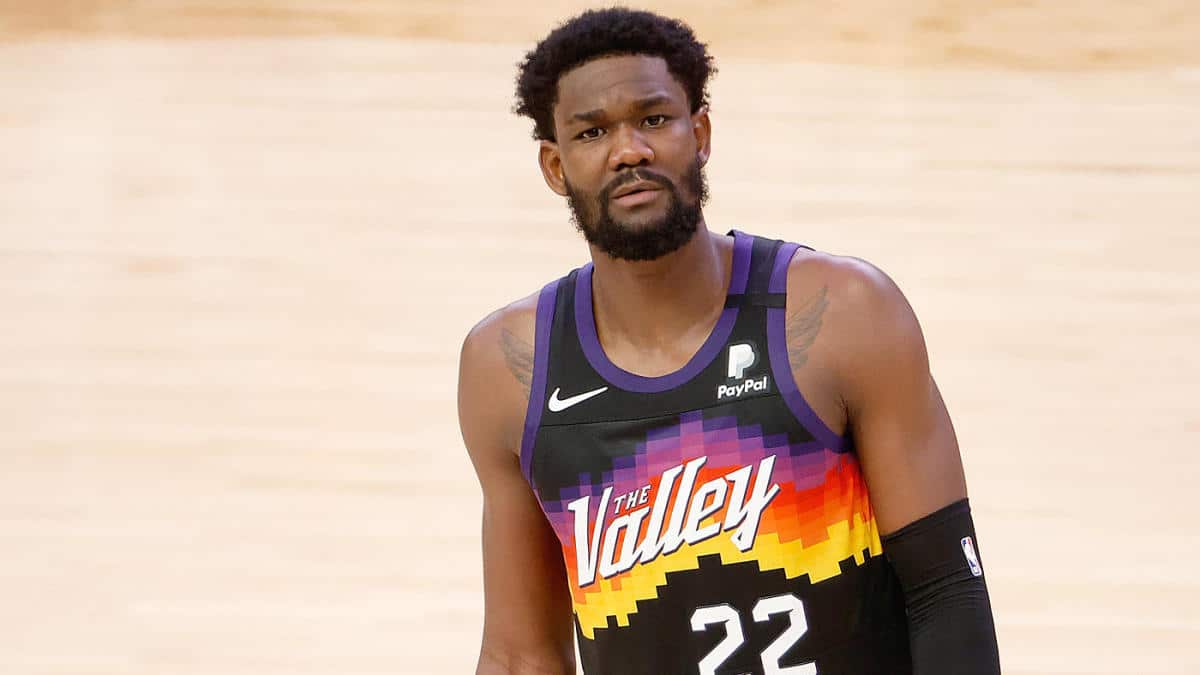 Where to go now with Phoenix and Ayton at rocky roads!
Where to go now with Phoenix and Ayton at rocky roads! Yesterday it became no surprise that the Suns were not budging on their stance featuring Deandre Ayton. They made deals with Landry Shamet and Mikal Bridges before the deadline, but no Ayton.
People are blaming Robert Sarver, owner of the Phoenix Suns, for not giving in to extending Deandre Ayton. Heck, even Ayton expressed his unhappiness with Sarver. However, should we be blaming him or Ayton? The reason why I pose such an interesting question is that maybe the Suns were playing optimistically cautious; maybe this franchise was trying to use the resources they have to ensure a complete team resurgence featuring guys to bring in and to bring back.
So, where do we go from here? In these next few sentences that is what I will be breaking down.
Phoenix Suns and Ayton are at a point that is
boiling

hot

Make no mistake about this Ayton's agent and himself are angry, disappointed, and downright upset with the way the situation has been handled. Now, for the case of the Suns maybe there were some good reasons for them not offering him this huge contract.

They wanted to negotiated, but as I have mentioned on the podcast is that with these guys that are decently good (besides Trae, Luka, Shai) getting these types of pay-days; that has made the Suns' life miserable, because there was no more room for discussion. Deandre Ayton figured that he could not compete with the likes of Doncic, Young, or anyone else. But he could with Michael Porter Jr., starter on the Denver Nuggets.
Why does that matter?
That matters because now instead of negotiating down in years and/or money, it would be the hard way. It would be no dime less for D.A., and did he hold true to that? Yes he did. Ayton and his camp did not budge from the stance taken as he wanted a five-year deal worth in the range of $170-$200 million dollars. As you know the Suns did not want that and didn't like those numbers.
So, now, knowing that information we can discern that the Suns wanted to pay less and Ayton wanted to get a contract worth five-years and some kind of money that was given to MPJ. So many different factors and so many different options to take, however, the poorer one was chosen.
The Suns have done it to themselves… but did they have some good reasons?
The Suns allowed Deandre to vent his frustrations, have the talking heads of Twitter speak, and even control the atmosphere. However, the one thing people have forgotten about was the rough past of Deandre Ayton. Ayton has not played a full season and has had a rough history with the Suns.
While posting good numbers statistically he ran into trouble with the PED (Performance Enhancing Drugs) suspension of 25 games, inconsistency ran amuck, and many experts wanted this Phoenix organization to trade him. Why? Because he was undervaluing his worth, cheapening the Suns through his play, showing inconsistency, hesitancy in the way the Suns used him, etc. Pretty bad.
Again, while posting great numbers. The only reason why he is clinging on to this max deal the way he is due to the fact that he had a great postseason run, recently bias is taking over fans and the media, and he had a showoff year.
The Suns did not want to roll with a guy that is having his first great season, should he be compensated for his heroic actions? Yes, 100%. However, the Suns do not want to pay him this huge contract and have them get bite in the butt.
The Suns were known throughout the negotiations that they were hesitant, worrisome, concerned, and emotionally uneasy with the potential departure of this money. The pros and cons were weighing heavy, but even with all of this you have one thing killing you.
The 2018 NBA Draft
With the first pick in the 2018 NBA Draft, the Phoenix Suns select Deandre Ayton! People were losing their mind, could not believe they didn't take Luka or even Trae Young. Experts, critics, and everyone alike were questioning them even though the Suns had faith in him.
So we all know that by taking him with the first overall pick that you can not let him walk away from this franchise after four years of having him, right? That would be one of the biggest botched in recent history featuring this team and what kind of opportunity they had with this first-overall pick. Incredible, not too many teams are fortunate to be able to get some of the best of the best.
So, why is the 2018 NBA Draft a factor into keeping Ayton? Because you invested a first-overall pick into him and to let him walk away to another team for bigger money and for him to get what he wants would be a blow to your organization. You have finally figured out this group, what them click and tick. Now you want to disband that after a rocky four years? You can't do that, it would be the biggest blow to the soul of this franchise.
Can you imagine all of the talking heads, pundits, experts, etc taking the side of Ayton and blasting the Suns? Plus, the Suns would be making one of the dumbest moves in recent history and one of the worst moves during the era of Monty Williams. Do you see where I am driving these points at?
You can't lose this investment you made, they must keep him. They just have to because too much is weighing on this player and your organization. Ayton is the future of this team. Ayton has chemistry with Williams, Booker, Paul, and the entire locker room. This NBA Franchise must keep him… unless they want a bust of an investment.
So, where do we go now with the Suns and their questionable decision?
Next offseason will make Deandre Ayton a RFA, restricted free agent, which means other teams can put an offer in on him and he can sign if he wanted to. The only thing that the Suns have going for them is that they can match those offers if they so desired and retain their top big man and one of the biggest centers in the game today.
If Ayton wants to stay in Phoenix, this will be his "prove it" year to show his team that this past season was not a one-time occurrence. It must be. For the Phoenix Suns they must make this year a commitment year to show the fans, the media, and especially to Deandre that they have his back and they want him here for the future.
The Suns are in a risky position, but so is Ayton. However, by signing Mikal and Shamet to deals that turned off Ayton. You rejected your best player for a great player and a okay-ish player in Shamet.
No doubt in my mind Ayton is going to have another good year, but now just has to showcase it more than ever. Prove it to your team, to your teammates, the media, and to high bidders out in the market.
So, where do we go from here? Us as fans, journalists, reporters, and diehard people of the Phoenix Suns will have to wait it out and see what unfolds. But all these events, hypotheticals, moments, etc I have displayed is the real cause-and-effect featuring these two sides.
More will be discussed on our podcast.
Find us on Social Media!
Check out CourtSideHeat's social media and different platforms:
(Instagram) @courtsideheatnba
(Twitter) @courtsideheat
(Facebook)@courtsideheat
(Parler) @CourtSideHeat
(Rumble) @CourtSideHeat
(RetailMeNot) @CourtSideHeat
(YouTube) @CourtSideHeat
Click here right now to know why Kobe Byrant is the greatest upset in NBA History, the answer will shock you! Click here: https://courtsideheat.com/kobe-bryant-the-greatest-upset-in-nba-history/