Tom Thibodeau has won the Coach Of The Year Award!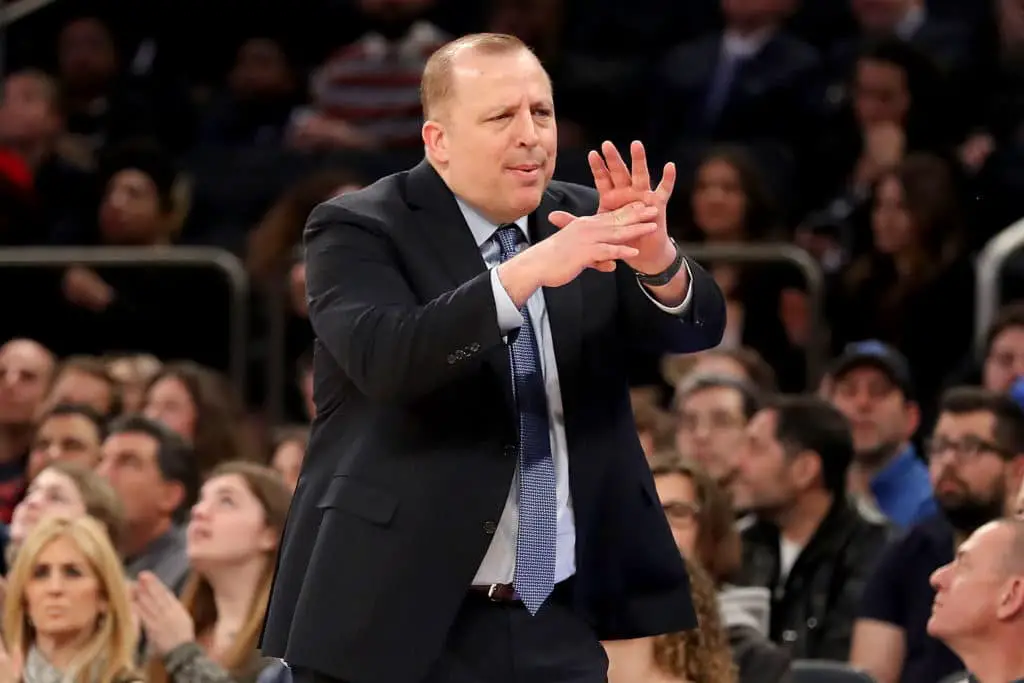 Tom Thibodeau has won the Coach Of The Year Award!
Tom Thibodeau has won the Coach Of The Year Award! The first-year head coach of the New York Knicks is making an impressive name for himself; even though having a career with the Chicago Bulls a decade ago, he is doing it again. Not only did he win this award but he took his team to the playoffs and out of all the teams in the world… it was the Knicks. So, huge congratulations as that is significant. The Knicks are finally relevant again, they have good/key players, and a great HC that knows what he is doing.
The results have been shared within the past 30 minutes and it was a close one as Thibs only beat out Phoenix Sun's HC, Monty Williams, by 11 votes total. Even though Monty did win the first place votes and was two ahead of Thibs; however, 11 votes sealed the deal for Thibs allowing him to pick up his second COY Award!
NYC's coach makes some EPIC history!
Yes, the Knicks are making history (and for the right side of history). As Thibodeau is the first head coach in NBA History to win two Coach Of The Year Awards in his first-year with two of the franchises he coached for. Obviously the Knicks, but his first coaching gig happened with the Chicago Bulls. When surprisingly Derrick Rose won MVP with Thibs; so it is ironic to have both of them on the same team for Thibs to win another award.
Also, this is the third Knick's head coach to win this award. It was him, Pat Riley in '93, and then Red Holzman in '70.
Want to be exclusive?
Also, want to become exclusive? Like membership exclusive? Like where you are able to have your own exclusive content, coupons, personalized newsletters, and more? Well, look no further because for the price of three dollars you will be sent two newsletters (one of the top products and one of the exclusive articles and in-depth articles with additional coupons), two articles accessed to only you, four personalized coupons, and even emails telling you that your posts are ready to be read. For a small price you can get huge perks as this is per month, per month you will be an insider of the NBA after reading these articles. It is a win-win, how? You get the best in NBA content that shows you everything that the insiders see. Plus, you get to help a small business which means so much to us when everyone subscribes.
Link to register for the Elite Membership: https://form.jotform.com/courtsideheat/new-customer-registration-form
Link to look at the Elite Membership: https://courtsideheat.com/membership-join/
Also, join now and get your first three days FOR FREE!
Find us on Social Media!
Now, if you want to keep up with basketball and can't listen to their podcast. It's all covered for you, just go onto social media and click on @CourtSideHeat because they are posting every single day. With. Out. FAIL! Search us now before it is too late; because we are always covering the NBA and always breaking it down. Right here, right now!
Check out CourtSideHeat's social media and different platforms:
(Instagram) @courtsideheatnba
(Twitter) @courtsideheat
(Facebook)@courtsideheat
(Parler) @CourtSideHeat
(Rumble) @CourtSideHeat
(RetailMeNot) @CourtSideHeat
(YouTube) @CourtSideHeat