Top ranked Collin Chandler is committing to BYU!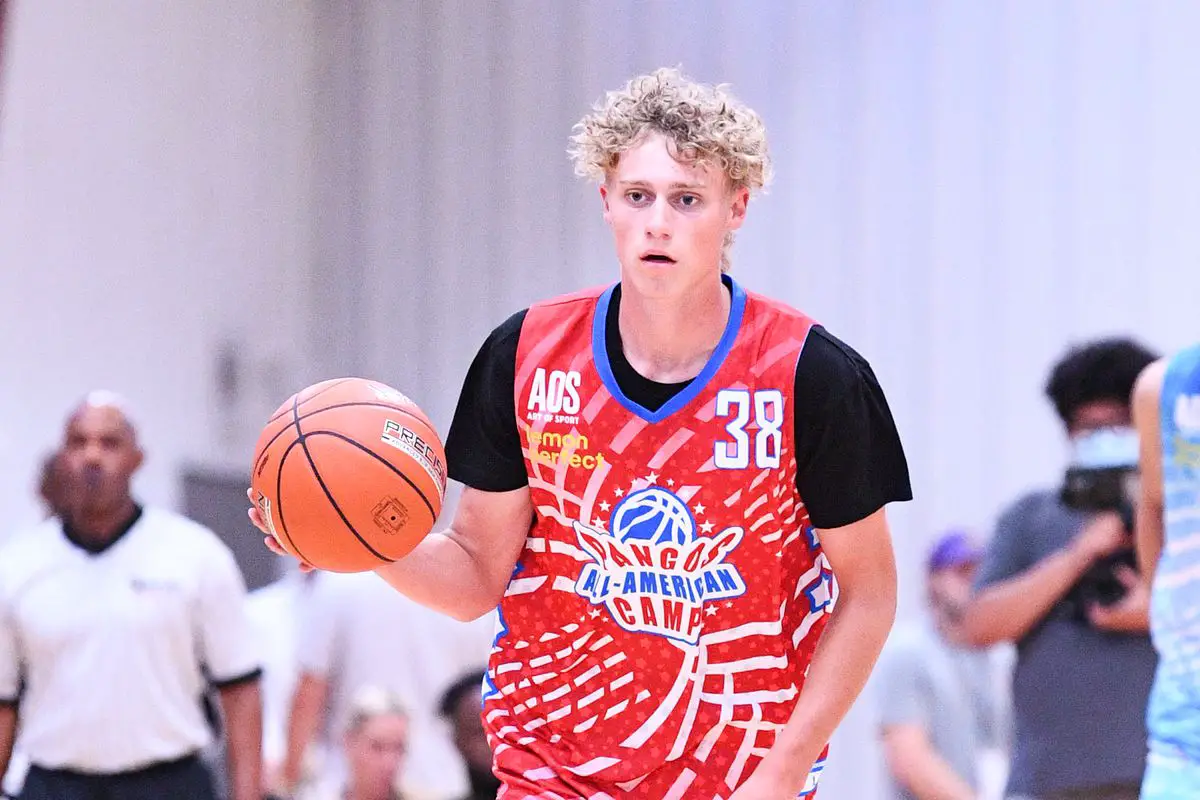 Top ranked Collin Chandler is committing to BYU!
Top ranked Collin Chandler is committing to BYU! Last summer he was dubbed the title of being a breakout star and now he is committing to play for BYU come 2024; the Latter-day Saint will be going on a missionary trip and return after two years to attend college. As you can imagine BYU is pumped for the recruitment of this stud, who is ranked 28th out of 100 on ESPN's 100 list for the 2022 class.
Chandler is becoming the Cougar's highest-ranked men's basketball recruit in almost a decade, just imagine that sentence and the reaction of the Cougars currently. The scouts of that team is going to be getting a huge reward if this pays out in 2024, but currently, it is huge waves in the recruitment development.
Here is what Chandler has to say about choosing BYU:
"The BYU alumni are strong," Chandler said. "With me being a hometown guy and them being a hometown school, it was special. Growing up here, I want to help take the program to the next step and help make it more of a national brand in basketball."

Per ESPN, "Collin Chandler, No. 28 men's basketball prospect in the ESPN 100 class of 2022, commits to BYU"
Arizona, Utah, Utah State, and even Stanford were in the mix. However, in the end it was all hometown love that motivated the four-star recruit.
Here is what BYU is getting from Collin Chandler:
Not only does Chandler have a high rate of scoring, but also has proven to be an all-around type player. Able to create, and convert, shots from inside and outside the arc. Plus, want to know the amazing part? His drive is very physical and ferocious that allows him to draw the foul and benefit his team.
Collin Chandler also allows for his teammates to get into their rhythm as the way he sees the court is something that is a speciality.
Some changes, or improvements, that need to happen to make him the best player before the pros:
His defensive mindset and the way he approaches it needs to be addressed and fixed; if he can clean up defensively, what a huge win for not only himself but for BYU. Imagine what that'll make him when he goes pro? Also, driving to the basket and having a nice spot-up game is good and all. But, here is the thing: you gotta be able to hit jump-shots, especially if he wants to play for the NBA. The NBA will be different than BYU and the teams he will be facing come 2024 in the Big-12. He wants a challenge? Then start working on your jump-shot, because your shot could be killing you more than the actual opponents.
Overall, solid player and the recruitment department is getting some huge raises.
Check out CourtSideHeat's social media and different platforms:
(Instagram) @courtsideheatnba
(Twitter) @courtsideheat
(Facebook)@courtsideheat
(Parler) @CourtSideHeat
(Rumble) @CourtSideHeat
(RetailMeNot) @CourtSideHeat
(YouTube) @CourtSideHeat
Click here right now to know why Kobe Byrant is the greatest upset in NBA History, the answer will be shocking to you! Click here: https://courtsideheat.com/kobe-bryant-the-greatest-upset-in-nba-history/