LeBron James suffers damaging injury!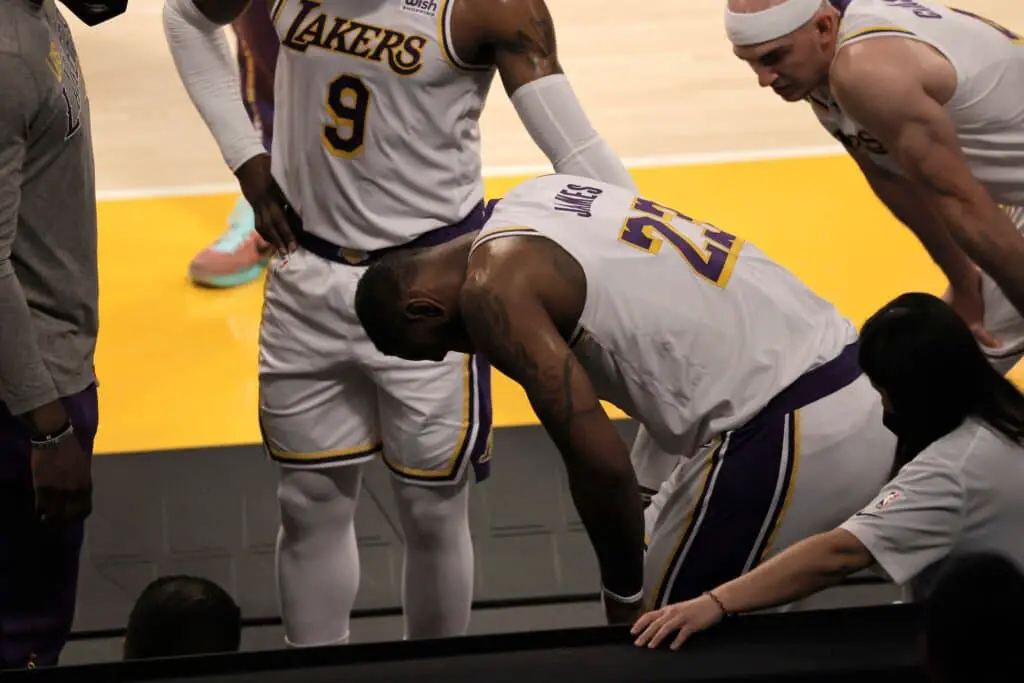 LeBron James suffers damaging injury!
LeBron James suffers damaging injury! Should questions be running through our mind? Yes. Should we be thinking of when and how the Lakers will recover from this? Yes.
With the Lakers down Anthony Davis and LeBron James now, due to injuries. Harrell, Schroder, Kuzma, Caruso, and anyone else will need to step up big time. The Lakers are in second, but they have the trailblazing Suns right behind them. To be exact, a-half-a-game behind.
That's a huge deal, but the biggest one is staying within the eight seeds. That still allows them to be in the playoffs, even if they escape the first eight they do have the play-in tournament.
Before we jump into the extremes, what is this injury exactly?
A MRI came back negative, however, it is much worse. It turned out to be a high ankle sprain on the right ankle. After colliding to an opponent on the Hawk's team, he smashed a chair out of frustration. A chair. Besides that, he should be out for 6-8 weeks. That is what reports are saying, but maybe they will be get him back sooner.
While this is not the greatest thing in America for them, they do have a great second unit. Harrell is great on the inside, they have a playmaker in Schorder, and a finisher in Kuzma and Caruso. That's just four players right there; that's great. Now they just need to win games, but at what cost?
Get to know more about our content and our shop!
Check out the NBA Finals Recap of Game 6, the game that made the Lakers champions! You need to read the article to fully understand what happened, what went wrong, and so much more! https://courtsideheat.com/full-recap-of-the-lakers-nba-finals-victory/
If you would like to visit our store on Mercari then click here: https://www.mercari.com/u/892211489/
Find us on Social Media!
Check out CourtSideHeat's social media and different platforms:
(Instagram) @courtsideheatnba
(Twitter) @courtsideheat
(Facebook)@courtsideheat
(Parler) @CourtSideHeat
(Rumble) @CourtSideHeat
(RetailMeNot) @CourtSideHeat
(YouTube) @CourtSideHeat
Also, go to courtsideheat.com/ where you can read unique daily basketball content, shop at the store for sick basketball stuff, and awesome reviews of historical basketball games. CourtSideHeat dedicates time to make sure you get the best basketball content possible.