This SIGNED Jordan Card is EXPLODING for HUGE money!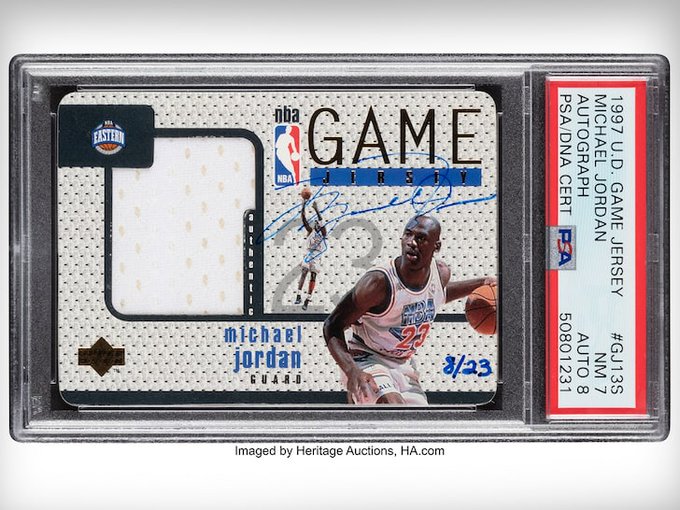 This SIGNED Jordan Card is EXPLODING for HUGE money!
This SIGNED Jordan Card is EXPLODING for HUGE money! When you thought Michael Jordan cards were fading or even the fact that other cards were beating him out; like Giannis or even LeBron for that matter.
This ONE Michael Jordan card, that is graded and signed, went for huge amounts of money. What did it sell for? It sold for $1.5 million dollars this week as this is a rare card.
So how rare and valuable are we talking?
This card is so rare that it was only made out of 23; here is a little more context and history of this card. This is a 1997 Upper Deck Game Jersey Card featuring Jordan in the '92 All-Star Game. This includes a piece of his jersey, worn, from that game.
Also, this card was not only signed by the Legend himself. However, this was graded by PSA – a professional card grading organization. The card was graded a near mint 7, and the signature a near mint 8. That means this card was very close to being in near-perfect-to-perfect condition. Imagine if this card was a 9, 10 in signatures, or even card conditions?
Here is the tweet by TMZ to see the images of this card, etc!
Here is some context of the 1992 All-Star Game with MJ!
Michael Jordan averaged 18 points and 5 assists during that game; and even though they fell to Magic Johnson's team. Jordan got his revenge from that game and even better things. At the end of the season he was averaging 30 points and 6 rebounds per game for that entire '91-92 season; that, my friends, lead the way for Jordan and the Bulls to win their second title for this incredible dynasty.
Get to know more about our content and our shop!
Click here right now to know why Kobe Byrant is the greatest upset in NBA History, the answer will shock you! Click here: https://courtsideheat.com/kobe-bryant-the-greatest-upset-in-nba-history/
If you would like to visit our store on Mercari then click here: https://www.mercari.com/u/892211489/
Check out our different social media platforms!
Check out CourtSideHeat's social media and different platforms:
(Instagram) @courtsideheatnba
(Twitter) @courtsideheat
(Facebook)@courtsideheat
(Parler) @CourtSideHeat
(Rumble) @CourtSideHeat
(RetailMeNot) @CourtSideHeat
(YouTube) @CourtSideHeat