Would the Lakers be better off keeping Westbrook or trading for Hield?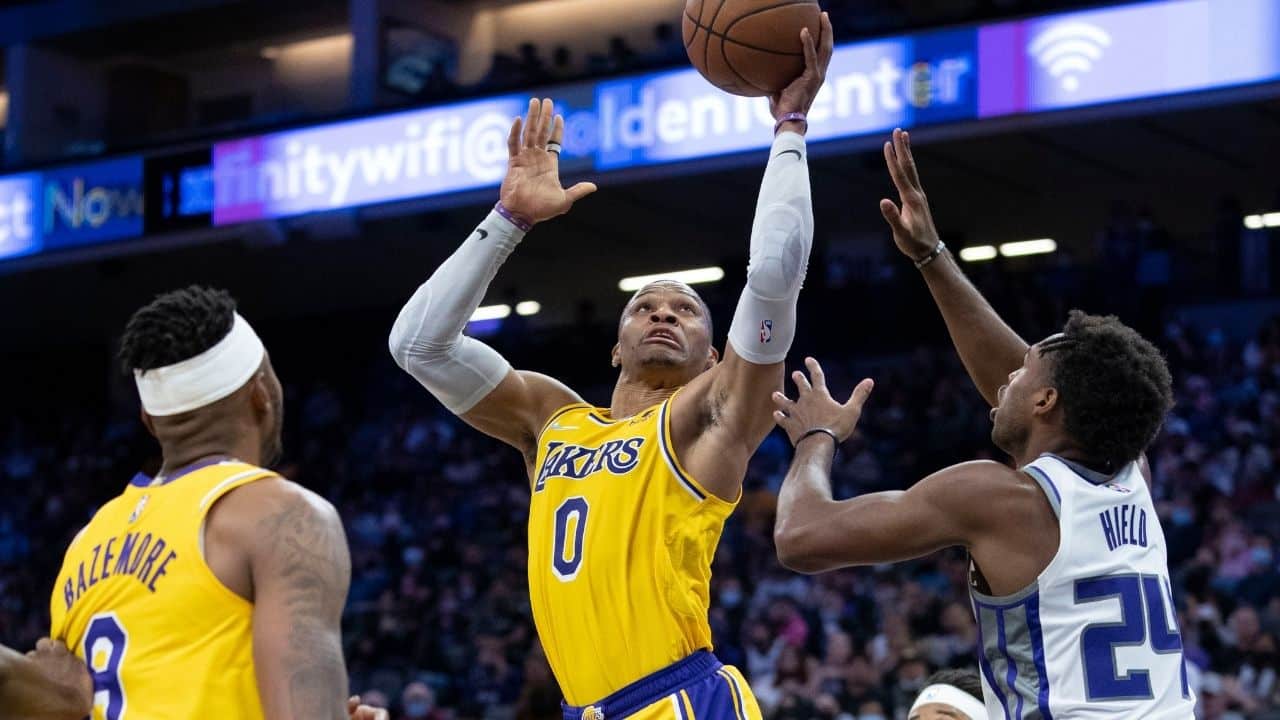 Would the Lakers be better off keeping Westbrook or trading for Hield?
Would the Lakers be better off keeping Westbrook or trading for Hield?
There have been a lot of rumors lately about Russell Westbrook and his relationship with the organization, the Los Angeles Lakers. He was a disaster last season and it shows as he just didn't look right with the Lakers; Russell Westbrook was very inconsistent, had a lot of down moments, bad games, ugly statlines, could never get the team motivated, and other things along those lines.
Despite his numbers, Westbrook has failed more often than not. His ego has gotten in the way and it has torn the relationship between the front office and even players; reports came out that everyone was trying to convince Westbrook to be a supporting role player, that he didn't need to have the ball all the time to make an impact, that he can help in other ways besides being a ball-dominating ego bully.
It has even gotten so bad that, reportedly, LeBron James and his camp want Westbrook gone. Reports came out less than a day ago saying Lebron wants Westbrick gone immediately. Something ruptured their relationship and now LeGM is hoping to get rid of the guy.
So, with some of that context in mind, would the LakeShow be better off with Westbrook or with Hield? Let's get into this!
Buddy Hield: the player that should have gone to the Lakers
Rob Pelinka suffered for listening to LeBron James and Anthony Davis on their push to get Russell Westbrook instead of Buddy Hield or DeMar DeRozan. I think right now they are all wishing they would have let the general manager and front office do their job, in peace, and secure Hield. Sacramento was already in a locked agreement to trade Hield, however, Los Angeles decided against it and backed out.
Look where that got you guys. Mid-way through the season everyone knew, especially the Laker's fanbase, that they were going to fail and not make the postseason. That's tough, no matter how you look at it.
When looking at this thing in its entirety, Pelinka and the Lakers should have gone with Hield and not with Westbrick. My personal opinion and everyone else's personal opinion – or public.
But here at CourtSideHeat, we want to be objective and look at all possible angles. So, let's do that now with these two athletes. Who's better and why Hield is the better option.
Up first, Russell Westbrook
We are going to do a list of pros and cons. We have gathered reports of Russell Westbrook, along with our reports, and have combined that into a list that best suits him today.
PRO: He can shoot, rebound, and assist
CON: His emotions derail his game and get in the way of what's important
PRO: He's durable as he doesn't get injured for long periods
CON: He takes more questionable shots than ever before
CON: He's ball-dominant and has to be the center of attention
CON: His ego bruises himself and his relationships with the team
PRO: Can stuff stats and get triple-doubles
CON: Poor decision-making
CON: Poor perimeter defense and shooting (lol look at his incredible highlights from there)
CON/PRO: He cracks under pressure and he rises above the pressure… just depends on what kind of night he is having
He only has three pros and the rest are cons, that is bad. Like that is bad from all angles taken. He's a good, skilled basketball player that has a game that can be unmatched sometimes. However, Westbrook gets himself into trouble when his ego and emotions run high for no good reason. We have seen that countless times with teammates, coaches, referees, fans, and even opposing players. That isn't a good look and that has made him look unprofessional at times and like a child; something most NBA players do not want to have associated with themselves.
But, he is a player that is durable enough to stand the test of time and has limited injuries that don't cost him games. The man did play 78 games last season, very impressive, not many players can say they played almost the entire season. Let alone the fact that he is a starter with a lot of minutes.
Take this into perspective:
His game has deteriorated. That is undeniable. His shot is different, the way he approaches each game is different, and he just goes for stats than helping his team. Last season, I get. The Lakers weren't going to go to the postseason and their season got derailed due to injuries, protocols, and just really not how they expected things to play out. So for Westbrook to do some stat-stuffing, that is fine. However, we have been seeing that when he was with Houston, when he was with Washington, and even with Los Angeles. That has been a common theme of his and the trend is only going to get worse.
Why do you think no one wants to trade for the 33-year-old? Rockets didn't want him back, 76ers didn't want to give up Simmons for a guy like him, and other teams are trying to steer away from players like Russell Westbrook. See where I'm going with this? Nobody in their right mind wants this guy who is getting paid TOO MUCH money.
In the end, his style of play is different and it is costing his teammates, himself, and the team winning games. He is no longer reliable to win games, make those clutch shots, or even motivate them by going on a mini-run or something. His offensive game is all he has left and that is slowly, fading from him. That is going to hurt a team bad, real bad.
Conclusion on Russell Westbrook:
Russell Westbrook is no longer a player that you can trust to lead a team, he isn't LeBron James or even Anthony Davis (actually sorry for saying that as Davis isn't good either). If he doesn't buy into the supporting role, then guess what? He will continue to collapse, harm the team, and lead them straight to the abyss. He's good, but only as a supporting role player now. Truth hurts… sorry.
Up next, Buddy Hield
PRO: He is a high-volume shooter
CON: He is a flat-footed shooter, but he has improved off of that and made it work
PRO: Extremely intelligent on the court, makes the right decisions
CON: He is not the best defensively, he can be seen having a defensive breakdown at times
PRO: Dribbling is very good and has utilized that to make defenders lost when scoring
PRO/CON: He's short for his position, but can't be pushed around as his strength and physicality makes up for it
PRO: His main game is his three-point shot
PRO: When put on a good team, or with good talent, he thrives and shines
PRO: Willing to share the ball and not be so ball-dominant (whether coming off the bench or starting)
PRO: Hield is very durable as he rarely misses games and no injury takes him out for an extended period
Buddy Hield only has three cons, the rest of them are pros. That is incredible and with the growing talent on the Lakers, Hield would be a good fit. That is something I do not question. He would fit in with Anthony Davis and LeBron James; I could truly see a Big 3 formed out of it if they decided to go that route.
This is a young (29-years-old), in his prime, player that can help his team offensively. His offensive talents can sure spur on mini-runs and win them games. You are talking about a four-year difference between him and Westbrick, when considering age, that is good. Also, you will now have a player that can make a simple lay-up or perimeter shot.
Plus, from what we could tell, Hield does not let his emotions and ego run ramped as Westbrook does. That is a plus and it seems like he would get along with everyone in the front office and locker room. While the man does have some downsides to his game, his game is dominantly controlled by the upsides and has proven to be true since joining the Kings and then the Pacers.
There is a reason why Los Angeles wants him and not Westbrook.
Conclusion on Buddy Hield:
Hield is a very talented, skilled player that has matured throughout the seasons and that is why his trade stock has gone up. Something to keep note of. L.A. has been very vocal about getting him and potentially getting rid of Westbrook. Honestly, that would make the most sense – something they should have done before getting the train-wrecking player.
Hield would be a tremendous addition for the Lakers and would take the pressure off of LeBron James and Antony Davis to always have to score and make guys get off of them. Having another weapon that teams fear will be a huge plus for the Lakers. In the end, you move past his faults and you try to secure Hield before it is too late.
Would the Lakers be better off keeping Westbrook or trading for Hield?
I am confident that many of you guys already know what I am going to say next and pick the winner for the Lakers. With my final answer, after being unbiased and completely objective, I have concluded that trading for Buddy Hield would be the better option for the Los Angeles Lakers.
All the reasons I have laid out are why Hield is the no-brainer option. He must be. Why? Because he is going to win you games and keep everyone on the Lakers happy with his performance. The Westbrook Experiment is dead, it is now time to have Hield come in and thrive.
I believe the Lakers understand that, I believe they are done with Westbrook and are hoping to get their hands on a new piece that actually means something to them. In our concluding thoughts, remember this: a player that is not helping the team actively win games must be replaced as it is just insanity at that point to keep him. Clearly, the Lakers have a problem. Clearly, L.A. must fix it. It comes through Hield. Let that sink into your guy's brains.
REAL QUICK: Mock trades featuring Russell Westbrook and Buddy Hield
More mock trades will be coming out on my social media pages. Most commonly on the Twitter machine. Check us out @CourtSideHeat on Twitter because we will be having a few more of these throughout the weekend.