A girl has been drafted in the NBA… no really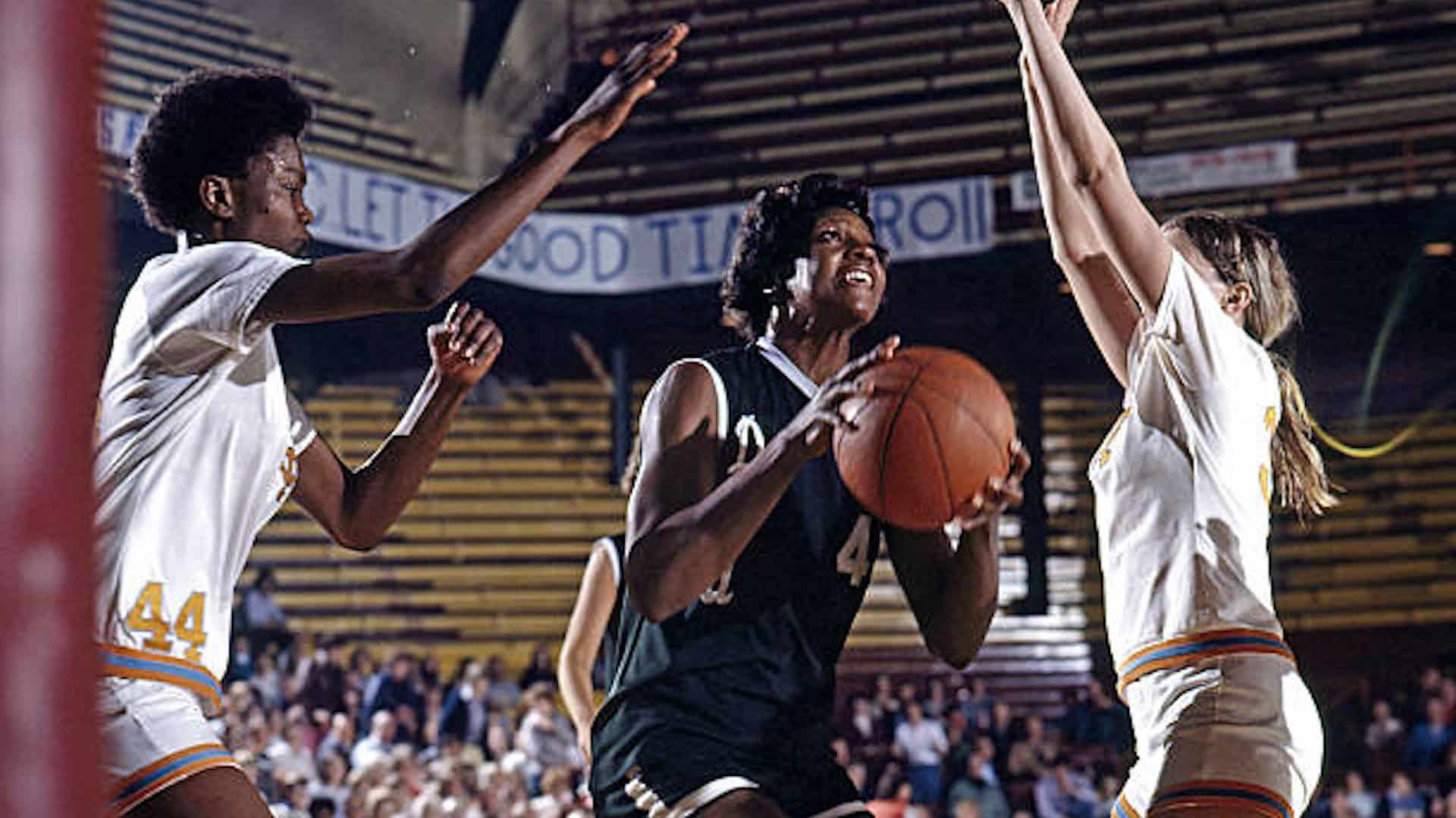 A girl has been drafted in the NBA… no really
A girl has been drafted in the NBA… no really
Many people do not know this, and many will not in the future, but a girl (yes a biological female) has been drafted by a team. Not as a coach, staffer, or anything like that. This woman is a legit basketball player, but many don't know that.
In 1977, a woman, named Lusia Harris, was drafted by the New Orleans Jazz. Before the Jazz relocated to Utah many years later, they were based in New Orleans. She was the sixth pick of the seventh round of the '77 draft class. Many things different in this draft class is that the NBA had seven rounds, only 22 teams at the team, and allowed women.
Not in this article, but in another article I will break down the historical content behind the NBA and their changes of the draft, teams, men and women, etc. But, yes, there was so many cool things about the '77 draft. Mainly all the talent that came out of there; but the fact that a woman came out of draft was astonishing.
It gets really interesting when everyone finds out that a woman was turned down a few years before her selection…
In 1969, the San Francisco Warriors made history by selecting a woman. Her name? Denise Long. However, then commissioner J. Walter Kennedy voided the move and that was that. Per the now Golden State Warriors.
Technically Long is the first woman to be selected, but Harris is the woman to officially (and successfully) get selected without controversy.
So, who is Lusia Harris?
Before we get to the historical draft class that she took part of, what was her life before national attention of basketball fame?
Early Life – High School
Boy, oh, boy! She was a baller and it showed. Lusia Harris was a center and played basketball under coach Conway Stewart in high school. Winning three MVP's in a row, made the State All-Star Team, Team Captain, and led her school to a state title in Jackson, Mississippi. Also, not to forget, she set a school-record of 46 points in one game.
You could tell early on in her career that she was talented, just by going by the accomplishments, talk about achievements!
For college, that is where it all gets interesting.
College Career
Originally, the athletic center was wanting to go to a college that didn't have a women's basketball team. After graduation the plan was for her to go to Alcorn State University, located in Lorman, Mississippi.
In the end, those plans got corrupted and Melvin Hemphill to play for Margaret Wade, who was restarting a women's basketball team at Delta State. After some persuasion, Harris decided to join the college.
Truly, the rest was history. First season, 1973-74, Harris led the team to a 16-2 record – finishing third in the regional tournament. Sadly, that didn't get her team into the national tournament – didn't qualify.
In the 1974-75 season, her team went all the way to the championship against the Mighty Macs and won. This was a huge accomplishment as the Mighty Macs won the previous three championships, but they were derailed by the talented center. She scored a total of 138 points and 63 rebounds in four games of that finals-matchup. Like her high school days, Harris was named the MVP of the Finals.
Incredible fact
Leading up to that thrilling finals matchup, Delta State went 28-0. That was the only undefeated team that college season, for men or for women. Plus, the finals were the first time ever where that was broadcasted nationally. That speaks volumes of epic portions.
Truly incredible as looking back on her career, the beginning of her career, is amazing.
Next two years of championship madness
The 1975-76 and 1976-77 season, saw Delta State (led by Lusia Harris) win two more championships. Three years in a row now is what we like to call greatness.
Her entire college career can be summed up in one word: Success. How so? Well due to the fact that she went 109-6 overall, three championships, multiple MVP's, finishing her college career with 2,981 points and 1,662 rebounds, averaging 25.9 points and 14.5 rebounds per game. The list can continue and continue; again, truly impressive.
Also, as a huge accomplishment, she was the only African-American during her entire tenure with Delta State. She was the best player on there, she proved that it didn't matter about race to be one of the greatest in a college or in anything.
Her college stats:
While we cannot get all of her stats, the 1976 season was the one we could find.
31.2 PPG
15.1 RPG
61.9% FG
1060 total points
34 games played
FINAL STOP: NBA Draft
Who knew a woman would try to get selected in '77, or even dare to after the commissioner many years ago shut another woman down. Her skills were amazing, and by the seventh round, why not give her a shot. I could have seen her go in the fifth round, but at least she was selected. History was created as that is truly amazing – words cannot express.
The Jazz gave her a shot, selected her, and wanted to see what she was made of. Her dreams were coming true of playing professional basketball. There was no WNBA back then, so for her to get into the NBA in that time period is very interesting. That is an accomplishment all on its own.
Wait… she backed out??
The Jazz were going to bring her in and allow her to participate in the Jazz's training camp. However, there were some issues. The main reason why Harris declined the offer made by the Jazz to come and to be a NBA player is due to the fact that she was pregnant. I'm a dude so I wouldn't know what it is like to be pregnant, but I can't see pregnant women playing basketball without complications happening. I would find that very impressive if they could, but very difficult at all of the same time.
So it isn't like she backed out, but she didn't want to because she was pregnant with a child. So a very valid reason, to say the least.
After high school and college, Lusia Harris never played professional basketball again. My theory is that she decided to start a family, devout her time to her family, and was content with her decision. However, that is just speculation and no one knows for sure. But that is what most likely happened.
The Legend Of Lusia Harris
Harris didn't have to play in the NBA, why? Because she already made history. Through high school, to college, to getting drafted ahead of thirty-three men in the 1977 NBA Draft. What a career. All of the awards, accolades, championships, etc that she earned and had associated to her name is truly impressive and something that will go down as history cemented as a legacy.
First African-American Woman to be inducted to the HoF
Yep, you read that correctly. In 1992, she became the first African-American woman inducted in the Naismith Basketball Hall of Fame. Harris was also inducted to the Delta State's Hall of Fame in 1983.
Truly incredible legacy to leave the basketball community with. Her legacy will remain with us forever.
Tragic death
Sadly, January 18th, 2022, was the date that she died. Less than a month before her 67th birthday, the HoFer passed away in a therapy facility in Mound Bayou. That is a city in Mississippi.
She left the world with amazing accomplishments as she left us with a legacy to never be forgotten. That is for sure.
Conclusion
This was amazing to stumble upon something like this as the history behind the 137th draft pick in the '77 draft is truly incredible. The backstory was incredible leading up to the NBA Draft. Very notable draft as I would encourage everyone to check out the 1977 NBA Draft.
With all that being said… share this with friends, family, colleagues, co-workers, partners, etc as this is truly an incredible story.
Check out CourtSideHeat's social media and different platforms:
(Instagram) @courtsideheatnba
(Twitter) @courtsideheat
(Facebook)@courtsideheat
(TikTok) @CourtSideHeat
(Rumble) @CourtSideHeat
(Gettr) @CourtSideHeat
(YouTube) @CourtSideHeat