Russell Westbrook gets ejected with two technical calls!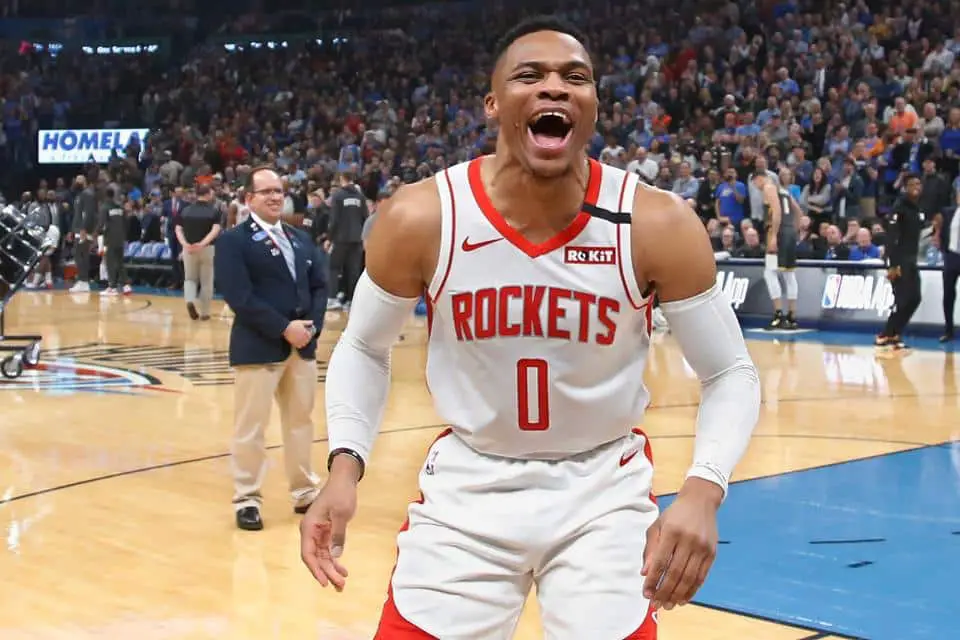 Russell Westbrook got his first technical call in the first quarter with 7 minutes to go in the game, this all happened when he was arguing a call with the refs and was given a technical. The second one would be near the end of the fourth with four minutes remaining when he bumped into Damion Lee, this caused him to exchange words with the Warriors bench and that gotten him thrown out of the game.
Here's his explanation on what happened on the court after the game:
"I think it's a situation where I hold myself to a very, very high standard," Westbrook said. "I think the refs, the fans, media, the NBA [is] put in a position now where I'm not really allowed to do much. Obviously, I'm an emotional guy, but if you watched the clip, obviously, I hit Lee, but it wasn't on purpose. I'm going to the glass, he got hit, he said something to me, I said something to him. I'm standing there, a guy [Juan Toscano-Anderson] came and snatched the ball out of my hands. Guys come running up to me, I didn't move, but I'm always the one that gets painted to be the bad guy in the whole situation."
"I turned around and said, 'What did you say?' So now everybody's running over to me, then I'm walking towards the thing, then [Kevon] Looney steps in front of me, so I feel like I'm in a position [where people think], 'Oh well, Russ is being Russ,' which nobody knows what that means."
"But I got to do a better job of holding myself accountable to a very, very high standard. And I'll make sure I leave no room for error to allow somebody and people paint me out to be a guy that I'm not. I just think it's unfair that after all that, I'm the only one that gets a tech or kicked out. That's not fair. I don't care what nobody says. It's so many other people involved in it that are doing so many things that weren't OK, but I'm the one that gets the tech, gets ejected, and then everybody else is cool, and goes back and play. But like I said, I take responsibility for that and I hold myself to a very high standard of which I'll uphold."
"I just got to control myself, that's it, control myself," Westbrook said. "But I'm not backing down. I'm not. I wasn't raised that way. So I don't back to nobody, fear nobody but God, that's it. Fear no man but God. I'll always protect myself under any situation, but I also got to be smarter and understand what's on the line for me. Or what's my legacy, who's watching me, my kids, my family. Make sure that I'm representing my family very, very well."
Here's what the Rockets head coach said:
"He knows," D'Antoni said. "He knows. He'll play. He's gotta play with an edge, and that's him. And whatever happens, happens. We'll take him. But he'll be all right. He's smart."
Then the reporters asked James Harden if referees were calling fouls on him because of his reputation:
"I don't know," Harden said. "I think today, he got a tech and then he felt like he got fouled, I think he got fouled. So he showed his anger, as any player, if they feel like they got fouled numerous times and it wasn't being called, they would express their emotions. I mean, everybody knows how he play and his emotion, and he did what he had to do."
Well Westbrook is going to have to be a lot more careful as he has 13 technicals, this matters because he could get suspended for some time because of these technicals. But it doesn't look like he cares or he isn't worrying about it.
"You obviously got to be aware of it," he said of the 13 technical fouls. "I'll look at them and see which ones are real technical fouls and which ones are not. And then figure out how to do it, but I'll be fine."