Isaiah Thomas: "COVID was a blessing in disguise for my career!"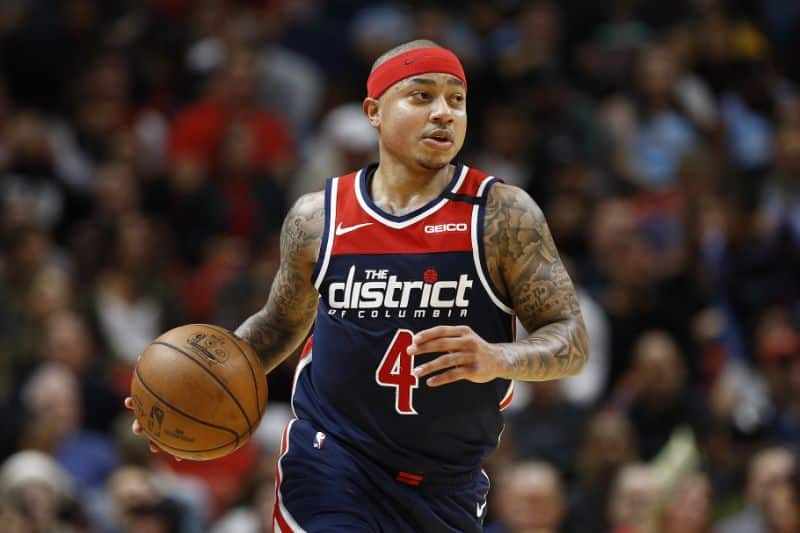 Isaiah Thomas: "COVID was a blessing in disguise for my career!"
Isaiah Thomas: "COVID was a blessing in disguise for my career!"
Thomas: "COVID was a blessing in disguise for my career!" Before everyone starts blasting this man for saying this, he is not wrong. But not for the reasons you are thinking. Isaiah Thomas has announced that he got hip surgery for a hip injury that was bothering him for about three years.
He is making a comeback to the NBA after years of pain through his lagging/staggering hip injury. His response will shock you on what he said about his injury.
This is what Isaiah Thomas has to say about playing with a hurting hip:
There's no more pain. I've got my full range of motion," Thomas told ESPN's Adrian Wojnarowski on Monday. "For three years, I was trying to play the best players in the world on one leg. I needed help from my kids to put my socks on in the morning.
"Now, I can lift weights. I can squat low. I can work out twice a day. I'm able to cut and move and stop, able to cut and go. I feel like I'm 31 years old again. And now, I have scientific evidence to show that."
How did COVID play apart in him getting the surgery done?
"In some ways, the time off because of COVID was a blessing in disguise for my career," Thomas said, via ESPN. "It allowed me to take the time to get this procedure done and get back physically to a level I need to be to compete in the league. I made the right decision to do this, and I'm anxious to show people I can contribute to a team again."
Isaiah first injured his hip back in 2017 when he was with Celtics, that was during the NBA Playoffs. He was sidelined for the Conference Finals, he was later dealt to the Cavs which didn't last that long.
He has been bouncing around the team after team, starting with the Cavs, then the Lakers, then the Nuggets, finally with Washington. Sadly, that didn't last long either. He was traded to the Clippers, then cut. So, currently, he is making his way back to the NBA by being a free agent who is looking for a new team.
How bad was the injury?
The hip injury was bone-on-bone, it was very painful. He was also favoring his right hip when he visited the medics. Orthopedist Dr. Edwin Su knew something was wrong with him, knew his right hip was bothering, and that was limiting his game severely.
"Before the surgery, you could see he was clearly favoring his right side; and that it was painful," Su said, via ESPN. "It was natural to avoid pushing off and landing off [the left]. Four months post-op, we are seeing higher loads and seeing symmetry between the right and left."
"Now, he's playing like he's eight months out from surgery, not just four. He's such a hard worker. He's moving quickly, and able to jump and pivot."
His road to a comeback starts now and he is willing to do whatever it takes to get onto a team. What do you guys think of this? Do you think this was the best time to do it? Do you think he will play better with this hip surgery? Comment off in the comments below!
Get to our content more and our shop more!
If you want cool, retro items (like cards and action figures) then you need to check out our shop: https://www.mercari.com/u/892211489/
Click here to find out where we think Billy Donovan should go and what the probability is of him succeeding at his next job!  https://courtsideheat.com/where-should-billy-donovan-go-to/