Jimmy Buckets being Jimmy Buckets LeBron (well) being LeBron!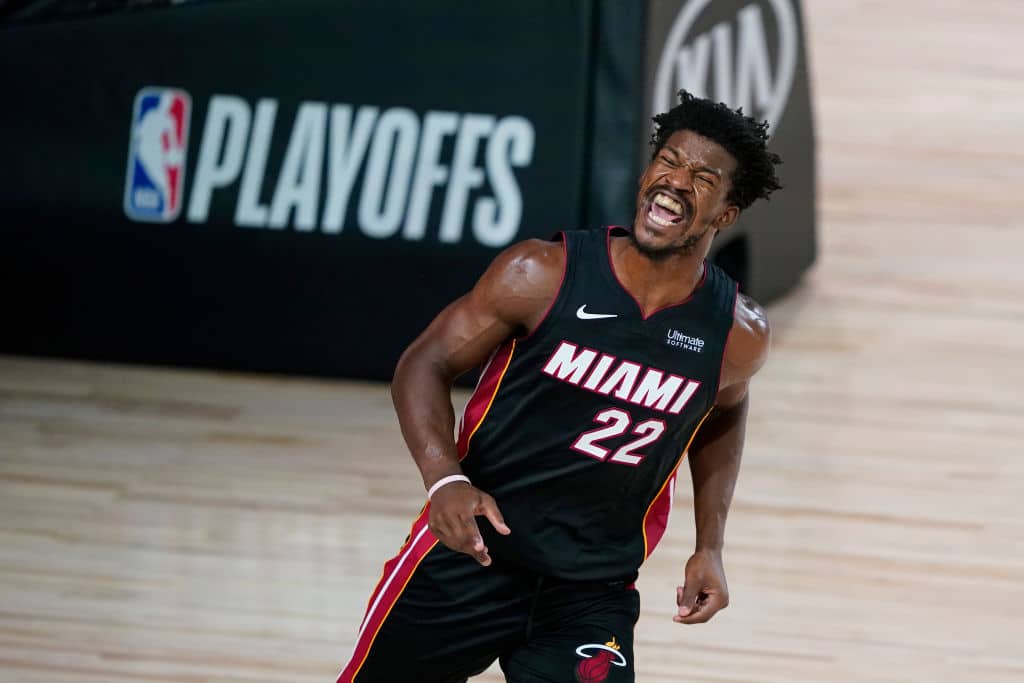 Jimmy Buckets being Jimmy Buckets – LeBron (well) is being LeBron!
Jimmy Buckets being Jimmy Buckets – LeBron (well) is being LeBron! Game 5 was a tough one to watch as it all came down to the final seconds, literally. Jimmy Butler was going hard-to-the-hole while his team was sleeping. LeBron had some moments in the game but choked. So much more happened in this game, let's jump right to it.
When you think the Lakers were going to win their 17th title!
So confident, so entitled to winning, so hungry. The championship of the NBA Finals made an appearance, but it was short-lived. Just in case the Lakers did win the series and brining home LeBron's 4th and the Laker's 17th title, it was showcased.
So many people thought the Lakers were going to win and the Heat going to lose because everyone thought LeBron was going to close it out. The Heat were the underdogs for sure, as they always have been in this series. The Lakers had momentum coming in off last game, they just couldn't pull through.
So, first, before we talk about stats, who did what better, who just played like absolute garbage. Let's first talk about the final two minutes of the game.
What happened in the final two minutes?
The final two minutes were intense, laser-focused, and heart-pounding. So much action on both sides of the ball, everyone was losing their minds when Jimmy was making shots than LeBron. It was continuous back and forth because Jimmy Butler was feeling it. He was showcasing his skills, pulling out all the stops, hitting staggering shots, and making Marcus Morris look stupid out on the court.
The Heat wasn't letting up, they kept the pace going, attacking the basket, feeding the rock to Jimmy, letting him call the shots. The Lakers kept retaliating with Anthony Davis and LeBron James hitting shots, but KCP was stunning people with his three-point game. He came up clutch with his shots tonight, especially within the final minutes.
The final seconds were even tougher because Jimmy Buckets hit crucial free-throws, then the Lakers messed up. The ball is being driven across the court, LeBron James is driving towards the hoop and as he is a few feet away he chucks it up to Markieff Morris with no shot clock time remaining. He misses the shot, bad pass, turnover, and then the Heat get it.
Young baller is going to ball because this rookie had no fear in his eyes when taking these shots. Tyler Herro made both of his free-throws at the end of the game to take the score up to 111-108. Giving the Lakers 1.6 seconds remaining, LeBron James takes a 40-foot three-pointer…. and misses. The game is officially over.
They survive one more game!
Since entering this series, being down 2-0, it feels good to get on the right track. Because the Heat has been the underdogs, injury-prone team, etc. Jimmy Buckets has found a secret weapon, and that's himself. Even with everything that was going on in this series, the Heat with Butler and Spoelstra were lighting it up.
The Heat aren't leaving anytime soon, even with their future in-doubts with last game's lost, they still prevailed. To me, Jimmy Butler got the spirit, the fight, the good coaching around to kick some serious butt.
It helped for both teams, but certainly for the Heat that they were able to take an extra day off. Another day to have their game plan, their action plan ready to kick the butt's of Anthony Davis and the Lakers.
This is a great team win for them, keeping the hopes and dreams of winning a title alive for the Heat, Butler becoming more of a crucial part of this team, and his teammates have, even more, hope then what they might have had at the beginning of the series. Great team win, Game 6 is coming their way, Lakers will prepare; it is going to be epic on both sides. LeBron VS Butler is what we want to see, and they aren't disappointing.
Ok, finally, let's jump into the team stats!
Up first, the Lakers! The Lakers, going by the categories they won, would be 46% FG, 41 rebounds, 10 blocks, 5 steals, 25 fast-break points, and 42 points in the paint. Really good game for the Lakers, LeBron, KCP, Green, A.D., and everyone else. Just when it came down to the final minutes they just couldn't hold on.
Up next, the Heat! The Heat, going by categories they won, would be 42% 3PT, 95% FT, 26 assists, had two less turnovers then the Lakers, and had one less flagrant fouls then the Lakers.
By far the Lakers did better in stats, but what killed them the most would have been turnovers and fouls. They had 21 fouls and 15 turnovers, that's pretty much 26 errors for the Lakers. Just from the standpoint of things they could have done better at. The Laker's top turnover players would have been LeBron (4), Caruso (3), and Morris (3).
Not hating on the Lakers, but that has been their Achilles Heel. That has been their weak spot because Jimmy Butler led the charge with 5 steals for that game.
To me, it doesn't matter about the stats. Yes, that plays a huge role in things, but when it comes down to the most important stat: winning or losing. That win or lost column, that is the only statistic that matters. Because this game came down to how bad each team wanted it, how bad LeBron wanted it, how hungry was Butler for it, and different factors like that. To me, it didn't matter what happened in those other quarters because it only matters what happens in the final minutes. That was shown to us clearly in these crunch-time games, moments, and plays.
The Heat: Who was trash and who was good?
Should this be in question? No, we all know who is the best off the Heat. But who is the absolute worst, the most garbage player on that team tonight?
Jimmy Butler up first was the star of the game for the Heat, he did everything right, drove in crunch-time, didn't take bad shots in the final minutes, showed his hustle and worth during the game through his play and his stats. Overall, his triple-double was impressive, he kept the attitude and emotions of his team-high, and he was a true team leader. None like him on the court tonight.
The guy that didn't do the best performance tonight would have been Jae Crowder. Crowder played the second to most minutes as Butler did, shot 4-13 from the field, 2-9 from three-point range, had 3 rebounds, 1 assist, and 11 points. Also, which is just bad in general, he had 5 personal fouls in that game. Almost ejecting himself from the game, which wouldn't have been good. To me, if you are going to play 40 minutes it gotta be a good 40 minutes.
I don't know if he had a bad outing, a bad shot today, or what, but hopefully, he doesn't play like again. You gotta earn your minutes, and it can't be like that. He's gotta shoot better, rebound better (especially for a big man like himself), be more aggressive on defense, quit fouling players, and just play the game without any limits. Because it felt like he had some limitations going on that court. Something he is going to have to fix pronto.
The Lakers: Who was trash and who was good?
The guy that gave his hardest and gave effort would have been LeBron, LeBron had a 40-point triple-double. He showed how bad he wants this title, how he is willingly able to score, how he wants to close this out. It was just him and A.D. working, but LeBron moved the charge. Kept the flow going and was a team leader. He played excellently and you can't take that away from him, he rebounded, assisted, scored when necessary when needed to. He did things almost near-perfect.
The player(s) would have to be the ENTIRE Laker's bench. These guys are pathetic, not good shooters, can't do anything to save their lives. Rondo, Morris, Kuzma, and Caruso. I hate to admit it, but things just didn't go their way. None of them had a moment, had a shot, had something going for them. All the players were under seven points, for plus-minus stats they were all minus. Kuzma (-17), Rondo (-13), Caruso (-6), and Morris (-2). That's the order.
To make matters even more worse that if you combine all their shooting stats together here's the outcome. They combined for 4-22 FG, 1-11 3PT, 3/4 FT, and 14 points. This all comes from FOUR players, that is how bad it gotten for them. They didn't help their team win, they didn't help LeBron or A.D., they helped them lost. That is for sure. Hopefully that bench can regroup, refocus, recenter themselves because that is one ugly looking bench for such a great starting lineup.
Get to know more about our content and our shop!
If you want to know more about this one rookie player that many people have forgotten of, click here: https://courtsideheat.com/is-rj-barrett-underrated/
If you would like to visit our store on Mercari than click here: https://www.mercari.com/u/892211489/