Where should Fred VanVleet go?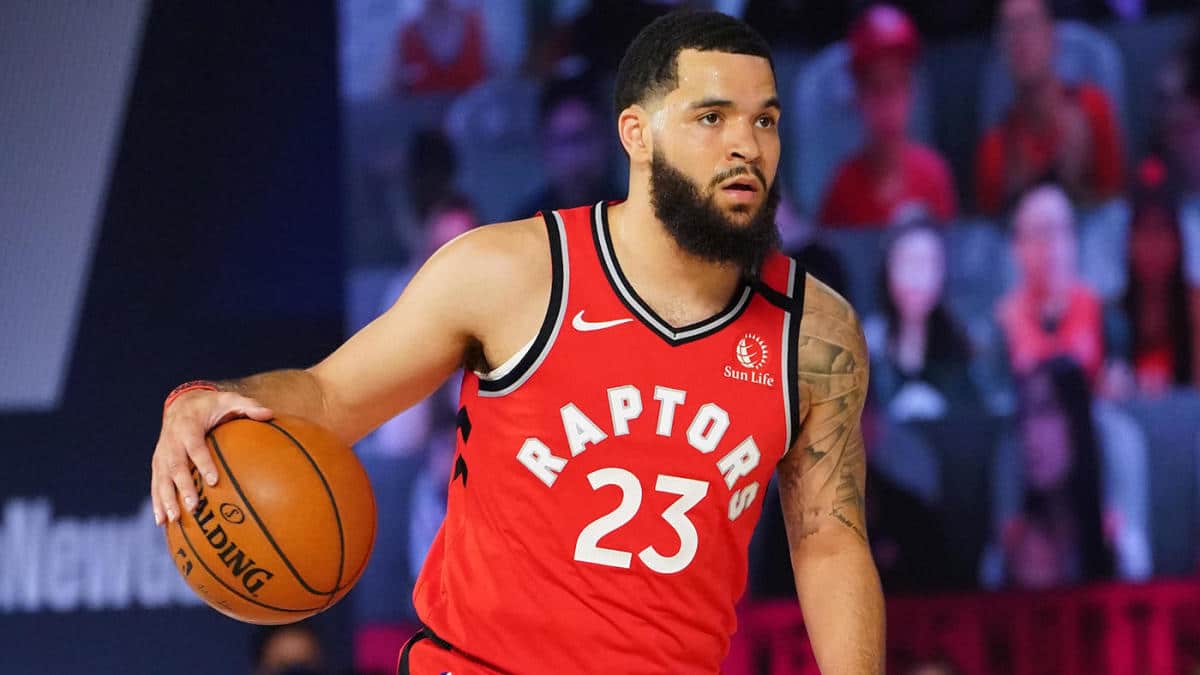 Where should Fred VanVleet go?
Where should Fred VanVleet go? Fred VanVleet, the former guard of the Raptors, is an unrestricted free agent this year. With that being said, many teams are popping up to contenders; but here is the question: What would be the most ideal spot for him to land a job at?
Today, CourtSideHeat will be looking at the four teams that should make a play for him; plus, why he would work for them and the long-term effect (if there is one).
Before we get started, what makes him so special?
Many factors are being played into him as the top guy on free agency; he has been making cases for that, many people have been high on him, here is why.
Each year he has been progressing tremendously; each year his stats are rising, like points and assists as the main ones. This past season alone he was averaging 17 points and 6 assists following with 2 steals a game.
He has shown that his skills and talent has kept on improving each season. Especially as a starter.
He has been making clutch shots, playing great offense and defense down the stretch, and making consistent shots and passes.
Finally, let's start off the breakdown!
First up we have the Chicago Bulls, this would be the most ideal spot for him to go to. Why? Because the Bulls need a floor general, plus have been looking for that solid point guard. A guard that is able to bring the offense through him so that Zach LaVine doesn't have to do it every single play.
Because we have to remember, VanVleet isn't the main star. He can't command his own team, yet, one day he will be able to; but for right now he needs another player to help him run the offense and the overall team.
That is why you lock up VanVleet in a contract to have him and LaVine be the main guys then have Markkanen, Porter, and White as your supporting cast to your main players.
Imagine having those five players under Billy Donovan's coaching, that will be an interesting team. Something of relevance; because as we know before Donovan can use a three-guard system or any system, and make the team good. Take OKC last year, they only had a 2% chance of making the playoffs; guess what? They did make the playoffs, with his coaching experience and his influence; plus with the players, this team could look like a winning team again.
So, if I were the front office of the Bulls. I would say let's bring down VanVleet, ask him his price point and take it from there. Get the ball rolling, get contract talks started, and recruit the heck out of him. Because having him in your starting five alongside Coby White, Zach LaVine, and other players; that would make a great impact. Coby gets 16 points, LaVine gets 25 points, and VanVleet gets 18 points a game. Just taking those guys alone, you'll be making a killing with it.
Coming in at number two… your Detroit Pistons!
This would be a great move by the Pistons; A) they need a point guard badly, and B) they have been interested in him since knowing he was becoming available through the market.
All the Pistons have for good players would be Blake Griffin and potentially Derrick Rose. Rose just isn't the same anymore since all those torn ACL's, knee injuries, ankle injuries, etc. Those were causing him serious problems for his body and for his basketball career.
So, Chris Paul and Blake Griffin did not work well. That duo didn't seem to get things done, reason why? Because they have no team, it is no shock why they are in rebuild mode. They have been in this stage because they are horrible, they haven't been a playoff-contending team since 2008. They haven't even won a playoff game in a while, seriously, they have been on a streak of losing 14 playoff games.
By signing VanVleet you would be helping out with several things. First of all, you would be helping out the backcourt. Their backcourt isn't productive, which isn't helping the team be productive nor win games. He would be the leader-type in the backcourt that would be able to create shots for himself and being a terrific shooter.
Now, as reports are coming out if Griffin does not decide to stick around Detroit for another season; then he would become their next floor general, be the leader, and have him be the center of their rebuild. Plus, if he is their next floor general (if Griffin doesn't come back another season) then this team will be for a younger core team. Because he is 26 years old and he doesn't look to be aging or having too much wear on his body.
What should they do?
If I were the Pistons I would say sign VanVleet let him control the backcourt until Griffin is ready to leave, or force him to leave, and bam build the team slowly around him. Because they aren't looking for a present rebuild, they are looking for a future rebuild. If they make smart decisions, Griffin is gone, and build smartly around VanVleet. The Pistons could have a higher shot of having a winning season… for once!
Coming in at number three… the Knicks!
The Knicks. The Knicks have not been a free agent destination for players, haven't been relevant since Patrick Ewing, and the horrible list can continue. Nonetheless, Fred VanVleet could and might want to join New York's team. They have also been involved in trying to sign him, they are strong contenders for this player. Why? Because they need a point guard badly.
The team wants to build around RJ Barrett and they strongly believe getting VanVleet will help the process a lot. Plus, this is a huge one, RJ Barrett would have to make all the play-calling decisions. Also, he will be able to space out the court some more for Barrett. That would be tremendous for VanVleet and Barrett because more shots will be taken and a more consistent flow could be made.
Also, imagine this, Mitchell Robinson and Fred VanVleet. They can be a great pick-and-roll duo, why? Because VanVleet is known, and to like, to cut and slash towards the hoop; mainly to get that driving layup or pull-up shot to happen. Robinson is great at setting picks and his ability to play above the rim.
To me, if I were the Knicks, I would offer huge chunks of money to lure him here, make him a starter, and just make the right moves in the NBA Draft and in Free Agency. If they make the right moves, have a dangerous duo of Barrett-VanVleet, I believe they can make good improvements.
Lastly, at number four… The Raptors!
Lastly, we have the Raptors, the Raptors are still in play to retain one of their players. Now, there are many pros and cons to them potentially resigning him.
The pros would be that they could have VanVleet and Lowry keep working with each other and have a positive duo; plus they would be keeping some of that young core. Also, for VanVleet, he would have the most chances to succeed and have great chances of winning games. Winning games quick and fast; and he won't be in for the long process of a rebuild.
Now, the cons would be that if Lowry wants to play somewhere else in a season or two and Ibaka doesn't resign this offseason. Then you are going to have VanVleet as your floor general, leader, main shooter; sadly, nobody around him to help. To me, I do not believe that you can rush in a player like VanVleet because he has never been in that situation before. Especially with no support.
Wrapping up this list!
Real contenders would be the Pistons and Bulls because they have pieces to go along with VanVleet. Plus, it would be more appealing for VanVleet. Having his team being able to win games now, him being very productive, and not having to wait around for more talent and support. Who knows maybe the Knicks can lure VanVleet in with all their money and more playing time, but then again they are the Knicks and it would still be a serious rebuild time for them.
This will all be interesting on who will be getting VanVleet, depending on the Draft and everything, many factors will be playing out. What do you guys think? Do you guys think that one of these four teams will be signing him? Will VanVleet turn to the dark side and sign with New York? Comment below and let us know your feedback!
Get to know more about our content and our shop!
Check out the NBA Finals Recap of Game 6, the game that made the Laker's champions! You need to read the article to fully understand what happened, what went wrong, and so much more! https://courtsideheat.com/full-recap-of-the-lakers-nba-finals-victory/
If you would like to visit our store on Mercari than click here: https://www.mercari.com/u/892211489/