Who has better chances of winning the MVP, LeBron or Giannis?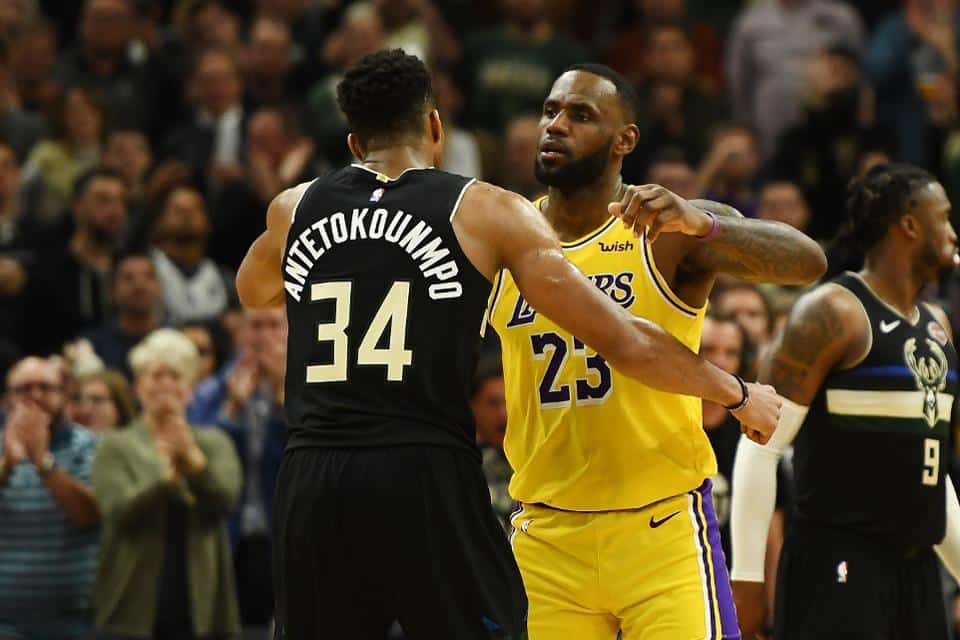 Both the Lakers and the Bucks have been doing very well under the leadership of Giannis and LeBron, both men are team captains of West and East All-Star teams so we will see them head-to-head for the second time in the All-Star.
With the playoffs coming in a few months, with the Lakers and Bucks for sure going to the playoffs, here's the question: if you were to pick one player out of the two who would it be?
Giannis has led his team through something special since making his debut in the NBA, this season alone he is averaging spectacular stats and has his team a winning record of 45-7. Giannis, if he did win, would be back-to-back MVP winner that would be amazing to put on his continuing resume and he is only 25 which is in his prime.
To me if he and the Bucks were to travel to the NBA Finals and potentially win the NBA Finals that would get him the MVP Award, but if he keeps killing it out there he might be the decided MVP winner again.
Giannis has been playing out of his mind this season with 30 points per game, 13 rebounds per game, and 5 assists per game. He is truly a big man that can get the job done if it was just him, let's be honest it is not like Giannis is the only good player on that team the Bucks are a team with incredible players. They have Bledsoe and Middleton, those are two really good, contributing players.
Last year when he won he only averaged 27 points a game, 12 rebounds a game, and 5 assists per game. Giannis has been playing a lot better since last season, we got to remember that this player is going to keep adapting, growing, stronger, and more dominant as the years go on. If he doesn't win this year then the following year or the years to come he will be crowned MVP once more.
Giannis is the total package, how? He is one of the most dominant big man that can do it all in the league right now. He can pass, shoot, dribble, rebound, play tremendous defense, and his offense is out of this world. If you asked him to do something he could do it, he is adapting into this Superman that can't be stopped. Who can really stop him? No one, he controls the paint, controls what happens on that court, and best of all he has astounding court vision.
That is why people call him the Greek Freak it isn't because he's Greek, well not entirely, he has freakish strength and ability when he's balling on the court. He is our modern Greek-Superman, this man is invulnerable nothing can stop him.
Here's a question: can LeBron James, Lakers player, be contained? The man is one of the greatest ever undoubtably in the top 10, the first two would be Michael Jordan and Kobe Bryant, he has won the MVP title numerous times, has won several championship, and to be honest you can't contain him you just can't.
Now the one thing I will say about age is that LeBron James is 10 years older then Giannis Antetokounmpo, LeBron is 35 while Giannis is 25 years old. To be realistic age does matter but LeBron is still pulling out all the stops, special plays, and the "WOW moments." Recently he buried the same three that he did years ago the only difference it was against another team.
Let's talk about stats: LeBron has only been scoring 25 points a game, 7 rebounds, and 10 assists. He only beats Giannis in one category, assists. Giannis this season has been out scoring him, but let's remember that Giannis the Bucks only big man while the Lakers have LeBron and Anthony Davis.
Anthony Davis have been going nuts on teams the past couple of games, more like the entire season, he has been playing amazing and he should be in the conversation at least in the top 20 conversation in awards.
LeBron has also been the total package because even though these are rare stats to see from "King" James he has been showing more and more a team player trait and passing the ball, he has been developing through the years into this player in which he can never be denied. He drives, but he can do damage zone, man-to-man defense, pretty much any coverage and still sink three-pointers, high-arcing shots, jumpers, floaters, ETC.
James have been amazing over the years and this year and does deserve winning another MVP award before he retires, just by a tiny margin this is one of his worst scoring seasons right now. With 25 points he needs to rack up more points to keep up with Giannis because points matter a lot because thats the deciding factor a lot of the times.
Now the thing is that James is dominant he is like a Rattle-Snake, he can jump on his prey and score and demolish a team before the night is over. That is one of his greatest traits ever, even when he debuted he could run a team whether it be on offense or defense.
This guy could pass, shoot, drive, hit jumpers, floaters, rebound, play stunning defense, and bewilder some of his defenders while playing offense. He is the core player of a team, he will always remain a leader, he has too, he is commanding at the right times, knows when to step in, knows when to make the right move and score, he can do so much it is crazy.
Both players, Giannis and LeBron, are both leaders Giannis is proving that through his career right now while LeBron has already instilled a leadership attribute when stepping on a court. To me I would love to see both men win it, but if I had to chose I would chose Giannis Antetokounmpo.
The way he has been commanding his team, leading them to victory, soon to a Finals Championship, inspiring young players all over the world, the way he demands the ball in the paint and on the court anywhere, knowing when to take the right shots, he has the best traits to play as a forward and center.
This is a player who will win awards, championships, games, ETC because he is working hard and doing all the right stuff. He is a human highlight-reel, he deserves to be a back-to-back champion. When he plays good everyone around him plays good, he is just one of those players.
Now if I gave you guys the option to vote in the comments, who would you chose: the Greek Freak or King James? You truly can't go wrong with either players.