Fantasy Basketball: Players to score!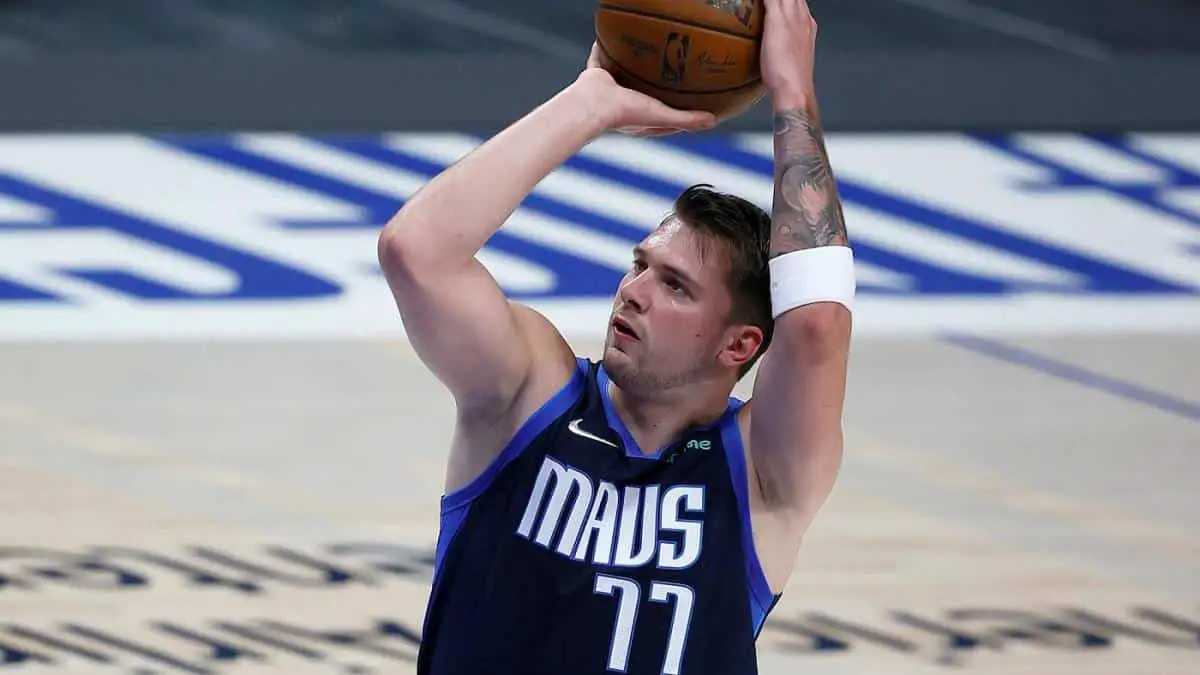 Fantasy Basketball: Players to score!
Fantasy Basketball: Players to score! We have given you are most avoidable players to not draft, but now let's flip the script. Here are the top five players that is a must need, a definite, to draft these players to give your fantasy team the best chances of edging your opponents. Who wouldn't want that?
This is part two of players to draft, to avoid, and who may not be on your radar in your fantasy league. These five players are arguably the best players to draft in your fantasy league, because they have proven for everyone team that drafts them. In any league. In any setting. It even worked for us, and we have played so many fantasy basketball leagues.
So, let's kick this list off with the reigning, defending, undisputed MVP and FMVP… GIANNIS ANTETOKOUNMPO!
Antetokounmpo is no doubt on top of the world, at his peak, and it doesn't look like it is going to stop. This power forward can do it all from the three-point line to scoring in the paint… dominantly. Giannis should be your number one pick because of how dominant he is and will always remain to be, if last year's stats did not impress you or convince you to draft him (or bet money on him) then you are insane. Point. Blank. And simple.
He isn't the second pick of the draft, third, or even fourth. He is number one, so if you get the first overall pick take him. Why? Because once you pass him up then someone else will take him. This is such a huge pickup because not only can he do everything but he is consistent, reliable, conditioned very well, can play both sides of the court phenomenally, and his player chemistry is something that is unmatchable. You can argue Jokic, Curry, Booker, LeBron, or anyone else but Giannis is the most complete player that is in his prime and putting close to a 30-point double-double. Just think about that. Draft him and start him every single game, because he is beast.
This player is on everyone's radar, on majority of the expert's top list, and he has proven it. Doncic is one of the top players that is starring out as a young buck that is just completely dangerous. His time in the EuroLeagues and then his first few years in the NBA (up until now) has been explosive. He's averaging close to 30 points PPG and 9 rebounds PPG. Tell me where I am wrong about him being explosive, powerful, and anything man-fearing?
He can pass, shoot, rebound, and shoot it from anywhere. He is a scary dude and it shows when you have him on your fantasy team and when he plays well with his team on the Mavericks. People may be hesitant about drafting him because of the ups and downs that the Dallas Organization has, but Luka is Luka. He is not human, he is superhuman. Even though the team may not do well, initially or during the season, Doncic will always have his touch and have his edge on opponents.
The Mavericks have been tightening up their roster with defensive help such as Reggie Bullock and have been seeing much improvement out of Richardson (most notably) as this is going to be a good-to-solid group. I would draft him within the first few picks, he is a first rounder. Easily, without fail. His real-life points are going to transition greatly to his fantasy stats and give you a huge edge and bonus when you are going up against your opponent.
KD is notorious for last season's effort through the ups and downs of COVID and injuries. When Kyrie and Harden were down and out, many players were subject to change due to COVID-19, and so many more variables. Then take the postseason, Bucks-Nets was so special for both sides trying to advance to the NBA Finals. However, when it came to Game 7, it was the Bucks (fully healthy) against a bruised and battered Brooklyn team. However, KD scored 30+ points that game and proved that he is the real-deal when the chips are down.
That is just one of the many instances of his career that proves his clutch shooting, elite performance, perfect IQ, teammate chemistry, and his overall basketball abilities. He is the third guy on this list that you need on your team, why? Because he is a solid mid-first-rounder or even slightly before the midway of the first round. His numbers, highlights, and overall skills speaks for themself.
His talents will be needed a lot if Kyrie doesn't play this season and if there are any injuries/COVID-issues to that team. Can he replicate what he did last season in this season? Yes, he can do that and more. He is a player that needs to be traded for, if not drafted by you, or lucky enough to draft him. He isn't a first overall pick but he is a before/mid-first-rounder.
Overall, he is someone that you must take because he will never fail… especially when it is on the line.
Curry is Curry, he is iconic for what he has done over the years. Even last year he was wowing the crowd, impacting his team, and impacting his stats. My goodness he averaged 32/5/5 on efficient shooting, that is fantasy worthy, that is real-life worthy. You can argue he should go before Kevin Durant, and to certain extents I agree with that. This team, the Golden State Warriors, have been making changes and refining this team. Curry is at the helm, Thompson is back, Wiggins is vaccinated and ready to go, Wiseman is back and ready to go, etc.
This is the type of guy that always needs to be betted on, why? Because he is efficiently amazing, accurate, sharp-shooter, lethal, and just builds off of anything he is given. He is going to go early, he is going to go in the first round if not the early parts of the first round. He is a must take, he is a must have. Curry is going to go and I would advice anyone to take him, because it would be illogical to not take Stephen Curry.
So, overall, my main message is to take him because he can replicate what he produced last season, the season before, the season before… you guys get where I'm getting at, right? This is a must have, it is just a must.
LeBron is a questionable pick, not because of his old age or alluding to his slowing down of scoring. No, James is questionable due to the fact that the Lakers have so many players that are scorers, passers, and rebounders. There are so many players that want the ball, need the ball, and ultimately scoring it. Anthony Davis, Russell Westbrook, Carmelo Anthony, Malik Monk, Dwight Howard, and so many more players like these listed.
He is not a pick within your first four-to-five players selected, why? Because he is too many variables when it comes to his productivity, efficiency, and questions surrounding his motive to score with scorers around him. I would advise anyone and everyone that it would be better to wait out on LeBron and focus on Curry, Durant, Jokic, Antetokounmpo, players like that will be front and center on their team. LeBron has built a super-team that has impacted his center-view, plus, impacting his scoring abilities for his fantasy team owners.
I would take him if available when it comes time for your sixth player, maybe fifth player, as there aren't as many cause-and-effects negatively impacting other players on this list and as a whole.
But, he is still a must have. He is still a player that needs to be taken, I was simply commenting that he needs to be taken with all the variables attached. LeBron James would be amazing as your starter and occasional backup on your fantasy team.
Conclusion:
If you can get any of these guys, you will be reigning. Simple as that, this isn't a hyper, not a hypothetical reality but this is realistically as possible. Curry, 'Bron, Durant, Giannis, and Luka are all elite players that will carry your team to a championship in real-life and in fantasy basketball. Heck 80% of the players that are listed have already won a championship in the NBA, Luka won many medals and championships when in his EuroLeagues.
Either way this is amazing for anyone's fantasy team, just don't let your opponents get these players. Have friends or even family members because these are too good of players to pass up on; these five players are players that will reshape and redefine the way that your fantasy team is being used and actually winning games.
Our part three of the series will continue with sleepers as we have found out all of the players to get desperately and who to avoid with your entire life. So, the main message? Don't miss out on these guys, don't let these guys go past your radar. These players will burn your team in real-life and in the fantasy world.
Find us on Social Media!
Check out CourtSideHeat's social media and different platforms:
(Instagram) @courtsideheatnba
(Twitter) @courtsideheat
(Facebook)@courtsideheat
(Parler) @CourtSideHeat
(Rumble) @CourtSideHeat
(RetailMeNot) @CourtSideHeat
(YouTube) @CourtSideHeat
Click here right now to know why Kobe Byrant is the greatest upset in NBA History, the answer will shock you! Click here: https://courtsideheat.com/kobe-bryant-the-greatest-upset-in-nba-history/
Also, check out the first part of our Fantasy Basketball Guide. We are looking at the avoidable players at all costs to ensure victory for your team, it will save your life! https://courtsideheat.com/fantasy-basketball-players-to-avoid/
Fantasy Basketball: Players to score!
Thank you for reading this article called, "Fantasy Basketball: Players to score!"