Early season busts that fantasy owners weren't expecting!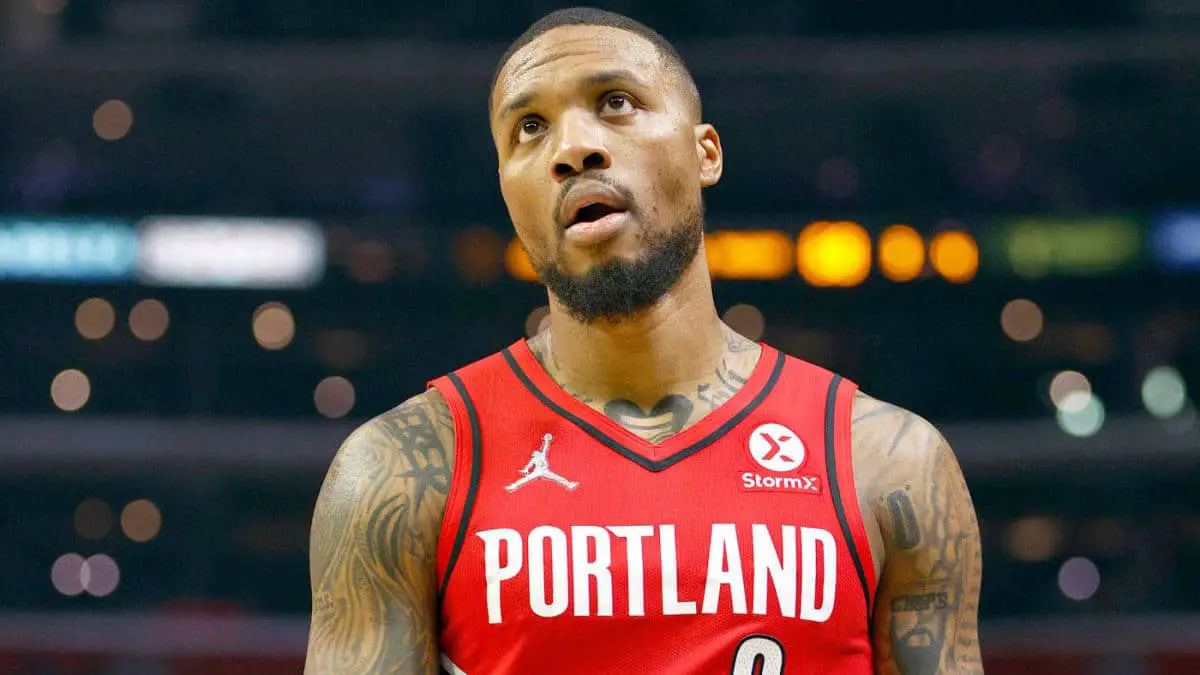 Early season busts that fantasy owners weren't expecting!
Early season busts that fantasy owners weren't expecting! Damian Lillard, Russell Westbrook, and even Michael Porter Jr. are the early season busts. This has been a weird season, or at least the beginning, as many players are struggling when it comes to their stats. Teams, like the Bucks, have been on the decline as it just seems odd. Call the Hawks, they would tell you how oddly uncomfortable this season has been. The Lakers… okay, okay, the list can go on and on but you guys get the point.
So, why would these three players be the early busts for fantasy owners? Well, while many won't agree with this list, this will make your blood boil because this is an enraging situation for many fantasy owners.
Number one, Russell Westbrook:
Westbrook was suppose to be a good pick, he was suppose to be the pick people remembered. Why? Because he was heading onto a super-team featuring LeBron James and Anthony Davis, along with the other talented players the LakeShow has. Overall, his fantasy value has gone down significantly. Per CBS Sports, his value is now a sixth-round pick. Plus, that is the general consensus. CourtSideHeat had him projected to go in the third-round, and in most leagues he had (if following the guides out there).
Significant decline due to his value in real life and in fantasy; for example, his shooting averages are so low that it goes back to his second season of his career. Think about that. Could LeBron and Anthony Davis be effecting how he plays? No, why? Due to the fact that LeBron has been out for several games, due to an abdominal strain, and Davis who has been carrying the load on injury. These are primal opportunities for Westbrook, who has been disappointing in highly contested games this season.
It gets worse from there:
Even though he is averaging eight assists per game, that is being clouded due to the five turnovers he has per game. So, truly, Westbrook is only averaging three assists per game when factoring the assist-to-turnover ratios. But can't you make the argument that he is getting to rim more? That's actually worse for him as Westbrook is averaging 54% from the rim; also, on pace for the third worst season (in terms of rim-shot conversion)of his career.
Lastly, his free-throwing has been atrocious when it comes to actually getting to the line – he is on pace for his worst season ever to get to the line, as he has been getting only four free-throw attempts per game. The rate that he is going won't be pretty, unless there is a miracle in progress. I would just say a pray and try to hold on for the best, because Westbrick is going to do what Westrbrick does.
Number two, Damian Lillard:
Damian Lillard would be a pick on here that would be confusing, why? Because no one would be thinking of one of the greatest three-point shooters that we have known in recent history to be failing this bad. While the last two-three games could be the start of something new – and that he actually performed very well. That can't, and will not, make up for his ugly start to the season.
Could it be the abdominal injury he suffered back in the summer with Team USA? Could it be the new foul rules? Or could it be the new ball that the league is using? There are many factors, but currently, we are seeing the struggling effects of what people are not favoring.
CourtSideHeat ranked him as a first-rounder, which is a fair assessment. However, we would value him as a second-rounder. While he did start off poorly Lillard is rebounding from it and showing that it was just a fluke; so, where does that leave us? That leaves us with this: the phase he currently was in is passing and now we are seeing the real Dame Time coming out in full effect. Be prepared, if you have him or going up against him, as he is going to be something special for your fantasy team.
Number three, Michael Porter Jr:
The new contract he received is like free money, why? Because he is just resting from injury and not providing what everyone thought was going to be gold money. Porter has been one of the most disappointing draft picks in fantasy and even one of the most heartbreaking extensions ever given. Well, at least for the Denver Nuggets.
Even before his new, injury-prone, back injury he was still an awful player. While he doesn't average bad stats, he now does have a new basis of which he needs to be judged by. That would be the rookie contract extension he was graciously given by the Nuggets' front office.
You can't blame anyone but Porter, as he has been given many chances to succeed. Not only with players getting injured and the fact he is given so many minutes and sees the ball an over-loading amount. Not only is he a bad deal for fantasy owners; but, he is also going to go down as one of the worst contracts given in NBA History. Given his looming bad injuries, college and the pros, it looks like this will continue to spike until it can never heals.
So, long-story-short, DO NOT PICK HIM UP (or play him) AS HE IS WORTHLESS LIKE ANTHONY BENNETT.
Conclusion:
These are the three players that are either complete busts or need time to grow into their old ways of greatness; Porter is a no-go for anyone, but then you have Westbrook that will be borderline decent. The only player you will be expecting greatness from would be Damian Lillard.
The beginning has been rough for so many players, so many teams, and even owners (like Sarver). But these were the top three players that certainly impacted your fantasy team negatively and that could still do that beyond these beginning games.
Check out CourtSideHeat's social media and different platforms:
(Instagram) @courtsideheatnba
(Twitter) @courtsideheat
(Facebook)@courtsideheat
(Parler) @CourtSideHeat
(Rumble) @CourtSideHeat
(RetailMeNot) @CourtSideHeat
(YouTube) @CourtSideHeat