Times To Remember – Vince Carter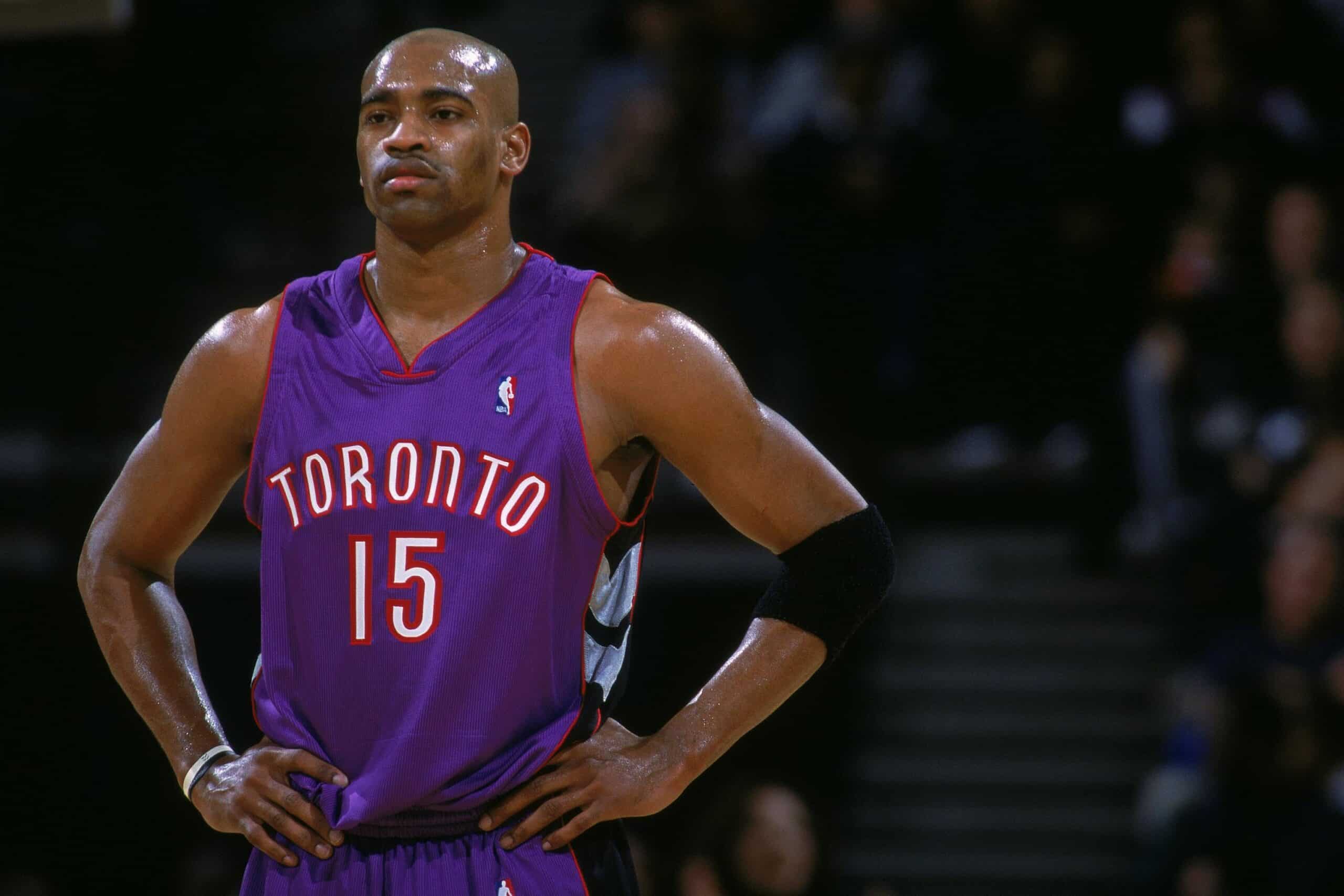 With the league on suspension right now and speculation looming around the sports world that his last game might have been played against the Knicks on March 11, 2020. He scored 5 points, 1 rebound, and 5 assists in 13 minutes. You will be having flashbacks of times to remember – Vince Carter!
I will be doing a breakdown of Vince Carter's early life, high school years, college years, and his pro years. What you are about to read is going to send you back in time to remember how good Vince Carter was and how his journey to the pros began.
EARLY YEARS/HIGH SCHOOL YEARS:
Surprisingly basketball was not Vince Carter's first love of sports, he actually played football first before breaking his wrist in his freshman year. He was a quarterback. His broken wrist forced him into becoming a volleyball player, he wasn't bad as he was named Volusia County Player Of The Year. He was also first on his team for having 24 kills per game in a season. I do not know the sudden change of heart he made have had but he changed his sport once more. He finally made the decision to become a basketball player, which everyone remembers him for.
Vince Carter did not disappoint Mainland's basketball team as he led his team to a first Class 6a championship. Mainland hasn't won that championship in 56 years! All that hard work he put in paid off because that got him into the 1995 McDonald's All-American Game. During his senior year, he averaged 22 points, 11 rebounds, 5 assists, and 4 blocks per game.
This led him to get contacted by Florida and North Carolina, he choose North Carolina over Florida to play college basketball at.
COLLEGE YEARS:
He would play for the North Carolina Heel Tars under the head coaching of Bill Guthridge and Dean Smith. Bill Guthridge came into the head coaching role a little bit later during Carter's three-year stint with the team before making his decision to enter the NBA Draft in 1998.
During his tenure with the team, he led them to 4 Final Four appearances plus leading them to back-to-back ACC Basketball Men's Tournament titles. He finished out the 1997-98 season strong by winning First-Team All-ACC and Second Team All-American.
PRO YEARS:
Vince Carter was taken by the Warriors with the fifth pick in the 1998 NBA Draft but was traded to the Raptors in exchange for Antawn Jamison. Ironically that was Vince's college teammate that the Warrior's traded for.
Time to shine for Vinsanity
Now he was drafted in 1998 but couldn't play until January 1999 as that was the time the NBA Lockdown was. When the time came he made his debut against the Celtics. He wasn't a disappointment because when he did play he was averaging 18 points, 5 rebounds, and 3 assists per game in his rookie season. He won Rookie of the Year and been given the nickname of "Air Canada."
Its a bird, a jet, a train, no its Carter soaring high above the rim!
His second season with the Raptors got even better as he was averaging 25 points, 6 rebounds, 4 assists per game. This was the year that the Raptors went to the playoffs, due to the help of Tracy McGrady (before trading him in August) and Vince Carter, Carter went to his first All-Star game plus being selected for All-NBA Third-Team. During the Dunk Contest, Vince Carter showed what's up by winning the 2000 Dunk Contest. He showed off dunks like "elbow in a rim" and a 360 windmill in between your legs dunk. He beat out Tracy McGrady (teammate), Steve Francis (Houston), Ricky Davis (Charlotte), Larry Hughes (Philadelphia), and Jerry Stackhouse (Detriot). These were definitely times to remember for Vince Carter.
To end the 2000 season, the Raptors won the first round against the Knicks but lost in the second round to the 76ers. It was very interesting to see that in the regular season only two players were able to get over 11 points scoring per game, Vince Carter and Antonio Davis. The roster for Toronto was mainly filled with veterans, not young rookies or young talent in general. Example: Dell Curry, 36 years old, averaged only 6 points a night. That is really old especially when you are bringing in new, young players to play for your team.
Injuries putting a toll on Vince Carter?
Throughout 2001-2004 people said that Carter has the label "fragile" on him because after he signed a huge contract of 6 years, 94 million dollars his knees and hamstrings become more vulnerable to injury. Even though his knee problems were getting to him he only missed the final 22 games of the 2001 season where he would average 27 points, 5 rebounds, and 4 assists per game that season.
Due to injury, he couldn't play in the 2002 playoff games against the Pistons. But even without him, they made an effort of winning that series as it came down to the final game of the series but failed to win it. Due to offseason-surgery, Carter was only able to 43 games in the 2003-2004 season. It got better as in 2003-2004 he was able to play 73 games that season, but unfortunately, his team was short of making the playoffs just by three games. He averaged 24 points, 5 rebounds, and 4 assists per night in the 2003-04 season.
Impressions, lies, playoffs, trades, what?
You could say that there were a lot of impressions, lies, and "in a few years were going to have a playoff-contending team." Before the trade became known to the world that Vince Carter would leave Toronto and go to the Brooklyn Nets, the world never saw what happened before that.
The GM of the Raptors said that we are going to start fresh and clean, fire all the coaching staff, and rebuild from the ground up. Toronto's like we will get Steve Nash, Jamaal Magloire, and all these other guys to help build this team into a playoff-contending team. That didn't go as planned as Carter was not so sure about Peddie being president because he came straight out and said that they were "seriously considering" Julius Erving, for a minute there you have to be like, "wow I'm about to have Erving come on in and manage this team." Things didn't end that way as they really weren't considering Erving, so they pursued Rob Babcock who wasn't worried at all about being a playoff-contending team for the next few years.
So long story short there was rumors that the reason why Carter left the team to be traded was because he felt misled, misinformed, misguided, ETC. He didn't feel like he was getting the truth as the team promised him, the only big name they got was Chris Bosh when he was still in his prime and healthy.
Time to get traded
He only played 20 games for the Raptors as they didn't want to get him hurt; that's fine as he was still averaging 17 points, 3 rebounds, and 3 assists per game. When he was with the Nets he averaged 27 points, 5 rebounds, and 6 assists per game. A big difference wouldn't you say?
The best was yet to come for him, he was soaring high in those four years (2004-2009) when he was with the Nets. He got to play alongside Jason Kidd and Richard Jefferson, as both of them were combining for 26.6 points a night. Carter didn't have to worry about injuries because, during his four-year stint with the team he only missed 11 games, he was able to play 317 games out of 328.
It's slipping through the Net
They were going to the playoffs but were often getting swept or just couldn't reach the next level in the playoffs, but from 2007-2009 they didn't make the playoffs once. Now, what is funny during his stint with the Nets he got revenge on the Raptors by beating them out (4-1) but even they got passed the early teams there was always the Heat, the Nets never stood a chance against the Heat. The Heat had the lineup of Shaq, Dwayne Wade, and Jason Williams in 2005-2006. This lineup won it all in the NBA Finals against the Dallas Mavericks.
Rocky times for all
The next few years for him starts to get a little rocky as he was with the Mavericks for one year, 2009-2010, they were playing well as they had Dwight Howard, Vince Carter, and JJ Redick.
The Magic was not bad that season as they made it all the way to the NBA Eastern Conference Round, which would have been the only time in his career where he would have made it to an Eastern/Western Conference Game. He averaged 15 points, 4 rebounds, and 3 assists per game in that season. Now the sad part is that his stats kept plummeting down until now, the 2020 season.
Traded and then waived
On December 18, 2010, the Magic was in huge 6-player trade with several teams. That meant that Carter was traded to the Suns, he had some good achievements as he would be the 37th player in NBA History to reach to 20,000 points in a win over the Knicks. During his one year tenure, 2010-2011, they didn't reach the playoffs and Carter's stats were dropping again. He was only averaging 13 points, 3 assists, and 4 rebounds a game.
Now what really hurt him was the fact that when Phoenix waived him it was the conclusion or getting to the end of the NBA Lockout, the Suns only had to pay 4 million of his 18 million dollar contract. It kept getting worse for him as he was giving up his starting role for a lot of games.
He's a Mav baby
The positive, as he was 35 years old, he signed a three-year contract worth 9 million dollars. Good thing for him is that there were incentives that could have boosted up his pay, but ultimately you got to love the fact that when you got to Dallas you could have played with Dirk Nowitzki, Jason Kidd (former Nets teammate before getting traded), and Jason Terry.
Make the three-pointers rain like cash
The Mavs roster did have a lot of veterans on their team but that didn't stop them as they did go to the playoffs but were swept 4-0 by the Thunder, during his whole three years with the team we knew him as a three-point shooter not the guy that did insane dunks in his early career. During those three years, he was able to move into 11th place on All-Time Three-Pointers List.
Entertainment all around
The last season he was with the Mavs for, 2013-2014, they went to the playoffs where it was entertaining. Even though they did lose to the Spurs in Game seven Carter played great as in Game two he hit a buzzer-beater three to give the Mavericks a 2-1 advantage over the Spurs.
Watch out Memphis here comes Carter
Carter, again, tested out his availability in free agency where he was signed by the Grizzlies for a three-year contract worth 12 million. Marc Gasol, Tony Allen, Mike Conley, and Zach Randolph was tearing it up while Carter was only averaging 5 points a night. As he played 66 games but only started once, how could a guy be getting 4 million a year and not being played more? I guess at the time you did have a good lineup, it got to the playoffs at 55-27.
They won the first round against the Trail Blazers but lost in the second round against the Warriors. Anyone would have predicted because you had Stephen Curry, Klay Thompson, Draymond Green, Andre Iguodala, and Harrison Barnes.
The selfless award
Now, what was really cool was the fact he won an award for being selfless on and off the court. This also includes him winning the Twyman–Stokes Teammate of the Year Award in 2014-2015.
Sweeps, several signings, and history made
The next two seasons were bad from a playoff and record standpoint as they were swept the first time by the Spurs and the following year got beat 4-2 by the Spurs. The Spurs just had a way of beating them twice in-a-row. One word, Kawhi. He spent three years with the Grillizies before getting let go.
Carter deemed as a King
He signed with the Kings back in 2017-2018 on a one-year deal worth 8 million dollars, and on December 27th, 2017, he scored 20+ points to make history as the first 40-year-old coming off the bench to score 20 points. At the end of the season, he won the Backbone Award and Most Respected Award.
The way nobody wanted him to go out during his last season
In the 2018 season, Carter signed with the Hawks where he signed a deal that would have kept him until now, 2020. Carter finally became the first NBA player in history to play in four decades. He also moves into 6th in All-Time Three-Pointers and to be the oldest player in NBA history to have played 20+ seasons. Since the Hawks haven't given Carter a lot of chances to play this is probably it. It does stink that after announcing his retirement season he has to end his career like this during the Coronavirus, but at least he was still able to keep making history on his age.
Concluding Times to remember – Vince Carter
At the end of his 20+ years in the NBA, he was certainly someone you wanted to watch. Sadly with injuries and not getting any time to be a starter we have seen him decline through his final years. Ever since he signed with Orlando he never was the same.
Sometimes age does catch up to a person but he still could have been posting 10+ points a game if more of a starter. The reason why he has low stats now is that he is only playing limited minutes.
People will always remember him with the Raptors and Mavericks as he was still efficient with those two teams, the beginning and middle of his career was a sight to see. At the end of his career, he posted an average of 17 points, 4 rebounds, and 3 assists. Vinsanity will live on forever.