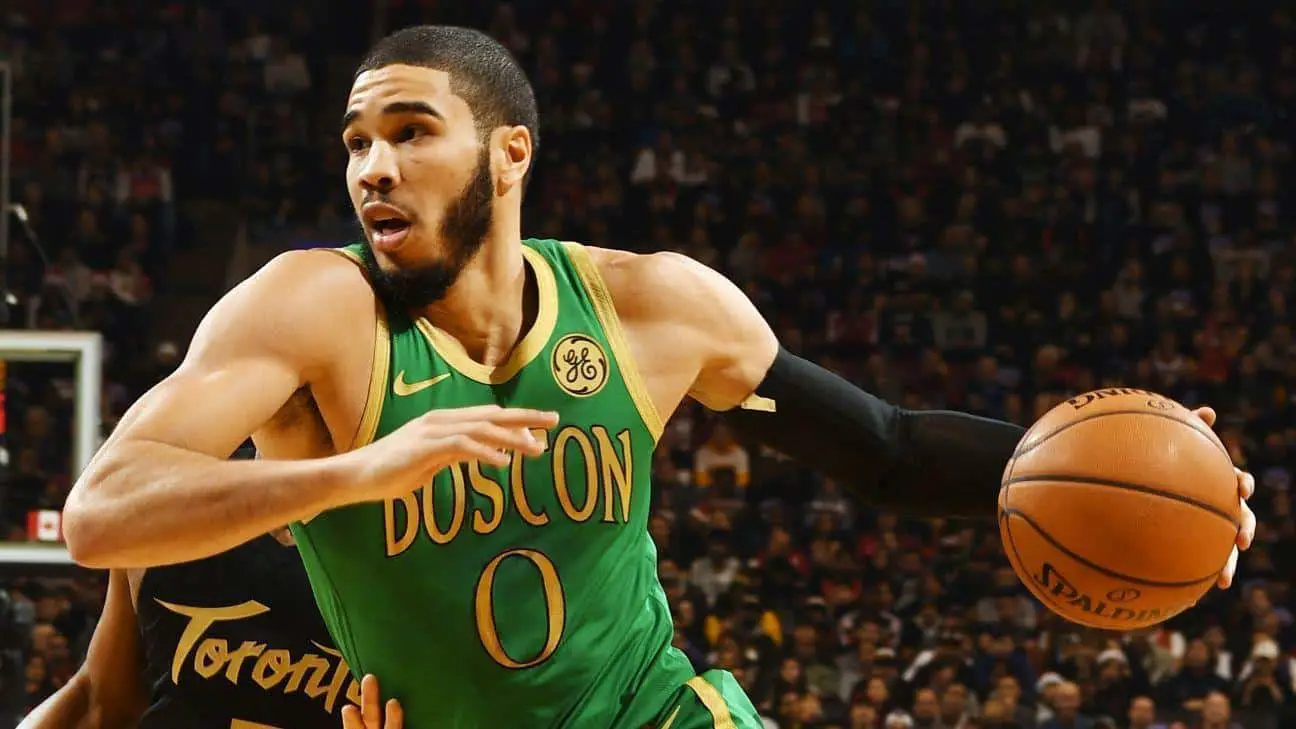 Throughout the series called "Who Is" I will be breaking down and answering questions to who a player was/is in the NBA, this series will be of new and old-timers as we live through their high school, college, and pro days.
Before the NBA Season was put on hold Jayson Tatum was exploding as a developing superstar passing, shooting, and rebounding the ball very nicely. He has been showing that he has the ability to hang with the big boys and be in a starting role.
Today, I'll be breaking down the early years of his high school days, his college days, plus what he has been contributing in the NBA so far.
High school years:
Jayson Tatum in high school was not your average small forward in height as he was 6 foot 8, the average height for small forwards would be 6 foot 5. For Tatum to have that kind of advantage height-wise is amazing, why? Because when he shooting a jumper, rebounding, or driving it could be so easy for him because he has that height advantage.
Every position except the center he was taller than my height, always having those extra inches is always a plus. It can make things so much easier, especially on defense.
Tatum certainly showed that height makes an impact for sure, he also proved that during high school he could ball even from an early age. He played at Chaminade College Preparatory School in Missouri during his high school years, he won multiple awards since being there but the most notable one was being named 2013 Metro Catholic Conference Co-Player of the year.
That was as a freshman when he was scoring 13 points and 6 rebounds a game, he was really starting to create havoc when he entered his sophomore year. He was averaging 26 points a night plus having 11 rebounds a night, during 2014 not only was he playing for his high school team but he was selected to be on Team ASU in the FIBA U17 World Championship.
As a junior, he continued to bring the fight to his opponents as he kept getting 26 points per game plus averaging 12 rebounds, which was one rebound better than last year. In that same year, he won Second-team Naismith Trophy All-American honors.
It kept getting serious for Jayson Tatum as he joined, in summer 2015, St. Louis Hawks (AAU team) in a highly competitive Nike Elite Youth League. On July 11th, it was the biggest game of his life at that time because it was the semifinals to go the championship game.
A fun fact would be that when they have beaten out Duke in the semifinal game Tatum also beaten out his future Duke teammate Harry Giles, in that game Tatum finished off with a strong 28 points and 5 rebounds.
Even though Tatum did get 28 points, 7 rebounds, and 4 blocks against Georgia they still lost, and it was a bad blowout, 104-77. That was a 27 point blowout.
When he became a senior, committed to Duke, he was charging full-steam ahead. He was scoring 30 points a night with 9 rebounds per also, he was selected to be in All-American McDonalds Game. He won the Skills Competiton in the All-American game plus being an All-Star. He scored 18 points then the following event he played in was the Jordan Brand Classic where he also scored 18. To finish the year, he was selected as the Gatorade Player Of The Year.
College Years:
It wasn't going to be a shocker to hear that his college prospect grade was gonna be a 5-star rating, it also wasn't a shocker that he was number three in recruitment and number two in small forwards heading into college.
If Jayson Tatum had a choice he probably would want to restart the first eight games as he suffered a foot injury that sidelined him for eight games but to be quiet honest I would leave it as it is as he was scoring 18 points in his debut but then kept scoring 20+ points in other games. He was nothing short of spectacular, every rebound, assist, and basket was his.
On March 11th, it was also an important night as his team was in the finals. He played against Notre Dame Fighting Irish, while it was a pretty close game (75-69) the Blue Devils walked away as the victors. Tatum had 19 points and 8 rebounds in their victory.
In his freshman season for Duke, 2016-17, he had 17 points, 7 rebounds, and 2 assists per game. He also played 29 games for them. He did win two awards which were the ACC All-Freshman Team and the Third-Team All-ACC Selection.
After one season in college, he felt it was time for him to enter the NBA Draft in 2017. Even though only playing one year of college basketball he was still projected to be selected in the first round, which he ultimately did.
Pro Days:
Jayson Tatum was taken with the third pick in the 2017 NBA Draft by the Boston Celtics, and let's just say his start was amazing. He started out as a Summer League player, the first event he participated was down in Utah.
Before I go any further I just want to say that this is a perfect example stating that good players can work themselves up from the Summer League and potentially the G-League, because the stats you see him produce during his tenure in the Summer League is epic.
Down in Utah, he was given the opportunity to start 33 minutes and he took everything minute to his benefit. He scored 18 points, 10 rebounds, 2 assists, and 2 steals. Later in Las Vegas, he produced the same kind of stats similar to the one in Utah.
He scored 17 points, 8 rebounds, and 1 assist in about 32 minutes. Those stats helped him become NBA Summer League Second Team. That also included Kyle Kuzma, Bryn Forbes, Check Diallo, and Wayne Selden Jr.
When Jayson Tatum made his debut in the NBA it was against the Clevland Cavaliers who at the time had LeBron James, Kevin Love (still), Dwayne Wade, and Derrick Rose. Tatum in his debut went right to work as he produced a double-double, 14 points and 10 rebounds.
When December came rolling in Tatum was announced to be the Eastern Conference Rookie Player Of The Month, and November and December were his strong months before and after winning this achievement as he was averaging 14 points a game plus getting 4 rebounds a game.
A great booster for a rookie is having a dominant season with their team plus in their stats, he had both. His team recorded a 55-27 season while Tatum was averaging 13 points a game and 5 rebounds a game.
When they rolled into the playoffs they had to face the Bucks, which was gonna be challenging because you had Giannis to play against plus Kris Middleton and Eric Bledsoe which didn't make things easy for them.
The series went till seven games when the Celtics took home the win, it was do or die and the Celtics were showing up for the clutch. Remember that the Celtics had Kyrie Irving (before going to Brooklyn), Marcus Smart, Jaylen Brown, and Jayson Tatum. Those guys were the most dominant especially Irving when he was leading that series with 24 points a game.
The second round wasn't tough at all for the Celtics, but surprisingly easy as they shot right through the 76ers winning it 4-1. Tatum set many records like becoming the second rookie in Celtics history to score 25+ in a playoff game besides Larry Bird, was the first rookie besides Larry Bird to have 5 straight 20 point games, plus surpassing Kobe Bryant at being the youngest to score 20+ points in five straight playoff games. Kobe was 20 years, 272 days while Tatum was 20 years old and only 61 days.
This was a shocker that the 76ers lost 4-1 in the playoffs since having Ben Simmons, Joel Embiid, JJ Redick, plus Robert Covington. You would have thought it would have been a closer series, not such a blowout series.
How ironic that the game that Tatum debuted in was the opponents he was facing in the playoffs, LeBron James and the Cavaliers were back at it in the playoffs and we're trying to push it to another trip to the NBA Finals all they had to do was get past the Celtics.
The top two scorers from that matchup were LeBron (33 points) and Jaylen Brown (19 points), it was very entertaining as it ended in seven games with the Cavs going back to the NBA Finals. Now what did surprise me is that the Celtics had a two-game lead on them to start the series but then crumbled in the next two games, they were tied 2-2 then things gotten interesting again. What would have happened to that Celtics team if they would have gotten to the Finals? Have Kyrie stayed longer? How would people view Jaylen Brown and rookie Jayson Tatum? All those predictions and questions would have been interesting to play out all those years ago.
The top leaders in the 2018-19 season for the Celtics were Irving and Tatum as they both combined for 38 points, they gotten through the season again with a record of 49-33. Tatum kept playing lights out, some of his best games that season came from playing against the Nets, Philly, Mavericks, Indy, and Atlanta. He has been showing development and progression through his rookie season plus this season.
With the Celtics doing so well this 2018-19 season they were able to make it back to the playoffs where they would face off against the Pacers in the first round beating them 4-0, sweeping them. The top scorers were Kyrie and Tatum while for the Pacers it was Bogan Bogdanovic and Tyreek Evans.
Now the semifinals of the NBA for the Celtics weren't that interesting as they got hammered by Giannis and the Bucks 4-1, that was definitely going to be revenge time for the Bucks as they didn't want to be put down so easily like last year.
Giannis and Kris Middleton killed them scoring-wise, and how were you suppose to stop the Greek Freak? You can't the last thing you could do to prevent him from dunking on you is by moving out of the way or kindly asking for him not to dunk on you, I'll go with the first option of moving out of his way.
At the beginning of the 2019-20 NBA season, Tatum was on fire hitting a career-high against the Pelicans plus the Lakers this season and on top of that making his first NBA All-Star appearance. He has played 59 games this season so far, remember the league was put on hold due to the Coronavirus (COVID-19), he has been averaging 23 points, 7 rebounds, and 3 assists per game. This has been the best season for points scored so far and assists so far, once the season gets back on track and starts back up I believe he will be explosive coming in with huge games against his opponents.
If he keeps up these kinds of stats then he might have a chance for a first or second-team award this year, this for sure has been entertaining to see him perform in college, high school, and even now in the pros.
Tatum is somebody you want to keep a close eye on as he will keep improving because this is only his third season with him only being 22 years old, the Celtics have been finding the right pieces like Daniel Thesis (great shot blocker and defender), Marcus Smart, Gordan Heyward (great shooter coming off the bench), Jaylen Brown who has lots of development in him too. Remember that Brown was taken in 2016 right before Tatum in 2017.
Throughout his life, he has been a great ball-handler, a great passer, a great rebounder, plus a great shooter. In the next few years you will be seeing him having run at offensive Player of The Year award, conversations in the MVP talks, plus having 30 point seasons if he and the team around can stay healthy.
It seems to be ever since he touched a basketball he has been very good at it like I said when the NBA season comes out of suspension this player will be ready to explode and attack the rim, I predict, depends on if he gets injured or not, that he has his first 30 point season and once more go to the playoffs.