Stephen Curry / Damian Lillard Build NBA2K24
Stephen Curry / Damian Lillard Build NBA2K24
Who's ready to have some fun? If y'all are still playing and enjoying NBA2K24, then I have great news. I have found the Stephen Curry, Jason Terry, and Damian Lillard 3-in-1 build that'll make you a literal superhuman in this game.
This simplistic, yet deadly, PG sharpshooter will give you an advantage over everyone else. To say the least, I'm not exaggerating. You'll be a triple-threat player in 2K, where not only you have limitless range on the court but also being able to be a star-studded playmaker.
Again, like in all my other builds, this build can be used for online and offline purposes. It doesn't matter if you just want to use it for The Rec, The City, or for MyCareer… you can use it for WHENEVER, WHEREVER!
With all that being said, let us get into the details of this build and how to unlock it.
Position: Point Guard
Height: 5'11"
Weight: 175 lbs
Wingspan: 6'1″
Attributes List
Close Shot: 89
Driving Layup: 89
Driving Dunk: 79
Standing Dunk: 25
Post Control: 36
Mid-Range Shot: 91
Three-Point Shot: 94
Free Throw: 95
Pass Accuracy: 82
Ball Handle: 81
Speed With Ball: 80
Interior Defense: 54
Perimeter Defense: 64
Steal: 56
Block: 55
Offensive Rebound: 45
Defensive Rebound: 56
Speed: 79
Acceleration: 74
Strength: 54
Vertical: 59
Stamina: 94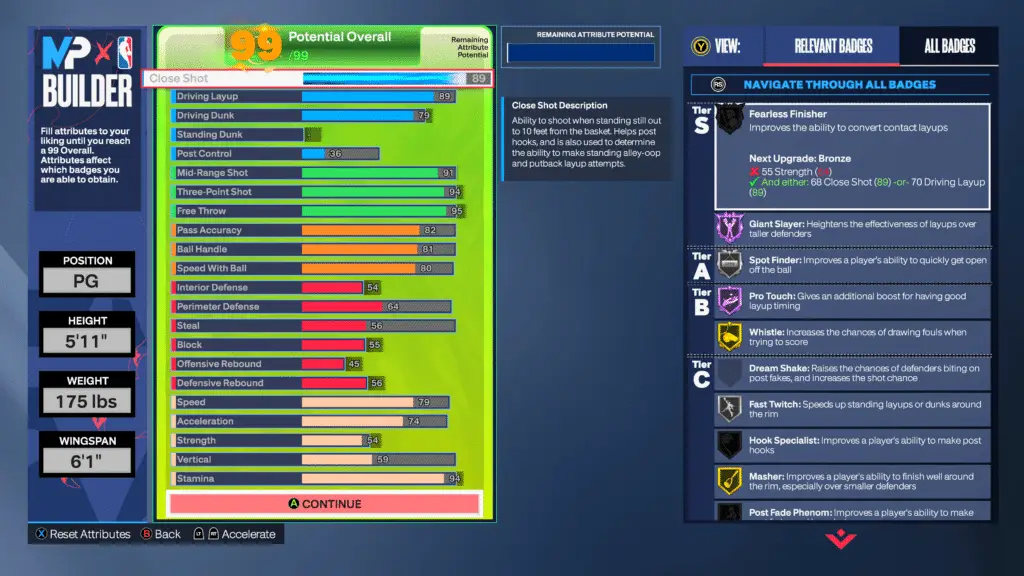 Conclusion
When it comes to the pros and cons of this build, there aren't many. Unless you want a two-way player for both ends of the court, this build could be tweaked in a way where the defense could be bumped a bit. However, you aren't a liability where those attributes are at currently.
This is a very comfortable, effortless, limitless build designed to make you a franchise star and a known playmaker to help your team. Plus, playing with this type of build in online matchups is too much fun.
Honestly, I'd take this build and I try it for myself. You have nothing to lose by making adjustments or playing with this build.
As a side note, if you use any of my builds, then tag me on social media (TikTok, Twitter/X, Instagram) at CourtSideHeat and I'll share your post and your results using the build.